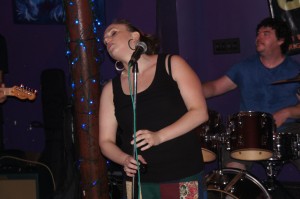 It was a great night for Alley Stoetzel at Smoken' Joe's Fifth Anniversary part last night. Stoetzel was clearly the show stopper, scene stealer, big to do when she unveiled the country roots music she'll be releasing on her upcoming E.P.
This new dive into roots country worked out well for Stoetzel. A shuffling two step and mandolin melody gave her the appropriate backdrop. She worked her voice like a magic wand, conjuring many sweet, pretty high notes as she navigated her way through the genre and through her own rangy possibilities. Her new E.P. What We've Been Up To will be released soon, and based on what she did last night, it should be a huge success for her. Her murder song "Man Down" was loaded with appropriate self-restraints, roaring range, and shifting dynamics, all put to good use in service of a very good song. Stoetzel's band was also amazing, featuring Jimmy Ryan on mandolin. Guitarist Peter Parcek was on hand to support Stoetzel with his phrases, the lines he's honed to perfection by years of experience and exploration.
The ten hour music event and anniversary hosted by Smoken' Joe's BBQ & Blues in Boston's Brighton neighborhood was a mutual thank you between owners and their staff, musicians, fans and diners. The whole sha-bang started at two in the afternoon. It's too bad that John Moriconi had to leave the party before 2:30 p.m. to get to another gig on the cape. He was sounding really good with that mellifluous voice. Yet, he left the band in good shape with Alizon Lissance on keyboards, Dick Lourie and Dave Birkin on saxophones, and Professor Harp on harmonica.
Lissance played really cool old timey influences, a little barrelhouse here, a little ragtime there while Dick Lourie, A.K.A. "The Poet" exchanged feisty saxophone chops with Birkin. Harp blew an electric harmonica on "Green Onions" which Laurie nailed with his smooth, flowing melody, moving around the groove with eloquence. A highlight came when all three were blowing that memorable melody as one.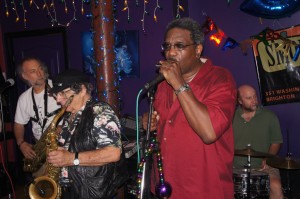 Professor Harp did some fine vocalizing and more of his electric harp sound on "Killing Floor." Drummer Richard Malcolm was on hand for all of the first part of the show and he kept pushing the parade of grooves and rhythms along their righteous path.
Lissance's vocal was rangy and strong during her turn as a jazz chanteuse. Her sprightly keys fit right in with the brittle, mellow guitar notes from Zorn Matich, as her friend David Morin was bowing a saw to arrive at more sweet, tender melody.
Willie J. Laws came on and blew everybody away on the strength of his vocal work. Laws sang Earl Hooker's lost gem "Is You Ever Seen A One Eyed Woman Cry?" with his deep, soulful voice pulling a lot of emotion and meaning to the surface. Bluesy organ chords and swirls of sax melody got a boost when guitarist Chris Stoval Brown and drummer Ed Scheer joined in. Brown chimed in with his emotive guitar lead speaking the language of the broken hearted with it's biting, incisive phrase.
Laws soon had to hit the road, but he left the audience in good hands. Brown played a skippy melodic line while "The Poet" blew a nice greasy sax line around the groove before turning up the heat with a massive blues phrase that made you feel it. The boys soon went into Little Richard's "Long Tall Sally" with Ed Scheer's raw, raspy vocal belts nailing this classic in true wild man fashion. Laurie went to town on his sax, playing like a man possessed. He captured that pure sense of adventure, driving it through the twisty melodic phrase. Richard Malcolm's drum solo here made you take notice.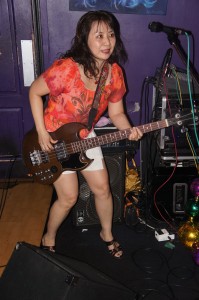 The Tokyo Tramps came on next with Sartoru Nakagawa playing a satisfying rendition of the Mississippi Delta blues on his electric guitar. He grinded out those vintage licks like nobody's business. His wife and bass guitarist, Yukiko Fujii, put plenty of thump in her low end lines and drummer Kosei Fukuyama pounded the skins with muscle. Nakagawa's wild slide work slithered around the groove on "Shake Your Money Maker," sailing over a perpetual driving groove. Fujii's bass solo had the kind of oomph that traveled around the floor and made you feel the vibrations in your feet. Fukuyama played one of his rapid, punchy drum solos, expanding the usual tight framework of drums in blues music before the trio pulled it back tight, handling a tricky ending with their confident aplomb.
Fujii had a highlight when she sang lead vocals, highlighting that women are showing up more and more in blues fronting on an instrument and vocals. Yet, one of the best moments of yesterday's show came when Professor Harp joined The Tokyo Tramps for a few numbers. It showed how far society has progressed and how far and wide blues influences have traveled when an African-American gentleman who started out in the 1960s can play with three younger musicians from Japan and nobody even thinks twice about it. Music can change society and save world when it has the chance. The four players put on quite a set together, giving the Professor's "Sly Black Fox" from his They Call Me The Professor CD a nice work out. Freddie King's "Five Long Years" gave the Professor a chance to showcase his powerful, husky vocal which was surrounded by stinging leads that came in from Nakagawa sharp and clean.
Cindy Daley was the next singer to join The Tokyo Tramps, belting out "Rock Me, Baby" like a lady on fire. Her rangy vocal phrases, coos, and sustains were impressive touches in each song. Yet, her soulfulness and general power were the meat and potatoes. Daley definitely needs a kicking band behind her to match her firepower, players who can get it right and punch it with muscle. Thankfully, Fukuyama kept a steady, authoritative stomp under that bonfire of sound.
"Dock Of The Bay" gave the four some room to showcase their mellow side and their flair for details. The vocal and music was pure beauty. Daley captured the weary earthiness while The Tokyo Tramps kept up the amicable groove and playful melody.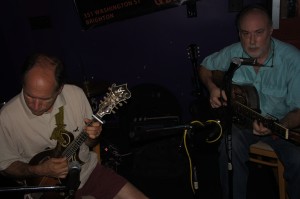 Dinner hour was enhanced by the sweet, tender American roots music from Americana musician Geoff Bartley and his friend Howie Tarnower. Bartley played his acoustic guitar, harmonica, and sang while Tarnower accompanied on mandolin. The two opened their dinner set with their acoustic rendition of "Sweet Home Chicago," the stripped down arrangement making for a pleasant meal hour vibe. Hoagy Carmichael's "Summertime" was impressive for what the two could do with their brittle mandolin and acoustic guitar melodies playing underneath Bartley's hearty baritone vocal. Bartley recently released his CD Mercy For The Dispossessed.
Cindy Daley came back on with Fujii once again supporting on bass, Sir Cecil drumming, and Mark Carvalho on guitar. Carvalho unleashed his own special form of rocking blues guitar. His phrase was raw and nasty, and he made some notes last forever, just holding them in the air, ringing great glorious tones out of each. "Chain Of Fools" rocked at an uptempo beat as Daley vocalized so strongly she didn't need a backing vocalist. She brought out the mournful beauty of "I'd Rather Go Blind" in a brief tribute to Etta James. Heavenly coos and fiery sustains filled the air as Carvalho picked out the tender notes with care, making each one ring with authentic tone, something sublime and beyond description.
Next up with the time-tested spiritual warrior of the blues, Ms. Shirley Lewis. Lewis carries the essence of the blues in every song she performs, no matter which genre she picked them from. Lewis has lasted a long time for a good reason. She's amazing. Lewis turned the Louis Armstrong number "When The Saints Go Marching In" into a blues-rock and roll hybrid by being sensitive to the numerous influences in the song and in her own repertoire. Her take on Cole Porter's "My Heart Belongs To Daddy" was another in which you could feel her emotive presence in the words.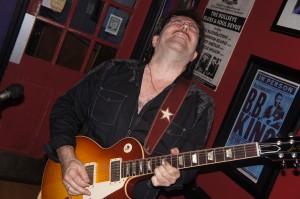 Looking newly energetic at the microphone, Cheryl Aruda served up more sass than usual, turning "I'll Take You There" into a finely entertaining number with that tremendous lift she has in her belts. She called another singer up to help her out and the two made a lovely contrast with their husky and light voices. Due to her rocking attitude, Aruda kicked ass on "5-10-15 Hours" and she offered a spiritually infused original "Heavy In The Levee," with Gretchen Bostrom and Gracie Curran on gospel-like chorus duties. Aruda's take on "Angel From Montgomery" showed her sensitivity to a songs emotion where she couldn't rely on her gutsy belt.
Next on the loosey goosey program was South Shore's youthful blues chanteuse Gracie Curran. Curran benefited from Ricky "King" Russell's nimble twangy guitar picking on "Folsom Prison Blues." Russell continued his reign, opening up dimensions in blues guitar phrasing on "Who's Loving You."
Boston blues singer Gretchen Bostrom was another vocal show stopper, opening her set with one of the evening's strongest belts on "Tore Down." Bostrom kept a live wire high timbre in the center of her range. Her voice really reaches and pleases the ear. A mid tempo brightness on "Early In The Morning" revealed the depth of Bostrom's vocal prowess. She certainly belonged on stage with heavyweights like Ricky "King" Russell and Bob Vabulous. She phrased her way beautifully into Slim Harpo's "Ti Ni Nee Ni Nu," massaging the sweeping flow of the chorus.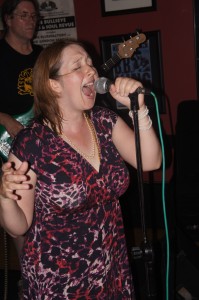 Sir Cecil came back briefly with a choir of sexy chick singers for "What Am I Living For" before Christine took over the space for "Unchain My Heart" and "You Send Me." A young guy sang the American staple "Hey Joe" by Billy Roberts that was popularized by Jimi Hendrix in the late 1960s. There was another singer in the room who has made her name in greater-Boston over the last ten years.
Lisa Marie came on strong near the end with her party vibe song "Blues With A Feeling" by Little Walter. Zorin Matich was the guitar power. Nate Stringfield was the propulsive drummer and Lee Lundy was the low end man. The four of them together packed a wallop and Lisa Marie showed why she's one of the busiest, most in demand singers on the greater-Boston blues scene. She performs as well as she sings and that makes people want to dance, drink, party, and a whole lotta other things we can't write about in public.
Smoken' Joe's BBQ & Blues has had five good years so far in their Brighton spot. Aside from the tasty burgers and other good stuff on the menu, the blues music at night anchors the room in a lively community of musicians and fans. It has one of those special room vibes that can't be explained in words. Smoken' Joe's is a restaurant and blues room that must be experienced.

Follow me on Social Media!