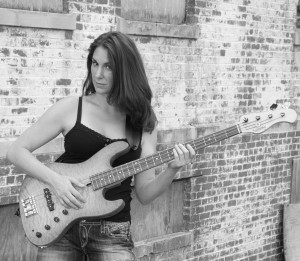 Alison Keslow is a very busy bass player. She has her own band, the Alison Keslow Trio, and she holds down the low end for high caliber artists like Scott Tarulli, Erinn Brown, and Katrin.
Keslow plays a Sadowsky NYC four string jazz bass. "It's an awesome bass," Keslow said. "It's based in Brooklyn, New York. I've known him many years. Actually, I have two Sadowskys but I've been predominantly using that one." Keslow is endorsed by Sadowsky.
Keslow keeps things fairly simple. She sends her signal into a EBS octave pedal made by the Swedish bass speaker company. EBS too endorses Keslow.
"It splits the sound and gives me two pitches an octave apart," Keslow said. "It actually goes an octave lower than the note I'm playing on my bass. I love it for soloing. I play up in the higher registers, and it gives me an octave below that. I use it for grooves too. I just play them up higher on bass and I've got a double note going there."
If Keslow is playing a high E, it will give her a low E at the same time. "It's very cool," she said. "It's a great groove. It's good for dance and hip hop."
Keslow uses it a lot in her Alison Keslow Trio when she plays with guitarist Scott Taruli or guitarist Perry Bakalos, or guitarist Kevin Grudeki, or with a a keyboard player named Dennis Hughes from Rhode Island or pianist Gene Kelly. Mike Casano on drums or drummer
Nadjim Kebir.
Keslow is working on her second solo album at Tom Eaton Recording studio in Newburyport. For this recording project, she uses her Sadowsky direct but sometimes she uses her amp sound as well, sending her signal through an amp.
Keslow uses EBS Speakers amplifier called a Neo Line 1×15 cabinet. She also uses the EBS Classic 450 amp.
"It's a very balanced sound," Keslow said. "I can dial in my sound very easily. Going to different places, you're not always going to use the same settings on your amplifier. It doesn't color the sound a lot of my Sadowsky, which I love. But, it does have a lot of character, a lot of warmth, and the quality. That's what I noticed about the EDS speakers is great clarity of sound."
That completes her basic live rig, but Keslow does have some more toys in her bag of tricks. She uses an EBS Reidmar for her less spacious rooms.
"It's a small, lightweight head that I use for more coffeehouse gigs," Keslow said. "I pair that with a smaller speaker. It's a 1×12 cabinet from the EBS Classic line. The frequency response on that 1×12 is excellent. It goes so low. The frequency range is quite wide, even on the smaller speakers. The Reidmar is so light. I think it's just seven pounds." She uses these lightweight amps on jazz combo gigs and other general business gigs.
Keslow recently recorded CDs with Scott Tarulli, Katrin, and Erinn Brown Band. Katrin's CD was recorded at a studio converted out of an old church called Dreamland Studio in Woodstock, New York. Two winters ago, Keslow went out there with her other four string Sadowsky. Producer Jerry Marotta had an old amp head that she recorded through and an old 1960s Jazz bass that she used on one of tracks as well as her Sadowsky. Keslow hopes to have her own Alison Keslow Trio CD out this year.