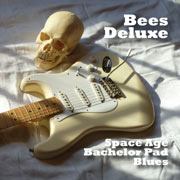 Bees Deluxe has released their first CD Space Age Bachelor Pad Blues with their current line up of drummer Patrick Sanders, keyboardist Bruce Mattson, and guitarist Conrad Warre. Space Age Bachelor Pad Blues is a fine documentation of this trio's rocking blending of modern jazz, old school blues, funk, and whatever else the three feel like throwing into their unique mix. Nowhere in the credits or on their websites can we find out that Warre is also the lead singer. His raw, unadorned vocal gives the songs an added value of truthfulness.
There is a lot going on in each track. These guys know how to layer guitar and organ over a dynamic beat to create a winning three dimensional sound. The trio open their CD with "3454 Miles," a zesty instrumental that percolates with sterling organ, tasty, brittle guitar leads, and washy swirls of cymbals. This piece, with its fine touches from the old school blues and modern jazz idioms, indicates the fine playing that will follow throughout the disc.
Warre's "Kidnap" is a punchy tune about a man's wild enthusiasm for a love interest. Breezy organ melodies, snappy rhythm guitar parts, and bopping drums carry you through this pursuit from a stalker's point of view. We can only hope it's a joke when they say something about chloroform. Quirky subject matter aside, the musical integrity stands out.
The trio's take on Billie Holiday's "God Bless The Child" shows they can have fun while making a social statement. Mattson presses out delicious, greasy organ chords that are filled with groove. His soulful application of the Hammond makes his instrumental portion come to three-dimensional life. Warre's blistering lead guitar lines are another fine point to settle one's ears on. Yet, it's the way the trio meld their individual musical parts into one hell of a song that make your replay their stuff.
"Hot Cha" by They Might Be Giants gets a fine jazzy workout here. Instrumental here, it's a mid-tempo joy ride through a blissful musical terrain. Each player must have been in a very good mood when he recorded his track for this tune. Organ excursions are joyful. Guitar phrases wiggle with a gleeful feeling. The drums keep a steady peppiness going all the way through. This is the music you want to play when you're cruising with your two or three best friends on a summer Sunday afternoon.
There is a feeling of intrigue in "Not The Sopranos." Warre plays a bursty guitar phrase that he keeps just below the surface, not quite boiling over. This technique keeps the tension right where it belongs, coiled, ready to spring into action. Mattson comes in with electrifying organ chords that make you feel there is an exciting bit of action going on. This trio's coolness shows the most when their swinging around the beat and sliding their tune back into a mellow groove.
"King Of Bad Luck" is a slow burner, full of understated energy. Sanders smacks this one along with his adept drumming, keeping a persistent beat under the layers of guitar and organ without overshadowing them. Every economical drum smack adds a heavy duty presence to this instrumental. You feel a personality as well as a drummer holding this up.
The trio get funky on Mattson's "Rooster Shoes," an instrumental that relies heavily on Sanders' backbeat and Mattson's low end keyboard notes. You can feel the knobby funk vibrating the speakers. Swashes of organ chords and guitar riffs color the funky, jazzy hues that make the music even more lively than standard danceable fair.
"The Girl With Green Hair" isn't as strange as its title suggests. There's a heftiness in the knobby low end notes that make you want to tap your feet and bob your head. Warre's playful twist on blues licks adds another layer of amicable melody, giving the listener another juicy part to follow.
Mattson offers a cool electric piano line on the trio's song "Roll Over Stockhausen," a feeling of intrigue and mystery going on in the sly keyboard work. Warre's aggressive guitar phrase kicks this song into adventurous territory, making you feel the action that inspired this piece. Snappy guitar accents make this song groove with authority and fiery power. You always know you're listening to musicians who have something to say in their playing as much if not more than in their actual lyrics. Warre's gutsy melodic phrase cuts though the tension of the groove with startling edge.
"Asleep At The Chelsea" finds Warre strumming acoustic guitar amidst a warm Hammond melody. The two instruments were inspired by some kind of mellow event, it would seem, and Warre likely composed this in affectionate reflection of the memory. The song takes a needed break from the swirling progressive Hammond and lighting guitar licks from the previous and following tracks to show the trios' mastery in a mellow groove.
The three are back in action on "We're Not Told." Warre's raw, earthy vocal hits the cool spot. Jazzy organ funk and sharp guitar licks carry the day in this mildly flavored rock and roll song. "Byrdland" closes out evenly, woven with Warre's tender picking, intervals of organic, roots notes that make the traveler feel he has finally found his way home.
Bees Deluxe are an interesting band. They bring an explorative, progressive sense of experimentation to old school blues, modern jazz, funk, and the other genres that grew from roots music. The trio widen the possibilities with their rangy, soulful vibe. Space Age Bachelor Pad Blues is a fine disc to showcase what this trio has to offer the greater-Boston/New England music scene.