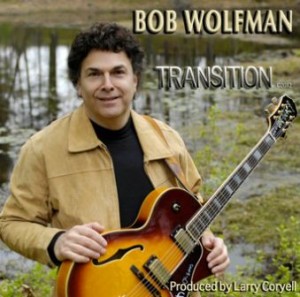 Bob Wolfman just released his Transition CD and this Larry Coryell produced work marks a reunion for the two guitarists. Wolfman worked with Coryell 35 years ago and he still retains the influence from the master. Transition is made up of beautifully sung jazz ballads, a belted blues song, and fusion jazz instrumentals. Wolfman puts tremendous combinations of emotion and technique in each, whether he is focused on voice, his guitar, or his interplay with Coryell and the other players here.
"Listen" features Wolfman as the vocalist and lead guitarist and he is highly polished at both. His fluid lead phrases are as pristine and smooth as running water. His vocal reaches a beautiful high octave and travels through his chorus with an easeful grace that pleases the ear.
Title track "Transition" was written by Coryell and features both on lead guitar. The penetrating intervals of high notes, sustains, and shifting dynamics are artfully, intricately articulated. The players make you feel that they are taking you somewhere. The long phrases are a journey into dimensions of sound, a trip through time and space to some place other worldly.
Wolfman's composition "Trees" is marked by his gentle, brittle guitar lines and his sweet flowing tender vocalizing. He draws out his vocal melody like a sustained violin note. He just lets those sustained vocal parts flow out of him as if they had a life of their own. That voice has been honed to perfection through years of perfection. Wolfman could clearly hold up a song without any musical accompaniment if he so chose.
"Guess Who I Saw Today" is more in line with modern jazz vocalists than the late 1960s-early 1970s fusion jazz in the guitar-based instrumentals. Wolfman reaches deep into a lower range of his timbre while\also reaching deep into his heart, pulling the feelings to the surface of the song. His tremendous ride out makes the listener feel his warmth turned into hurt by the person he was singing this for. This piano ballad also benefits from Ferdi Argenti's classy take on lonely lounge ballads. Bass player Victor Bailey injects an undercurrent of knobby persistent that backbones this number. The bass notes underscore the newfound isolation the singer finds himself, giving the tune a three-dimensional quality needed for full appreciation of the drama.
Wolfman's "Seeds" is a mellow grooving number filled with lush coos and carefree, exuberant guitar phrases. Victor Bailey sets a sublimated low end groove that makes a fine surface for Wolfman to coo and to press out those ephemeral phrases. Wolfman and his players gradually build an arc to this piece, and it's climbing, adventurous sound is irresistible.
"Sirens" is a sweet interplay between brittle guitar chords and notes and dainty, dapper piano tinkling. When Argenti moves into an uptempo mode, he taps out a flurry of notes that dazzle with their speed, intricacy, and tone. Wolfman comes back in with his tasty, tender notes to close out with bright, cheery intervals. He sounds like he enjoyed working with Argenti.
Wolfman tackles the classic blues number "Born Under A Bad Sign" with a hearty vocal and a guitar phrase that broke loose from hell. Only a man possessed by the true spirit of the blues could make his guitar play with this kind of bite and sting. Although the 12-bar blues structure isn't Wolfman's current niche, he makes this style his own by belting it out like a life long blues man. He was actually a blues player in his teens before he discovered the fusion jazz genre.
"Penultimate" is a mellow mood piece marked by gentle touches on each instrument. Wolfman's guitar sounds like he's taking his sweet time finding just the right notes to hit, notes that ring out with a purity of tone after the note is played. Wolfman builds it as intricately as possible without losing the emotion in his expression. A somber piece, "Penultimate" is at once quiet and effective.
Bass player Victor Bailey contributed his composition "Bailey's Bounce" and it is a compelling work. Along with Bailey's throbbing bass lines is Argenti's flight of fancy, tinkling his piano keys in a frenzied pace. Drummer Kenwood Dannard speedily works his hi hat and toms. That Wolfman guitar comes in strong with zipping phrases darting through and over the groove. Coryell makes his statement with a tightly compressed phrase that rides through like any groove like an all terrain vehicle.
This Transition CD accomplishes many things at a high level of talent. The greater-Boston area is truly blessed to have a talent like Bob Wolfman in its midst. That Wolfman can attract talent like Larry Coryell to his recording project indicates how seriously he is taken in the fusion jazz genre. Wolfman's guitar and vocal parts are compelling and he puts them to very good use here with assistance from a crack team of advance players. Only the best can play this material.

Follow me on Social Media!