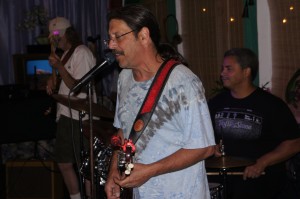 Hosted by the Fran Dagostino Band at The Acton Jazz Café, last Tuesday night's Open Mike offered more talent than you could've expected the day before the Fourth Of July. Dagostino had Phil DeLaine filling in for his regular drummer but the trio still made a splash with listeners.
Thankfully, the owner of Acton Jazz Café, Gwen Vivian, is a detail oriented person who gets the most important things right. The AJC was perfectly air-conditioned, and if you're ever in the mood for a Tuesday night jam, her venue is probably the most comfortable around.
Right off the bat Dagostino unleashed his funky, psychedelic guitar phrasing on a Grover Washington piece. He put out a groovy riff that moved as fluidly as a horn line. He had that ability to move it in any direction he wanted, and he shifted dynamics with the greatest of ease. The FDB's bass player Bryan Bishop matched Dagostino's strength with a fulsome low end that bumped the guitar line along with knobby precision. DeLaine beat a wide sound out of his drum pieces with the same kind graceful forward motion.
Heading into more bluesy territory, Dagostino peeled off some greasy notes and brief sustains. His unusually loose phrase allowed him to do a lot within the tight framework of blues. The rhythm boys built up a mound of groove and a beat you could feel. Dagostino sung the blues like his voice was born for it, effectively cool, and his guitar sounded like it was crying out.
Dagostino offered his original tune "Song For Big John" about a mentor of his who is no longer with us. Dagostino's guitar lines, at once brittle and echoing, played in intense intervals, Pink Floyd inspired at the start. Soon, a more fanciful guitar melody rose to the surface and Dagostino drove it around the block, sending his piercing, personal notes onward in a crystal clear communication of what was going on when he wrote it.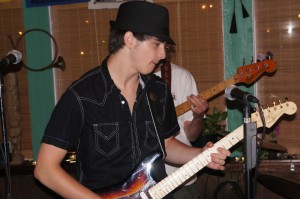 After a romping boogie version of "Caledonia," Dagostino began the open mike part of the evening. Matt Swanston came up to play some down and dirty blues licks on guitar. His lead was drenched in that gritty Mississippi Delta blues, tone and feeling. The young player also took to the microphone and belted it out like a true blues man. The music turned Chicago with the second guitar player and a piano player named Rob making more melody and more blues power. The piano put out a smokey chord progression that made you picture an old blues room from the 1950s. On "Do You Love Me" the dual guitars were echoing, the piano tinkled raw, soulful notes, and the rhythm section bumped it along with authority. The five played together with pretty good chemistry for an informal lineup.
Local guitarist Jeff Beck(yes, that's really his name) did some fancy fret work on "San Jose" by Ronnie Earl, picking off so many notes to create an up tempo joy ride. An organ player came up to lay another heaping of gravy with his rich, swirling chords. "House Of The Rising Sun" is one of the most stirring numbers in the American songbook and thankfully these guys didn't mess it with their informal lineup. Dagostino kept an emotive, piercing lead going while Beck's chord work kept a nice feeling behind it. The rhythm section played it with sensitivity too and that organ fellow kept a haunted melody swirling around the beat.
Bass player Bryan Bishop had enough vocal power when he sang one that you wondered where he'd been hiding it all night. Piano player Rob showcased his singer-songwriter material playing acoustic guitar and crooning during the break.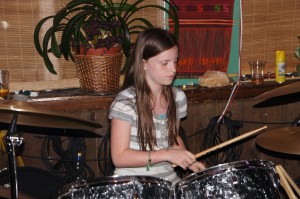 After the break, 11 year old Alicia Bakis kept the beat going underneath the wily guitar leads from Dagostino and the sharp intervals of notes from Bobby Lynn. Ms. Bakis also backed Dagostino on a Santana tune and she did a good job backing some other professional players too.
Another drummer named Tim Patterson came up for a lively version of "One Way Out" and the band was a seven piece by then. A singer named Dottie Nichols took to the microphone for "Shakey Ground" which got a boost from Bobby Lynn's chirpy harmonica line. Carol Sheridan went up next to sing "Stand By Me" with some help from her friends.
There were fine moments all the way to the end of the open mike. A guitarist named Mike took over and turned in a cover of Jimi Hendrix's "Are You Experienced" that got everyone's attention with its thick, crunchy waves of six string mania. There was also a singer who belted out "Rollin' And Tumblin'" with a circus barker. Another young guitarist, Buddy Smyles, got in on the action with his rhythm stuff.
Guitarist Mike Fioretti came on last and helped to close out the night with his snappy guitar lines bridging the gap between blues and R&B. Fioretti soon brought everybody into slow grooving blues, the kind of opens up the space for every player to put his personal stamp on the music.