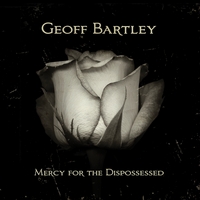 Geoff Bartley offers up plenty of fantastic American roots music on his new CD Mercy For The Dispossessed. With a seasoned timbre that makes you feel his years of experience, Bartley's voice is the light that cuts through the occasional darkness of human life to arrive at a place of hope. This songwriter's compassion is the engine that drives him to dig deeper into the life that is impacted by the world around it.
Bartley opens his disc with "I've Endured," his take on the Ola Belle Reed and David Reed tune from decades ago. Bartley's crisp, handsome vocal is perfectly suited to this old folk music about the travails of life. The vocal is full of expression, allowing Bartley to articulate everything going on in this song. His hearty acoustic guitar strum gets lively support from Dobro player Michael Bean, fiddler Kimber Ludiker, and mandolin player Howie Tarnower.
Title track "Mercy For The Dispossessed" is a sorrowful melody that Bartley turned into a full length instrumental after discovering it while noodling on his guitar. Playing baritone Resonator guitar, acoustic guitars, and electric upright bass. Bartley weaves his central life theme of supporting those in misery with forlorn Resonator notes, somber acoustic guitar chords, and a dour bass line underneath it all. The listener cannot help but to feel this one.
Bartley shows his compassion for the coal mining community of eastern Kentucky in his "Long Way Down To Harlan." After coal mining, moonshine is the biggest industry in those parts. There's a sense of adventure and intrigue as Bartley describes how the shiners run by night with their headlights down. Lauck Benson's banjo, Kimber Ludiker's fiddle, and Bartley's Resonator instruments give this song a great vintage feel as the you picture the shiners carrying out their clandestine but economically necessary missions.
"Everything's 4 Sale" is all class. Johnnie "Blue Horn" Moriconi plays a smooth, jazzy flugelhorn melody that breathes style. Bartley's electric guitar and electric upright bass play nice supporting roles, edge spark and bottom smooth. Phil Antoniades drums a gentle, lively, persistent beat that juggles all of the above. With all that going on underneath, Bartley strums his acoustic and sings his tale of corrupt, modern day robber barons with direct gentlemanly aplomb. Hints of divine retribution give an extra depth to this story as old as Moses.
Bartley tackles the Billie Holiday classic "God Bless The Child" with his vocal, acoustic guitar, electric upright bass, and Richard "Rosy" Rosenblatt on harmonica as his only accompaniment. This less is more approach works well for Bartley, especially here. He really knows how to get a large, fulsome sound from only two players. His earnest, straight-forward, stripped down approach brings the emotive qualities of this song to the forefront. Bartley's voice is full of tender feeling and foreboding. Rosenblatt, as usual, works his magic on harmonica, playing a nicely textured harp line that carries much of the song with its lilting, earthy sway.
Bartley, despite his seriousness and compassion, maintains a sense of humor about life. He includes his levity on this disc with his original "Came Home Last Night With One Sock On." Bartley goes this one alone with voice, harmonica, and knee slaps. It makes for a nice break from the somber seriousness of Bartley's overall message.
"Midnight Hour Blues," written by Leroy Carr in 1932, features Bartley on his Resonator mandolin. The vintage picking sounds and the Bartley written harmony lines makes this a dandy of an acoustic blues. You can almost picture fingers picking strings because the accents are so sharp. Bartley builds the narrative arc well with the power of his voice and emotive expression. Hearty vocals give the verses a special lift, carrying you through.
Bartley includes "Painted Pony," an instrumental he plays on a baritone National with no other accompaniment. The gruff, terse, steady picking demonstrates the ruggedly beautiful sounds a player can get from the instrument. Bartley plays intervals of notes that compel you to listen closely, to hear how he wound his melody together. He's got melody, low end, and a beat all coming out of this one vintage instrument.
Bartley forces you to take special notice when he bellows a mighty chorus on "High On A Mountaintop." The vocal melody cruises along gently until Bartley puts hearty emphasis on his location. A backing vocal and mandolin from Jenni Lynn Gardner add to the heft of this piece. There is just such fulsome zest in the instruments at just the right time.
"How Can I Keep From Singing" is an old Quaker hymn from pre-Civil War South Carolina that Bartley uses to work out his vocal strengths. His voice beautifully large and gruff, thick harmonized vocals warmly embrace this song from yesteryear, making you feel like you're experiencing the narrative first hand. The acoustic guitar and electric bass guitar notes come out of the speakers in perfectly weaved art, notes just percolating with purpose.
"Litany For January 15" by Bartley associate Chip Quinn takes its title from Dr. Reverend Martin Luther King Jr.'s birthday. Essentially a prayer for all people, Bartley sings it with a straight-forward earnestness that becomes the focal point. He conveys an important message without adornment. He just lets the words speak for themselves. His acoustic and Resonator guitar and Resonator mandolin and electric upright bass, with their gritty, solid notes, make the perfect platform for his avuncular voice.
Bartley closes out with his original "The Past Is Dead And Gone." A haunting truth song about the wheel of life we all travel through, Bartley's observations come across with serious tone and somber feeling. He doesn't make it a sad song. He just makes it honest, and you see the sadness in the world he looks out on. It's a careful balancing act that Bartley pulls off, making the listener feel and understand hard truths without forcing a maudlin sentiment.
It is a consensus among the greater-Boston music scene that Bartley is a highly skilled player and an extremely thoughtful songwriter. The singer-songwriter achieved that recognition and respect through years of hard work, study, and honesty. Mercy For The Dispossessed is an enjoyable, outstanding documentation of Bartley's work in music and in his journey as a compassionate human being in an often indifferent world.