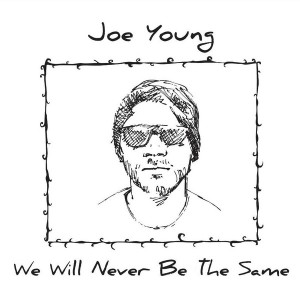 Joe Young's new debut CD We Will Never Be The Same is a breath of fresh air into the current singer-songwriter scene. It's exciting, gripping, and it is whole original. The entire album plays with a largeness of sound, a tremendous purpose, and a driving poetic vision. Young is onto something big in his folkie singer-songwriter genre. He is closer to the neo-hippie sound of the last 20 years while his powers of perception and details of description more than hints at timeless qualities. There is something serious going on with this youthful artist.
"Build You A Home" begins the disc with Young's even flow of vocal sandpapery folksie and acoustic mellow strum. This singer-songwriter comes across like a friendly voice that snags your attention with its warmth and accessibility. Lightly seasoned with other acoustic instruments, bass, lap steel, accordion, mandolin, and fiddle(Steve Roy), Young's approach weaves all into his journey of contemplation.
"City Song" is Young's greeting to some cities he has visited. The song has an earthiness in Young's hearty vocal and in his heart felt lyrics. He brings this home to the listener in his gritty tone and with a little help from his friends, like Mike Effenberger on accordion, layering another level of moody melody around the voice and guitar.
There is no underestimating Young. "Closer" finds Young singing with an even more intimate feeling and tone. He makes you feel he's talking to you directly. He caresses his verses as they glide through his unique and accessible timbre. He shifts dynamics just ever so slightly going into his chorus and it makes all the difference. It's like the world opens up to you and shows you something larger, brighter. Drummer Jim Rudolf put an almost marching beat into the roots pattern and it gives the tune a great forward motion.
"Honey, I" gets a lift from Mike Effenberger's Hammond organ melody, a gentle, breezy line riding just under Young's voice. Young widens his timbre here to express grand emotions for his beloved even though he doesn't rise far above a whisper. It's just an expansive, embracing song that pulls you into Young's expressions and makes you want to stay there.
"Baby Blue" is a hand-clapping, guitar-strumming, organ backed folk rocker, complete with Young's rangy vocal stretching itself into more rock and roll territory. He unleashes his harmonica and pulls it all into more earthy, honky tonk territory. You can feel the breadth, depth, and width of Young's ability here as he sings his way through a wall of acoustic sounds and over a movable beat. It a voice that makes you want to go along for the ride.
An electric guitar melody from Nick Phaneuf gives edge to Young's "Damn." Here, the singer-songwriter uses slight adjustments in his range to accent his lyrics most tastefully. He simply has that handsome, sand-papery voice and when he puts emphasis here and there his lyrics come to life like a portrait becomes a motion picture. These graceful touches never make his sound any less organic and real. He moves around within his own soundscape and avoids many folkie, singer-songwriter cliqued techniques.
Young sings "Carolina" with a wide drum beat, big electric guitar edge, and woody upright bass boosting his voice into a wider range. He encompasses all of the big sounds while singing over them in his gritty vocal, expressing his worldly view, and making the whole thing come off like a parade of roots music artiness. You can't resist him when he's belting "I'm going to Carolina and I'm changing my name."
Young's guitar picking is especially nimble on "Ain't Going Nowhere." His interval of acoustic notes pull you in with their perfectly accented notes contrasting their tender brittleness with his rugged vocal. His next song, "Wish You Well" has a full-bodied acoustic strum with a mid-tempo pace making it sweetly country.
"Interlude" get a touch psychedelic with its organic sound effects reminding you of groovy Sci Fi soundtracks. Officially closing out with "Whiskey Woman," as it is the last track listed on the back cover, Young becomes warmly sentimental within his gritty edge. He unfurls his voice like a big flag and shows more of what he can do in his wider timbre. He packs so much feeling into his expansive vocal that you can't help but feeling fulfilled while listening to it.
The sound quality is outstanding. Hats off to producer Christopher Chase at 1130 Foot Studio in Rollinsford, New Hampshire for producing and engineering the disc  and Pete Weiss at Verdant Studios in Athens, Vermont for mastering it. Young adds some more of his musical endeavors in bonus tracks that follow. He is a musician's musician and a songwriter's songwriter. It doesn't take more than one listen to know this new talent will be going far.