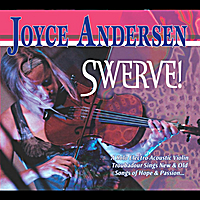 Joyce Andersen has changed course with the release of her dynamic new Swerve CD. After releasing seven traditional acoustic CDs, the Maine musician has picked up an electric violin and reflects a tremendous amount of classic rock influences.
Opening track "Yearning" finds Andersen sweetly vocalizing a pop ballad with her raspy, rangy voice backed by a gently swaying fiddle melody. Her fiddle has more of the light, funky riff style commonly associated with electric guitar on Motown recording. When she stretches the instrument's melodic phrasing, she gets a cool, swaying, echoing sound that pleases the ear with its fresh take on the instrument.
"Little Birdie" tugs at the ear with its interwoven timbres from the picking Andersen does while bowing the other end of her violin. Andersen's voice is another fine instrument. She has emotion, range, and a sweet smoothness going on in her timbre all at once. The singer brings the tenderness of an experienced folk performer to the task of conjuring the emotive qualities of this piece.
Andersen builds an intriguing rhythm in "Heartbreak," an emotion stirring tune that the musician dives into by milking the vocal and fiddle melodies for all she can. Her voice is clear as glass, its spikes in range impressive, tastefully self-controlled, and she makes you feel what she was feeling when she was recording this one.
The singer-songwriter-violinist covers Steve Winwood's "Higher Love" with her violin substituting nicely for the opening keyboard riffs on the original. Her violin gets funky on the main phrase while she belts the vocal melody in pure pop-funk fashion. This version should go over well with anybody who likes the original because Anderson captures the catchy, flowing grooves. Vocally, she nails the rangy chorus with its shifting highs.
Andersen rocks right out on "Get Your Swerve On." Her exuberant rock guitar like rhythm on her electric violin is loaded with cool. It carries the song while she swaggers through the vocal lines like a hard driving, honky-tonk lady. The percussion instruments she manipulates give this tune a danceable funk beat while giving the listener another Andersen technique to follow along to. Just when you thing this song is totally cool, it reaches a higher level of intrigue with a middle eastern style melody and a rippling sound effect that makes you want to see Andersen live to watch how she plays this. She gives her newfound melody quite a workout, stretching it out to an magnum opus of sprightly exotic melody that might make one picture a belly dancer moving sensuously around a torch lit room.
Andersen waltzes her way through the Mama Cass number "Dream A Little Dream" with a plucky low end line and she lays out her precise vocal melody over it. Like a dart champion, this singer hits each vocal note with a unique finesse, targeting the lilting melodic phrase with feeling, brightness, and sensitivity.
The violinist also tackles the Jimi Hendrix version of "Hey Joe" in her own special way. It is definitely one of the coolest sounds this reviewer ever heard when Andersen begins the assertive low end rhythmic intro on her electric violin. She nails the twisty hard rock groove before pressing out some fine bits of melodic phrase sooner after. She also fabricates an electronically enhanced male vocal to duet with her, making it sound similar to the familiar Hendrix timbre. Andersen has a field day when she gives this old Hendrix sound quite a workout.
"We Will Shine" allows Andersen to play light melodic touches by picking and fingering her violin like a guitar. She builds an arc with brittle rhythmic flourishes while she sings over it with a sweet, self-restrained vocal melody. It's as if she's lightly picking the vocal notes as she lightly taps out the fiddle music. Her main melodic phrase here stirs the emotions with its heartfelt slight sustains.
Andersen has come up with one cool, rocking violin album. Unlike others who claim to play "rock violin," Andersen has actually brought out the timbres and groove of classic hard rock and pop funk. Swerve may not revolutionize the instrument all by itself. But, local artists like Andersen can begin an exciting trend.