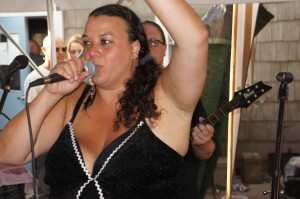 Robin Soares celebrated another birthday at The East Providence Yacht Club. Known as the lead vocalist of Rhode Island's popular cover band 5 Flavor Discount, Soares got by with a little help from her friends. Aside from her own band, Soares hosted Custard Pie, Half Star Hotel, Through The Doors, Vinyl Grooves, Beyond Blonde, and Original Jelly Roll Soul. It all happened yesterday, July 1, in East Providence Rhode Island.
Sound man Scott Caldwell had every player in every band sounding exceptionally good. Aside from working hard all day and evening, Caldwell turned the right knobs at the right time.
The day was so perfect that even a brief thunderstorm couldn't damper the partying spirits. Everybody got along remarkably well when the rains and lightning bolts forced all under the tent together for several minutes.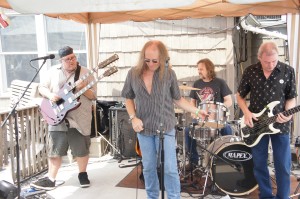 Led Zeppelin tribute band Custard Pie opened the day's event with their detailed rendition of "The Song Remains The Same." The tight, kicking, punchy rhythm section punctuated the band's delivery. Lead vocalist Mark Moretti was in rare form even for him, sounding especially Zeppelinesque with a richness in his sweet high notes. The musicians played so well you could enjoy each note. Bass player Pat Lynch played with a particularly fulsome dollop of solid low end muscle. Drummer Ben "Benzo' Banning hit the skins like he was inspired by the gods. "The Lemon Song" featured guitarist Jon Hathaway's exciting lead guitar running through the mighty groove. "No Quarter" began with Hathaway's hypnotic melody sounding other worldly and Moretti's easeful application of his high exotic timbre. Hathaway was a locomotive after his set was over. He played with his band 5 Flavor Discount and he filled in on guitar for Through The Doors and Vinyl Grooves.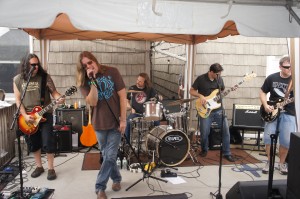 Next up was the hefty, precise hard rock fierceness of Half Star Hotel. They opened with their trademark rendition of Jethro Tull's "Hymn 43" that showed their cleverness for getting through the twists in each section. Their take on Aerosmith's "Adam's Apple" was tightly packed with power and they put a lot of muscle into their bulbous rendering of Kiss's "Detroit Rock City." It was good to hear that Kiss song played live. Lead vocalist Rob Hunt captured the kind of vocal boost that Paul Stanley used that eventually inspired the hair metal movement. Bassist Kevin Marine and drummer Ben Banning kept it thumping while guitarist Ed Jamieson carried the carefully crafted lead. Half Star Hotel showed more of their ranginess on "Your Love Is Fading" with their funky guitar riffs, audacious grooves, and the humming chorus. They indicated their knowledge of music history when they had fun with the obscure Beatles' song "One After 909." Also, "Jailbreak" from Thin Lizzy showed off their waves of raucous fun with a great balance of lead and rhythm guitar(Larry Marine) and that is what gives Half Star Hotel their tough, masculine sound.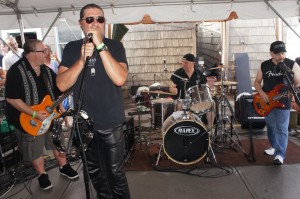 Doors tribute band Through The Doors got their set cut short by a rain delay and the early departure of their keyboardist Steven Pratt who had a gig in Boston to fly off to because of mother nature's pause. "Break On Through" got by on that odd bass line played here by Tommy Toze. Jon Hathaway, filling in on guitar, played icy cool, sublime leads, and his keyboard fill ins had that strange hint of Doors menace. "Love Me Two Times" found singer Ernie Potter giving it his gusty all, belting out the classy Doors classic like he was Jim with no tomorrow. Through The Doors had fun with the snappy punctuation of "People Are Strange" and they got into the rock party fun with "Roadhouse Blues." They closed out with The Doors' cover of Willie Dixon's "Back Door Man" with its unwieldy guitar phrase that improbably works well.
Next up was the annual bikini contest. 5 Flavor Discount's former dancer/backing vocalist Capri was the victor. The runner up was also dynamite looking and the pregnant contestant from last year's show was a hoot. She also looked good even for someone not too many days away from giving birth. There was a fourth competitor who, to the likely disappointment to the male audience, wore a blue dress instead of a bikini.
5 Flavor Discount came on strong in their brief set. They played party favorite "Shout" with its bunched rhythms to great effect. Capri sung Heart's "Magic Man" in a rocketing duet with Soares, getting solid support from Hathaway's rangy guitar phrasing, Bobby Healey's hard rock bass groove, and Angela DeFazio's steady, authoritative stomp at the drum set. The band went into the alluring groove of Sly And The Family Stone's "Thank You Falettin Me Be Mice Elf Again." Healey and DeFazio lulled people to the front to move their feet and shake their booties. Of course, it didn't hurt to have Hathaway throw in a groove-filled guitar line. Soare's dynamic vocalizing on the ride out and introductions/solos were another plus. 5 Flavor Discount captured Sly's penchant for playing a mess of grooves and making it sound tight at the same time. In front, Soares has one of those gospel choir like ranges. Not only can she move her voice around the scale, she aims for a song's emotional core and she always bring that forth in her voice.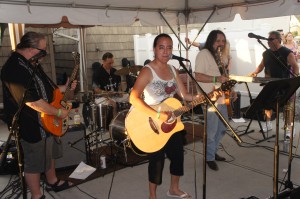 A band called Vinyl Grooves came on soon after to play their mix of rock and bluesy favorites. Led by Keturah Burgess's hefty, climbing acoustic strum and Hathaway's breezy, floating melodic lines, this band played with a multi-textured oomph. Drummer John Iacona and bass player Dave Wildenhain constantly brought a three dimensional groove while keyboardist Ramon Sanchez and harmonica player-vocalist Frank Berg carried sweet melodies aloft a soulful line. "What's Going On" found Sanchez bringing in the equivalent to a Motown string section while the harmonica had an ethereal empowerment. Vinyl Grooves combined modern and traditional styles to arrive at their own unique sound. At times they sounded like a jam band playing elements of ragtime and swing underneath. Sanchez is also a trumpet player and he added more wavy texture to an already good thing. Berg belted out a few numbers with his classy delivery before Burgess came back on to close out their set with a startlingly good take on "I'd Rather Go Blind." Boy, can that girl deliver the goods with soul and precision. Behind her, the band unfurled a tasteful tapestry for this bluesy torch song, like architects building the things just right, all the small parts and all the large parts coming together perfectly.
Beyond Blonde came on next and they kicked ass with their driving hard rock originals. Beyond Blonde is definitely one of those bands that could have ended up playing in arenas around the world if they had been in the right place at the right time. Front woman Lisa Markovich, her vocals raw, raspy, slithered across and through the surface of each tune with unmatched ferocity. Her guitarist Gary Ross peeled off intense phrases and funk riffage over the rock solid rhythm section, each player offering heavy doses of fluid motion. This was music that was taking you somewhere in a hurry. Drummer Mick Coste and bassist Mike Kazmarczyk knew how to punctuate the Beyond Blonde sound. Markovich, during her song "Religion," reflected her ability to sing a free flowing chorus over a bouncy rhythm until she shifted dynamics in the final chorus. The song is about resisting the Bible thumpers who want to "explain" religion to you. You could picture Markovich telling people off when they come to her door with their unwanted evangelicalism. Beyond Blonde closed out with "Take A Picture," Markovich's kiss off to somebody. The close out was marked by screaming lead guitar excitement and Markovich's over the top belt.
The final band before a late night jam was Original Jelly Roll Soul, an outfit that plays with a big band old time feel but managed to rock the Yacht club. Their influences range from ragtime, boogie woogie, Louisiana, swing jazz, and a whole lot more. An island groove number found Leo Charpentier picking some nice riffs with his big jazz guitar. "Just Like A Woman" felt like an oldies rock and roll number loaded with jaunty rhythms and sprightly melodies. That barrelhouse piano by Jim Poland sounded out righteously and the band soon had quite the dance floor following. A New Orleans flavored piece had all the Big Easy elements, light touches on the guitar, magnanimous offerings of cornet from leader-vocalist JP Beausoleil, and a twangy bass solo from Kurt Meyer. Drummer Gary St. Germain kept people moving their groove thang with a variation of beats from Calypso, jump-blues, and Afro-Cuban. A lot of people must have been doffing their hats to Soares for being open minded enough to try a band with a different approach to having fun. Original Jelly Roll Soul still had plenty of fire in the belly to make for a mighty good time.
Robin's Birthday Bash was another great memory of music and socializing at the East Providence Yacht Club.