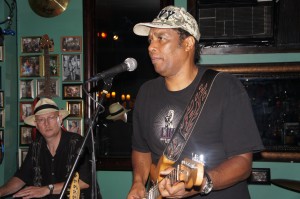 The Willie J. Laws Band made a return appearance at Tower Hill Tavern in Laconia, New Hampshire last night, blowing the roof off the place with their bombastic, aggressive approach to playing blues, funk, and R&B.
Laws wasted no time. He started out with a jumpy, twitching guitar phrase, playing with lithe motion over his rhythm section's heavy duty bop. Impressively, the four piece included Hammond organ player Bruce Mattson who was constantly emitting something fine from his keyboard, crunchy, heavenly swirls of chords as only a Hammond player can conjure.
Laws, though, just lets his sense of blues, techniques, and deep down cool come pouring fourth. Clearly, one of the finest players in New England, Laws is a man and his guitar becoming one being and just giving off the tastiest licks, the speediest riffs, the finest phrases, and he does it all over the steady thump of a hard-charging, crack team of rhythm players, like Ephraim Lowell on drums and Malcolm Stuckie on bass guitar.
At many points Laws lead the band from the split second beginning of a song instead of chording his way from the rhythm to the phrase. He just takes a leap of faith, jumping right in with a mean phrase that his men take their cue from and swiftly follow, and they always did. Laws' guitar reminds of the power of a horn instrument. Blaring, swinging, sliding around, whichever way he wants to take it. Laws has the skill and forceful musical personality to defy the natural limits of the guitar and to make it do things his way.
Laws and his men have strong musical personalities. They can easily put their own personal stamp on song. You'll still recognize it. But, you'll likely enjoy their fresh take. "Love And Happiness" got a makeover. Organ riffs filled in the spaces beautifully while Laws reinterpreted the classic as a riff fest. Everything gets an edge when Laws and his men got into it. This one made you want to move your feet. The rhythm section sure knew how to layer a groove, keeping a lot going on. Bass player Stuckie had that twangy instantaneous groove thang working. He pulled low end finery out of nowhere and invented some more as he went along.
"Pride And Joy" may seem an obvious choice but even this one got a little extra lift than you usually find in blues clubs. Crunchy riffs and organ swirls moved around the mounting tension being built up by the rhythm section, grooving, rocking, creating the perfect bottom for Laws' stretchy guitar lines. Extra topping from Mattson's Hammond made it more raw, soulful. Then Laws got more deeply into his melodic phrase with a blistering, earthy, organic attack.
A Laws original called "Houston" was a driving R&B mesh of notes, spiraling guitar, thumping bass lines, electrifying organ attack, and drums were burning up in this mid-tempo groove. "Voodoo Woman" had a groove that walked right up to you and kicked your ass. Yes, the band packed a wallop. Laws sent shards of sharp notes flying into the room, more blistering than even before, Yet, he paused to make room for his keyboard man to hit some blaring swirls of Hammond funkiness.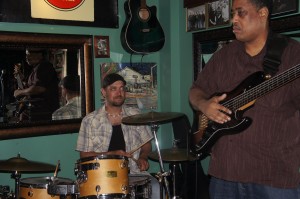 Laws had one of the best rhythmic hooks around when he brought his band into the 1965 hit "Barefootin'." The band had so many tasty elements of R&B and early funk going on at once. You couldn't help but be drawn into the groove-filled, funky feeling of it all. Or course, Laws did his signature wiry guitar phrase thing to charismatic effect.
Lowell threw in a drum solo as only he can play one, speedy, involving, using all of his pieces to take his sound out to the distant horizon in tones while keeping at once the beat and his smacks mighty and economical. A split second after the drum bonanza, Laws jumped right back in with one of his cleanest phrases of the evening.
"Can't Get Love" found Laws getting more belty to express the song's frustration with his hearty vocal line. It definitely made casual listeners look up and take notice. Laws and company brought us into Texas blues territory with Johnny "Guitar" Watson 's "Real Mother For Ya." The band cooked up the bottom as Laws slapped out a funky melodic line.
Laws and his Impossible Mission Forces could also take it down to a quiet place so they could bring it back up with mounting suspense from the organ and guitar. Laws' original "Cornbread Moan" was riffing grooving fun. Later on, Laws walked his guitar out into the audience to showcase his fret work up close and personal. That's when the man went wild with his speedy riffs, slowing down some to make his notes flow out easy like soft serve and even playing it with his teeth.
Freddie King's "Boogieman" gave Laws a chance to jam on some funky riffs. It also showed his unerring sense of song selection. As did the War classic "Slippin' Into Darkness," where Laws showed the power of his mighty vocal sustain. Laws dug deep into this 1970s soul hit from the decade when players knew how to ride a groove, his accents hitting those drawling backbeats. Here, bass man Malcolm Stuckie pulled out nice thick runs, his solo melodic, picking off high notes, echo notes, speedy notes, twangy notes and a whole lot more.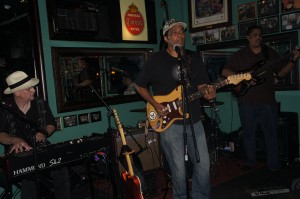 Stuckie also came in handy when Laws started his next set with Stevie Wonder's "Boogie On Reggae Woman." Stuckie's durable, funky bass lines made people feel it and pulled them onto the dance floor like a pied piper of soul. And have no doubt, Laws's blues drenched interpretation of the guitar phrase made the song all his. Segue into "Superstition" where Mattson's Hammond sounded something like Wonder's 1970s' clavinet and you had a winner. Laws owes a lot to his band for what they allow him to cover in his live environment. But, in turn, they wouldn't be working for Laws if they were musical wusses.
Laws played a suggestive humor song about an ex-girlfriend that kept people amused before taking us to a familiar place with "Sweet Home Chicago." Laws finished by saying that musicians are an endangered species and to get out and support them. Amen.
Laws rocked a captivated audience all evening. Both sides of the room had plenty of blues fans and Laws fans to keep the band going strong with the mutual energy being thrown back and forth.
http://facebook.com/willie.j.laws

Follow me on Social Media!