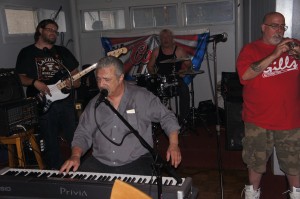 I caught the second set of Kantu Blues Band at The Getaway club in Manchester, New Hampshire yesterday afternoon. I'm talking about the real "Kantu Blues" lead by the actual Kantu Blues Band leader Jerry Paquette. This has nothing to do with a Manchester area blues jam that has a curiously similar name to Kantu. Kantu's Getaway event had to be the biggest blues thing going on in New Hampshire yesterday
Paquette played a Casio Privia keyboard instead of his usual guitar for his first few numbers, and let me tell you something folks; he is just as cool on keys as he is on his six string. Boy, did that guy have a command of those keys. Old time barrelhouse and Ragtime influences could be heard in what Paquette was banging out while trumpeter Jay Doucet blew an early 20th century melody line. Mickey Maguire supported on bass and Wally Nichols was the man pounding the skins.
Paquette tinkled out a tender blues melody while Maguire thumped out a solid low end run of notes. The four players together weaved a sound so briskly old school that it brought you back in time to the old fashioned speakeasies of the 1920s.
Paquette went into a piano rendition of "I Can't Stop Loving You" and made it a sentimental ballady blues number, paying tribute to oldies rock and roll and blues simultaneously. Doucet shadowed those keys with a tender trumpet ballad melody, seeming to whisper the blues with its low key input, showing that blues can make a strong statement even when it's down tempo and mellowed out. Paquette eventually lead his four piece into a shuffling blues with every player getting all two-step rhythmically. It was a treat to hear Paquette play the keyboards. His in depth knowledge of barrelhouse, Ragtime, and a ton of other things made his keys as familiar to him as a wife. There wasn't anything he couldn't do with them.
Soon, Paquette relinquished his keyboards in favor of electric guitar. That's when the fireworks started. The legendary guitar man played as if the music was pouring through him like magic. Paquette is one of those natural musicians. The music is not in his guitar. The music is inside of the man. He only needs a musical instrument as a tool to let it all out.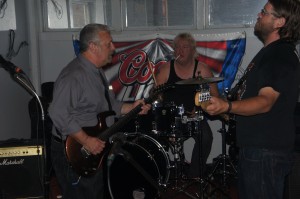 The guitarist whipped out some hefty phrasing before switching to graceful chords, giving Doucet's trumpet a chance to carry the melody. Doucet's melodic phrase came forward on waves of feeling that usually only a horn can carry. Yet, Paquette soon regained control of the melodic phrase mission with grinding guitar licks leading the way. When you see Paquette play, it's like watching a man possessed by something universally large. He has no choice but to let loose those melodies from the celestial blues heavens.
Paquette must have been possessed by the spirit of long gone ancient blues souls when he played his slide guitar stuff. He called it \"Slide from hell." Greasy slide melody rose up out of Paquette and his axe like he was some kind of funnel from blues legends past, more music than any one person can play at one time but letting it come through him as fast as it could.
The whole quartet was bedrock solid on "You Don't Have To Go" by Jimmy Rogers. Paquette made his guitar squeal out some wild high pitched melody by tapping the strings near where he was picking them. Back at the keyboards, Paquette began his new set teasing trumpet man Jay Doucet who sang lead vocal on "Blue Monday." Doucet had that blues vocal feeling thing down pat. He let his vocal style do the work for him, gracing the lyrics without stressing his range too much. Paquette accompanied that vocal melody with a carefree piano line that traipsed through the room with a mischievous step.
Paquette was all class when he launched into "The Midnight Special." His vocal loaded with baritone quality, he did his thing with a clean piano sound underneath him. Doucet's spiraling fulsome horn melody took over for a bit, filling the room with its swaying, mournful line. Nichols and Maguire, meanwhile, were the consummate rhythm section, keeping a self-restrained power under the voice and melody proceedings.
It was certainly worth stopping by the Getaway (on Franklin Street behind Johnny Bad's old place) to checkout Jerry Paquette, Jay Doucet, Mickey Maguire, and Wally Nichols doing their blues thing. Earlier in the event a raffle and other treats celebrated the life of Jeff Robinson who was a dear friend to many at the Getaway.
Robinson left behind his son, Nathan, who has shown a huge interest in learning the art of drumming. Nichols and other friends of Robinson presented a brand new drum kit to Nathan yesterday afternoon.
Paquette and his band mates were certainly feeling the emotions of the day. They played with a vibe that spoke of friendship, loss, and a sense of carrying on through difficult days.
Jerry Paquette is available on Facebook.