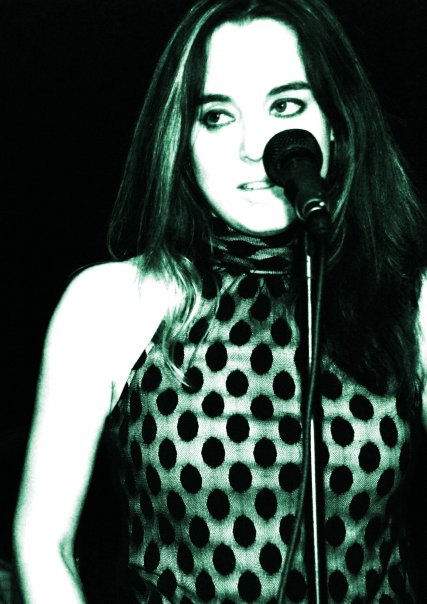 Keturah Burgess began her career with a bang. Known by her first name in Rhode Island music circles, Keturah began hitting the open mikes in her native state in 2005. Within the first five years of her career, she recorded her solo CD with legend Duke Robillard on guitar, and she's been nominated as Best Female Vocalist by Limelight and she won a Best Female Vocalist award from Motif Magazine. In demand, her band Vinyl Grooves, which recently won Best New Act in Limelight, will play six gigs this September.
Keturah's beginnings were humble and familiar. "My parents had a huge album collection, everything from classical to Motown to classic rock, country, and everything in between," she said. "My mom had a guitar in her closet, and I found it one day when I was like probably 13 or 14 and just started playing it." Her parents and her brothers were guitar hobbyists. "Music has just always kind of been there," she said.
After her 2005 debut at open mikes, Keturah met vocalist-harmonica player Frank Berg. Berg got her into some acoustic gig featuring the two of them and local guitarist Rick Nelson. "We were just doing the acoustic scene, and we wound up opening for The Temptations," she said. Keturah, with that acoustic trio, opened for The Temptations at The Yachting Center in Newport, Rhode Island.
"Once I started recording, I wound up doing a solo opening act for Adrian Belew over at the Narrows," she said. "Limelight Magazine helped me out with that one." After finishing her CD, Keturah performed her original material with a band as the opening act for George Thoroughgood, also at the Yachting Center
.In 2010, Keturah won Motif Magazine award for Best Female Vocalist. That an her previous nomination from Limelight were truly a boost. "Any time you get recognized by any of those musicians' papers and magazines, just to know that people are listening or talking about you," she said. "Whenever or not you win, that's always the icing on the cake, but the recognition is always cool."
Keturah has had three bands so far. Her first band, The Igniters, was Berg's band which she joined as a backing vocalist with a few lead vocals here and there. Then, Berg began her current band, The Vinyl Grooves, and she jumped in. Since, then Vinyl Grooves has taken off, playing several gigs each month.
Vinyl Grooves has several members. That band grew out of Keturah's and Berg's acoustic group named Cadillac Martini. "We were talking about doing something a little bit bigger with some more musicians with a louder sound, and Vinyl Grooves kind of came to be," the singer said.
Keturah began writing songs in her mid-teens, soon after she had found her mother's guitar in the closet. "They weren't the greatest songs at 14 or 15," she said. "But that's how it started. As I got older, more life experience, the songs became better.
Her current original material caught the eye of local legend Duke Robillard. Robillard plays all the guitar parts on her self-titled CD Keturah. She also had Marty Ballou on bass and Mark Teixeira on drums.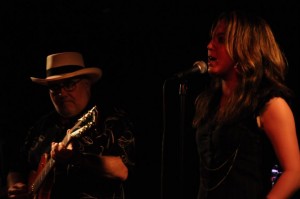 "I was going to be recording over at Lake West with Jack Gauthier who worked directly with Duke," she said. "When I was putting tracks together, we had said 'Maybe if Duke would be interested in doing a track or two.' Once he started listening to it and got involved, he really enjoyed the songs. He even said the guitar tracks were some of the best he had done. As soon as he heard the stuff, he was on board and wound up doing the whole thing. That was definitely pretty cool."
Though it turned out well, Keturah was initially unsure of herself when she went to work with such talent. "It was definitely intimidating to walk into the studio with all those guys," she said. "But the fact that he really liked them, I was beyond speechless. It was definitely a huge honor to have him doing it and enjoying it. You can always get a musician into a studio and have them play. But to have someone of Duke's caliber to actually enjoy it. When we'd go into record, Mark knew all the words to the songs. So, it was definitely humbling to have them take a liking to it."
Keturah had a plan and or vision going into the studio with producer Jack Gauthier who owns the Lake West Studio in Coventry, Rhode Island. "I did a lot of the acoustic thing, and I wanted to try to make the crossover into more of a full band experience," she said. "Not get away from the folk scene but just take another step in a different directions. I think that as an artist you're constantly evolving, trying different things. I wanted to get those songs out there because they were ones I had worked on for a while. It was finally the right format to do it. Once Duke was involved, it definitely took on a life of its own."
Keturah experienced a curious reaction to hearing her songs supported by those top players. She had to listen to her songs over and over again before it hit her that those were really her songs, her creations.
"Wow. I wrote this? This is my song? It had just been me and a guitar for years prior to that," she said. "Even when I started working with other people, it still wasn't obviously at that level, talking about someone like Duke Robillard, so to hear his take, and Marty and Mark, their approach to it, I found it hard to believe I had written it, to be honest."
Robillard, Ballou, and Teixeira are full blown blues players. Keturah, though, has been influenced by all sorts of music. Making a connection to those blues men in the studio was only a short leap, though. She had been listening to a lot of Etta James.
"When the guys approached it, to help with different arrangements and stuff, the songs just fell into those molds. Even though I had been doing them acoustically, they found their home, almost like they grew up."
Keturah's song "Misery" is based on watching her brother leave home for a couple of months. "We all had a big party. I hated to see him go, and I wrote that song that night," she said.
Her song "Crazy" was one based not on her experiences but on the experiences of the people around her. Keturah had a friend who had been going through a lot of things trying to figure out who she is.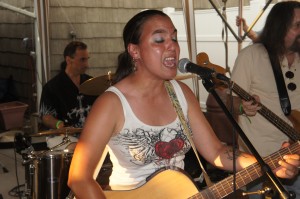 The singer's Biblical name Keturah comes from the book of Genesis. Keturah was the second wife of Abraham, after Sarah. The name means the scent from incense burning, "like they would use at sacrifices," she said. When asked how she feels about having that name she said, "Not too many people have it, so."
Keturah has mostly played out in Rhode Island and the Fall River gig at The Narrows Center For The Arts. She and her band Vinyl Grooves will try to branch out into new territories this upcoming year. Vinyl Groves have certainly found the right niche in Little Rhody, playing on average six gigs a month.
"I think we just have the right sound," she said. "We cover everything, all genres. We're mostly blues influenced, but blues transcends into a lot of different styles. We just have great players, and people like what they heard. I figure we're doing something right."
Keturah may do some more recording this year. She's working on material with Vinyl Grooves. "They're great players so it would be a waste if I didn't utilize the guys that I work with," she said.
Whichever route Keturah travels, the young singer-songwriters is off to a promising start.
http://www.MyKeturah.com