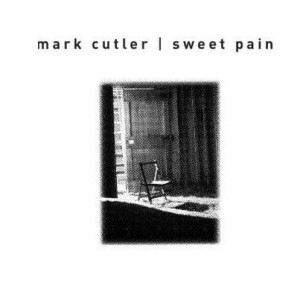 Mark Cutler has been on the Rhode Island music scene for quite sometime now. After much achievement, he adds to his legacy by dropping this very well-crafted roots rock album Sweet Pain. Oldies and classic rock influences mingle with his taste for acoustic instruments and country music flavorings. Much of Cutler's music is difficult to describe and evaluate in words. He isn't trying to reinvent the wheel or discover fire. He plays straight forward rock and roll that might remind of all the unpretentious groups from The Band to Tom Petty And The Heartbreakers. It's the flowing, fluid motion of Cutler's songs that lull the listener to the journey he takes on each song.
Cutler opens his disc with "Salvation Cruise," a rootsie rocker with raw, assertive chords that confidently, smoothly swaggers its way forward with a raw, wide sound, organ chords from Richard Reed sweeping the listener up in their rich chords. The rhythm section sways wide too while keeping the forward momentum. Over this architecture of sound comes humming Cutler's raw, husky vocal. Its power coming from Cutler's self-restraint, letting the lolling lyrics direct his energy through its twisty melody. Cool, worldly, Cutler's charisma cannot be denied.
"Waste Some Time" has a bit of a Tom Petty And The Heartbreaker's influence. Cutler's drawling delivery brings out beautifully the mellow dude philosophy of the lyrics. Cutler is the man when he sustains a vocal note here and there. His voice is accessible yet unique. You can't mistake him for anybody else. A lot of credit goes to Cutler's band for what they inject into each song. He calls his backing band Men Of Great Courage. It helps that banjo and mandolin player Bob Kirkman is one of those couragesous men. His picking keeps a lot of this material well grounded.
Amy Bedard's fetching violin melody lulls the listener into Cutler's "Nothing Left To Do," creating a laid back country honky tonk feeling. From there, Cutler only needs to apply his amicable, smooth flow of organic vocal. His vocal sustains on this fit well among the violin sway and Jonathan Gregg's pretty pedal steel melody. Cutler's mandolin is a charmer, filling spaces around the tender vocal. Bass player Jimmy Berger and drummer Rick Couto make up one of those rhythm sections that can keep the music driving at any pace without overwhelming the melodies. They aren't sidemen as much as crucial cornerstones of this sound.
"Dirty Town" is as swaggering, dusty, and down tempo as its title implies. Cutler pays homage to a run down location by honestly rendering its immediate impressions. Smoke stacks dot the horizon in this smoky town. Cutler's easeful delivery serves up the feelings of quiet desperation one feels when living in a place with no hope or opportunity for a better life. The guitar strumming makes you feel like you're slowly walking the streets and taking in the abandoned hopes all around you. Rudy Cheeks blows a fine interpretation of bluesy harmonica, adding an additional layer of downtrodden soundscapes, filling in the song with forlorn flavoring.
"Walking Into The Night" begins with a purposeful electric guitar and low end momentum that makes you feel you're beginning a fun ride. The jaunty electric guitar picking is oldies feeling and Cutler's direct, earthy delivery makes the song rock even more. This one is rooted in the rock and roll music of the 1950s, when the new music was something fun to listen to as well as tell a tale. It reminds a bit of Del Shannon's "Runaway" in the organ's lifting melody.
The graceful, down tempo two step shuffle of "Come Out To The Woods" allows Cutler to put emphasis on his raw delivery. He dominates this song without effort, just being his own self, letting the natural edge of his voice carry this gentle tune. Pedal steel melody keeps this one tender and sweet, making Cutler's reveries come to three-dimensional life.
"Come Get Me Up" is a tasty blend of country roots acoustic and electric guitar. The guitarists weave a tender, organic feeling here while a flow of rich organ chords moves like a brook. You can't help but listen hard to how this one was put together instrument by instrument. Drummer Rick Couto, sensitive to what the song needs, will hit the skins with just the right amount of snap. Guitar lines wrap themselves around the beat with a brittle twang, ringing with authentic country roots tone.
Cutler and his boys jump right into the driving groove of "Lonesome Pain." They cut loose with assertive guitar and full-bodied organ while the rhythm section kick it along with swerving grooves. Over it all, Cutler croons it in his raw timbre, making things rock with an earthy vibe.
"Heart Of Stone" grooves mellow, allowing Cutler's flowing raw vocal unfurl at a lilting pace. His voice moves through the chorus with an undeniable charisma that comes from not trying to be charismatic. Song craft is Cutler's business and cool happens to be his style. Guitars here augment with their gentle electric melodic line and organic rhythmic assertions. Everything comes together with the precision of architecture without sounding like it was overly studied.
Guitar lines swim around and organ percolates on Cutler's semi-spoken "That's All Right." It's got snappy rhythm guitar and organ lines that ring out with the authentic soul of all American music. The lead guitarist presses out fine as gold melodic phrases. This one has a drifting, floating feel that carries the listener away on a soft cloud of grooving bliss.
'Bottom Of The Bottle" gets its oomph from Rick Couto's adept, punchy drumming. Couto doesn't just keep a persistent beat going on. He peppers the sound with additional, quick skin slaps that makes this song feel boosted and infectious.
"Shame On You" glides in on the sweet breeze of Rudy Cheeks' harmonica. The easeful trot continues onto Cutler's buoyant chorus. Just see if this song doesn't remind you of daydreaming on a summer's day. Mandolin puts in its own special flavoring. His background with the instrument probably accounts for a lot of his awareness of and sensitivity to the possibilities of acoustic instruments and the unadorned, unpretentious qualities of Americana roots rock.
Jonathan Gregg's pretty pedal steel melody returns to help Cutler close out his disc with "She'll Be Killing You Too." With sparse accompaniment, Cutler, again, makes a strong impression with his naturally raw vocal timbre.
Cutler could've been a folk singer in another lifetime. He chooses to apply his amicable, earthy timbre and lyrical visions to guitar-bass-drums-organ fortified roots rock. There is a lot of talent in this one man, and he has a lot to offer his listeners on his Sweet Pain CD.