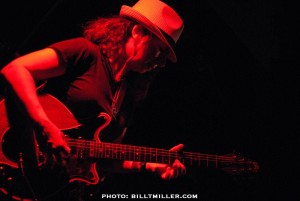 Catherine Capozzi has long been recognized as a guitar goddess on the Boston music scene. From her days with prog rockers All The Queen's Men to her highly regarded Axemunkee instrumental work to her recent foray into the campy Sci Fi comic book themed Darling Pet Munkee, Capozzi has been a queen of the six string.
Working on a film score is just one of Capozzi's latest projects. She's scoring a film that a couple of friends are making. "The plot revolves around ten women being stranded on an island and slowly one by one they wind up dead," Capozzi said. "It's a little of Agatha Christie's 'And Then There Were None' and maybe some other horror thrillers. That's the concept behind the film."
If that seems interesting, Capozzi's story in the music business only gets better. The two friends she is scoring the film for, Michael Epstein and Sophia Cacciola, are her band mates in another side project called Darling Pet Munkee.
Capozzi, on a whim, became the guitarist of the trio Darling Pet Munkee with bassist Epstein and drummer-vocalist Cacciola. "It's really an accidental band," Capozzi said.
Someone the trio knew at the University of Lowell was majoring in sound production and had to find a band to record as a graded project. The trio ended up writing songs in the car ride to the student studio. They decided, on another whim, to write songs based on advertisements Epstein had always seen in the backs of old comic books. One such ad was for a "Darling Pet Monkey." The three chose that for their band name, which was fitting, as Epstein and Cacciola have a two person band called Do No Forsake Me Oh My Darling, and Capozzi's instrumental project is called Axemunkee.
The trio had a lot of fun working on the project, so they've kept it going. And old comic book ads remain their song themes, X-Ray Specs, Monster Size Monsters, Genuine Soil From Dracula's Castle, Kung Fu Sandals. They've released an E.P and they're about to release a second E.P.
"Darling Pet Munkee plays out," Capozzi said. "We've got videos out. For this album we were wearing glow in the dark skeleton outfits with x-ray specs. This new E.P. we're going to be wearing something different which I can't say yet because we're still working on it."
Boston area music fans are liking the band and some culture blogs have written them up, including boingboing.net. Darling Pet Munkee are often asked to perform at certain cultural events.
The Boston guitar goddess has been receiving recognition from people in business for years. Capozzi won the Red Special Guitar contest, held in 1993, and judged by Queen's Brian May. May was promoting his first solo CD after Queen vocalist Freddie Mercury died. Hollywood Records wanted to commemorate that occasion with Guild guitars who had rebuilt May's original Red Special Guitar according to May's specs. Tower Records videotaped each contestant playing a two minute guitar solo, and they gave the top ten videos to Brian May who then picked Capozzi.
"I was shocked," Capozzi exclaimed. "I did not want to do the contest. I did it at the last possible moment. When I walked up the stairs, I was petrified. I heard somebody playing as I walked up the stairs. Some person playing was pretty amazing, and I was like, 'Uh, I can't do this.'":
The guitar lady was mentioned in Lucille O' Brien's historical reference book She Bop, along with the biggest female names in music history. Capozzi recently received recognition from Guitar World Magazine.
"Finally, after all these years," she said, "there's a guitar magazine that's starting to focus on women players. Thank you, very much. It's great. It's a series on women players. It's not a competition."
Capozzi believes that women guitar slingers have been long overlooked due to industry marketing. "I think it has a lot to do with the nature of the kind of music that goes along with rock stuff in general," she continued. "That boy rocking with the guitar is going to get all of the chicks. The guitar has all these curves, shaped like a woman, and here's your guy playing this instrument." Capozzi pointed out that Memphis Minnie was a kick ass guitar player ahead of the time, before women were recognized for it. "I found out about her just through digging," Capozzi said. "It wasn't because anybody was" talking about her the way in which they talk about Muddy Waters.
Capozzi played in numerous bands before ATQM, in the late 1990s to early 2000's, but those pervious projects didn't get as much notice. Yet, she was once involved with a project called Universal You, featuring David Dons, a keyboardist in an old Boston band called Down Avenue. Now a Berklee professor, Dons is a top rated fretless bass player and composer. Dons sang in a voice reminiscent of Leonard Cohen and Mark Sandman. "The band had elements of jazz and rock," Capozzi said.
Capozzi's began her current main project Axemunkee, an instrumental group, after seeing the guitar relegated to a supporting role in every band she played in. She was a little more prominent in her previous prog rock band All The Queen's Men. Yet, every time she recorded with them or any other band, Capozzi felt that certain parts would sound fantastic with only guitar and no vocals.
While on tour in Europe with ATQM alter-ego, Ziaf which played the music of 1930s jazz chanteuse Edith Piaf, Capozzi knew it was time for a change. "We were quite successful," Capozzi said, "but it wasn't really something that was extremely fulfilling for me as a guitar player. I mean, it was an aspect of my musical personality that I certainly liked, but it wasn't me, really, being what I do best."
So Capozzi began composing her own material for Axemunkee which debuted in 2005, albeit with a different lineup than what she has now. "I guess Edith Piaf motivated me to do Axemunkee," she quipped.
The Ziaf band was an interesting story in and of itself. Piaf was the French equivalent of America's Billie Holiday, though Capozzi sees her more as a Kurt Cobain tragic musician. Ziaf was essentially the same band as All The Queen's Men, and they got to play European shows because their lead singer, Christine Zuffrey, was from Switzerland and had connections. (Most Americans who heard their Edith Piaf renderings thought Ziaf were playing their own original music).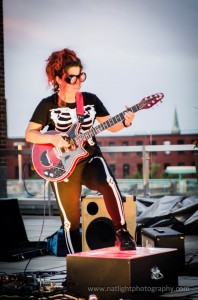 Ziaf had transferred the music of a full orchestra to their five piece band and played them from the perspective of musicians born into the third rock and roll generation. As their guitarist, Capozzi got to play material originally recorded by Django Reinhardt who had actually played with Piaf.
Ziaf, which combines the "Z" from Zufferey's name with Piaf, became a profitable enterprise. Capozzi and her band mates were able to tour, pay expenses, and then get a little something after costs. The guitarist got to see places in Europe that most Americans would never get to see, playing in Gap, France to the Champs-Elysees area of Paris. She also got to play in a convalescent home to people who had not seen Americans since World War II.
"When we were performing those songs, it was one of the hardest gigs I've ever done," she said. "These people, because they hadn't seen Americans since World War II, it's reminding them of whatever experiences they had during the war. And the material we were doing brought them back to their youth." Big, lavish parties also became the norm. At one point, Ziaf had played for the American ambassador for France.
Capozzi and her ATQM band mates had gotten/into the Edith Piaf thing quite accidentally. All The Queen's Men's singer Christine Zufferey, being from Switzerland, could speak French as one of her native languages. So, Shaun Wolf Wortis, host of Wolf's Annual Mardi Gras Balls in Boston, asked her, way back then, to do a set of Edith Piaf songs. It became a regular show at cultural centers and BBC Radio interviewed them. "Next thing you know, we're performing in France," Capozzi said.
All The Queen's Men, though, functioned primarily as a prog-rock band in Boston, and Capozzi gained a lot of experience and exposure. Even before Zufferey got them into Switzerland gigs, they had a previous lead singer named Amanda Williams from Nashville whose father was Garth Brook's songwriter. In those days, ATQM were an indie rock band because Amanda Williams was not a prog-rocker.
"We were in Nashville a lot," Capozzi said. "I got the experience of recording in Nashville, performing in Nashville. We were playing in festivals that were the precursor to South By Southwest. We did showcases for major labels. We had amazing experiences just in terms of meeting people and learning the Nashville writing process."
It is easy to digress when exploring Capozzi's career, as she's made many interesting sidesteps into interesting side projects which became massive undertakings. But getting back to her main act, Axemunkee, which has played clubs all over Boston, The Middle East, Radio, The Lizard Lounge, Johnny D's, and many many others.
"My concept for Axemunkee was to be an instrumental band that highlighted songs based on my compositions using the guitar as a voice and not so much as a 20 minute link off guitar solo that nobody wants to listen to," she said. "The songs all have meanings behind them, even though they're instrumentals. I just take my inspiration from all the different elements of music that I like, anywhere from gypsy swing to middle eastern themes to rock-surf stuff, psychedelic; opera because I like some opera stuff. I'll take different versions of operas and maybe twist them a little bit."
Capozzi recently released Axemunkee's second full length CD Vortex. It features her instrumental piece "Kinetic Gypsy," which was spawned by Capozzi's background in classical guitar, which she played as a youth in Waterbury, Connecticut after initially learning violin and drums.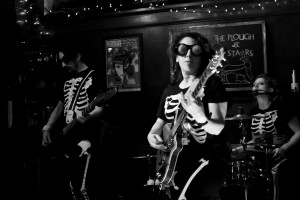 She eventually moved onto Django Reinhardt and also some flamenco guitar, all of which comes to the fore in the Vortex of her instrumental prog-rock album. Being a world traveler comes with the kind of eclectic projects Capozzi has worked in, and she takes in some of what she's heard around the globe.
Capozzi forges her sound simply by playing what she is feeling. From there, she is inspired by her Axemunkee band mates, especially drummer Geoff Chase and electronic drummer Tamora Gooding. "I'm a big fan of drums. I love multi-rhythmic things," Capozzi said. "I love electronic music. I love incorporating some of that into what I do. I like the juxtaposition of acoustic drums against the electronic drums. Because I used to be a drummer, I like having those rhythms to work off of."
After hearing an inspiring beat, Capozzi may draw on any elements that will allow her to flesh out whatever she's hearing in her head.
The debut Axemunkee CD Sidewalk Mary made it into the first round of ballots to be nominated for a Grammy for instrumental music. A song from that CD, "Acid Django," has been used on the History Channel's TV program American Pickers. Capozzi gets her song onto television show soundtracks through an agency middleman. Of course, Capozzi gets a check.
"That's the part I want to move toward, which is called 'making money in my sleep' so I won't have to carry my amplifiers anywhere any more," she mentioned.
For now, Capozzi will be appearing regularly in Boston area clubs with her own project Axemunkee and her friends' side project Darling Pet Munkee. There is not much left to be said about a musician who has already received national and international recognition. Except for: Go see her play.
Axemunkee has a show on Friday, September 14th at the Rosebud in Somerville. Darling Pet Munkee will release their second E.P. at the Brighton Music Hall on October 31 with Walter Sickert And The Army Of Broken Toys.