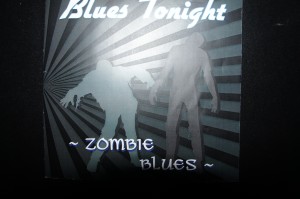 Blues Tonight Band have released their first full length CD Zombie Blues. The disc is loaded with feisty blues songs steeped in traditional idioms with modern aggression. All 11 tracks are original songs written by guitarists-vocalists Craig Farrington and Dave Bottom. Each songwriter is steeped in a variety of blues styles and their multiple influences surface in these well-crafted, soulfully delivered songs. Harmonica player Alan Doyle offers a lot of color and tone in his melodic lines that range from background sound to a hurricane of notes. The rhythm section is ably held up by drummer Eric Anderson and bass player Steve Brooks. These players put their parts together exceedingly well and each song is a treasured experience.
"Payday" opens the disc with restless guitars and harmonica. Vintage guitar tones are all class. Wide swaths of sound cry out the blues as much as the singer's chirpy declaration of the weekly independence that comes when he can afford to go out and blow his money having a good time. The lead guitar and harmonica whip a frothy brew of exuberant sound as the singer expresses his payday glee.
"Roll Me On Over" rolls in on its breezy sweeping guitar leads. That creates a loosey goosey feeling. The rhythm boys, aside from creating a moving layer of groove, leave a lot of space for the lead guitar and the harmonica to swing through with their greasy melodic phrases. The vocalist on this one is personable, making you feel he's talking directly to you. These guitarists press out lead phrases that have a voice of their own. Doyle's harp work adds the extra punch to the sound, making for a fulsome chunk of blues.
"Seafood Boogie" comes on strong with a hoofing rhythm section and galloping harmonica. The rhythm guitar grooves on in like a speedy horse, quick and forceful. Another tuneful lead guitar solo creates nice colors and tones, as if someone's painting a blues masterpiece. Gusts of harmonica notes propel it part of the way then the lead guitar comes burning, incinerating its incendiary way forward.
"Battle Under The Pillow" has a theme drenched in the old time story song of loss, sorrow, and struggling to recover. The harp gets especially greasy and feisty, like a big fish you caught and can't keep in your hands no matter how hard you try. Later on, its more greasy fun, harp and guitars sliding around, expressing the misery this poor guy is going through. He sees signs of his former lover all around his place, driving him nuts. This comes through in the intense instrumental passages.
On "Pacing The Floor" the rhythm section makes this one happen with their bulbous, bopping groove. They just roll it out with their fibrous low end and tasteful touches at the drum set. You can feel their three -dimensional filling as you follow along. The guitar and harmonica here, needless to say, are successful, building a story arc for the singer to emote his downtrodden experience. The vocal has an announcer tone, making himself sound like a sad, deadpan, straightforward narrator.
Title track "Zombie Blues" finds the guitar on fire in the feisty center of this driving blues number. The guys have a lot going on in this one. Aside from their breakneck pace, the lead guitar is molten lava pouring hot notes all over the place, while the rhythm guitar and harmonica blow a hurricane of notes around the main melodic phrase. This is definitely road house blues at it's most intense expression.
"Breakdown And Cry" is a weepy, crawling blues pulled off miraculously in mid-tempo shuffle mode. The common man vocals here fill in the colors and tone with brisk bursts of emotion and classy sustains. The lolling pace lulls the listener into a false sense of security until the guitar and harmonica give off exhilarating bursts of energy, excitement, high-pitched mania. The tune eventually settles back down to leave the listener feeling settled and satisfied.
"Stray Cat Blues" trots along at a leisurely pace, with a lilting bass run giving everyone else in the band a platform to build many things on top of. The singer's stop-start verses and the classy guitar phrase make you picture an old time nightclub with a dress code. There are many different time periods represented here, yet the classiness could belong to any one of them.
"Clean This Mess Up" has a nice thick sound coming from the rhythm section and the harmonica. That groove just doesn't let go of the ears or the feet. Wisecracks about preachers, politicians, and12 step programs mark the singer's humorous view of the modern world. The philosophical narrator has a likable circus barker approach that works well here.
"It's Killing Me" is a drowning one's sorrow with drink blues. It relates to the workingman perfectly, working two jobs just to make ends meet. Life is a struggle for people who don't make enough money, and their frustrations make them miserable. To make matters worse, this guy is having trouble with his woman. The plaintive lyrics are sung in an understated manner making you feel the pain. A weepy harmonica line brings this home with its extra layer of unhappiness.
"Slowing Down" closes out the CD with a mid-tempo reflection on a need to take it easy. Blues Tonight Band are outstanding at using the colors and tones in their music to create a personality in the song. The harmonica line percolating here is beautifully expressive in its leisurely pace and the lead guitar phrase makes you feel like taking a joy ride through the country on a sunny Sunday afternoon.
Blues Tonight Band play out frequently in New Hampshire. This new Zombie Blues album should increase their visibility and widen their audience. It is full of fun, well-crafted blues songs written and played by people who know what the blue are all about.