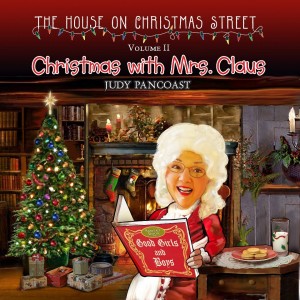 Judy Pancoast makes a great Mrs. Claus. She fills the roll quite well on her latest holiday album, Christmas With Mrs. Claus. This CD is part storytelling, part Christmas music for the whole family. Pancoast's sensibilities are informed by the cheery pop music and singer-songwriters she grew up with in the 1970s, infusing her original Christmas songs and arrangements of traditional carols with energetic melody and lush chorus.
Mrs. Claus introduces the activities in her North Pole home before hitting her opening number "Mrs. Claus Welcomes You." It's bright, cheerful and has a smooth melodic run. "The Little Christmas Village" is a sweet song describing a woman's Christmas list for her kids. Piano and strings here shine with the Christmas spirit. "The House On Christmas Street" is an upbeat, pop-rock influenced exclamation of a house that everybody ignores until it is decorated for the holidays.
Pancoast's voice is in top form on this recording. She must have recorded multiple tracks until she got everything perfect. Her voice runs the gamut from clear and bright in her verses to pleasantly lush in her choruses. "I Saw Three Ships" is a sweet ballad rooted in much older music forms. Pancoast's honey flow of a voice wraps the song in her personal warmth in this down tempo, moderated vocal format. The musical backdrop is wide, filled with nice musical details. The whole envelops the listener in warm, layered sound.
"Blessed Be God" finds Pancoast sustaining her lovely vocal notes with an opera singer's strength. She injects a spiritualism into each verse with her tempered energy. You can feel something special just below the surface, And, as usual, it's a joy to her Pancoast sustain a note. The pop rock keyboards keep this song fun while supporting its religious meaning.
"Silent Night Meditation(Featuring David Brancaccio)" offers many pleasant treats for the ear. Brancaccio is a splendid narrator. He has a sincerity that suits this particular story. Pancoast beautifully articulates the verses to this timeless masterpiece. The soft, subtle guitar picking makes for an affective sparse background, the notes carrying more weight than their tempo or dynamics would suggest.
"Good King Wenceslas(Featuring Chuck Foster and Emma Pancoast) combines Pancoast's sweet croon with the narrator's handsome voice filling in parts of the story. This one builds up a dramatic arc with a steady piano march that makes you feel like you're going somewhere important. The chorus is fetching, lush, filled with the kind of warmth that only Pancoast can muster.
"The Disastrous Toboggan Disaster 1967(Featuring Dave Kinnoin) is my favorite piece on this album. Pancoast put nice twists in the music and verses that make me feel the toboggan's ability to glide by on the grace of snow and gravity. The piano tinkling is lively and lovely and Pancoast's vocal is pop solid. Tempo and dynamics shifts so Pancoast's brother can tell his side in this event. Even if it didn't have this amusing brother-sister rivalry, this song would work a pop-rock charm. Pancoast went for the ride of her life on her old Toboggan and she is still haunted by it, which I'm certain is funnier to her in retrospect than it was at the time.
Pancoast returns to her calmer demeanor on "Peace On Earth." She reminds a bit of her influence Karen Carpenter here. Her voice is warm, smooth, and she sustains notes beautifully, letting those notes breathe when she works her magic. The piano is lovely and Pancoast caresses those notes with her personal affection for music, religion, and the holiday spirit.
Pancoast is at her liveliest on the jazzy pop "Santa Whatcha Got." The affection here comes to three-dimensional life with its lush chorus, vibrant saxophone, and jazzy piano tinkling. This one might make you want to dance around the Christmas tree. "Mrs. Claus Reads From Santa's Book Of Good Girls And Boys" is a sweet interlude between songs. Pancoast could make a good actress or voiceover in TV commercials. Segue into "Deck The Halls" and the CD benefits from a lush young chorus. It is the variety of things Pancoast juxtaposes that also make this album a treat.
"Where is Santa Claus" is a pop rock tune with swirling keyboards and synthesizers creating a whirl of fun. You'll want to sing along to this one. Pancoast makes it infectious with her warm vibe, and the music, piano, synthesizer, bass, drums, and much more, carry you along with their bright interpretation of the arrangement.
Pancoast's following narrative and "Mrs. Santa Claus Reprise" close out the album in line with the consistent warmth, fun, holiday spirit, and talent that marks each track. Pancoast's cast also includes Keyboardist-guitarist-arranger Ken West, dulcitarist Doug MacCormack, saxophonist Mathew Huxel,and singers Emma Pancoast, Emma and Anna and Sarah Ambrogi, Joe DiSalvatore, Kerry Dyer, Matthew Hesketh, and Ellen Kester. Jim West produced this CD at his West Sound Studios in Manchester, New Hampshire.
This Christmas album should go over well with Pancoast's usual following and anybody else who enjoys good holiday music.