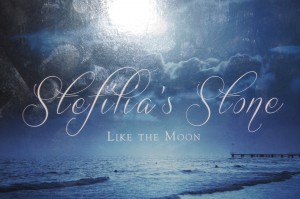 The Stefilia's Stone debut CD Like The Moon feature lush duets that carry the listener along many musical and lyrical adventures. Some bright, some dark, the duo efforts of Carrie Rowan and Adrienne Fawkes are considerable and enjoyable.
Title track "Like The Moon" opens the CD with a lush harmony from Rowan and Fawkes. Thus begins the treat for the ears that this CD is. The two women blend their voices with a smooth, lush beauty and their assertive vocals give their songs deliberate, purposeful forward motion. "Like The Moon" gets tasty support from an assertive acoustic guitar. Over that, the ladies apply their magic, sweet voices that come together as if pre-determined they'd meet and form this partnership. They give an arc to each verse, filling in the peaks and valleys with fulsome vocal prettiness.
"You Own This" is loaded with twisty interchanges between the two vocalists. The twists pull the listener in through their hooky, catchy chorus. They coo together as sweetly and naturally as songbirds. Their acoustic instruments, Rowan's guitar and Fawkes's piano, are particularly snappy here. Producer Eric Kilburn helps the ladies capture the clarity in their rangy timbres as well as the natural wholesomeness of their instruments.
On "Lover," duet lead vocals form an embraceable texture. The listener can feel the sense of motion going on. Cooing together, the two create plenty of peaks and valleys to travel over merrily. Fawkes turns in an elegant piano melody, guiding her notes sweetly beneath the movement of voices above.
"Beautiful Denial" gets its life from the assertive beauty of acoustic guitars. And again, the ladies create a lush texture and then once having built it, take it for a spin, sweetly riding the range of their sonic landscape.
"I Am Life" features Rowan supplying the' nimblest piano playing on this disc. Her notes are clear beautiful drops of sound that carry the listener along with their perky simple brilliance. The duo blend so perfectly together above the run of notes, as if their timbres are skating on air.
"Brilliant Chameleon," written by Rowan and Oen Kennedy, should be the track pushed on folk and adult alternative radio. Giving an extra kick is a motivating percussion track from Tara Greenblatt. The harmonies here are gripping as they follow a particularly twisty pattern. This one has an irresistible rock and roll attitude. The guitar and percussion will force listeners to tap their toes, and the lyrics are easy to relate to as the ladies move it heartily forward.
"Wrong Girl" is full of zesty acoustic guitar faire while the ladies flesh out the this tale of being second favorite to a mistake. There's a lot of attitude in this one, and it comes across in a feisty dose of spunk. The theme of desperation comes through clearly when the two hold their notes in a passionate sustain.
"Love Is Like Water" turns down tempo and ballady. Rowan, accompanying herself on piano, croons in more of a pop style than a folkie singer-songwriter one. The vocal ballad sounds almost like a movie theme in its huge arc. That approach works here as the song climbs higher artistically as it travels ever higher in musical bombast. Fawkes joins in on the chorus to create an ever deeper emotional level with their thickened texture.
"The Edge" is aptly named. Fawkes hit's the deep, heavy, dark notes on her piano like she desperately has to get these feelings out in the open. The harmony vocals here multiply the dramatic psychological tension in the song. This one is a well-crafted melodrama, like we haven't seen since the 1970s' singer-songwriters. It even has the cool neo hippie attitude of that time period.
"Take It Back" finds Fawkes tapping out a happy, sprightly melody. Both she and Rowan put heart and soul into an irresistible vocal give and take. Each has a feisty, rangy approach that requires a tasteful balancing act of vocal techniques. This balance of power loads this song, and others, with an undeniable energy.
"Let Me Love You" is Fawkes' ambitious and expressive love song. Strong, ever climbing vocal and hearty piano chords capture the essence of a young couple surviving the odds against them.
"Winter Sun" makes the most of Rowan's pretty girlish high notes. She hits the ear just right with her perky phrasing. Harmonizing with Fawkes creates another tapestry of ethereal voicing. Forlorn piano darkness somehow lifts this song above the darkness to give the listener easier entrance into what's going on lyrically.
"Make Me Special" is about not using the same line used on every other woman. This is every woman's thoughts and feelings expressed in a hooky chorus. Their vocals are as crystal clear as the emotion they're expressing. This song is as much for the men to understand as for the women to relate to. Ignore this theme at your own peril, guys.
Rowan and Fawkes have got a good thing going in this duo they've come to call Stefilia's Stone. Like The Moon is a fulfilling first album and strongly indicates the ladies will bring their precious gifts to bear in future efforts.