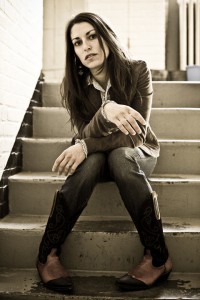 Sarah Blacker could best be described as a young woman in a hurry. The Boston-based singer-songwriter is constantly writing new songs and she's constantly releasing new music. Her last full length CD Come What May was released in March of 2011. She released her Perfectly Imperfect E.P. this past year, and she is readying some even newer songs for an upcoming 2013 E.P. release to be titled Precious Little Things.
"I feel that it's important to consistently bring new music into the world," she said. "I write often, and I like to keep my fans engaged by offering them new stories and songs to connect to as often as possible. At least one release (per) year if I can."
Blacker had some songs that were just screaming to get out of her head.
"A few of the songs on the (next)EP are brand new," she said. "I find that the songs that write themselves most quickly are the ones that stick the hardest. Three of the new songs are this way, and three of the songs are from the last EP and were also written in the same fashion."
"Shiver" (from the upcoming E.P. Precious Little Things) is about what it was like growing up in a conservative town, being an outcast," Blacker related. "This song relates how I've healed myself, and hope that others will connect to this as well."
"Perfectly Imperfect," (title track for her current E.P.) is about my lifelong journey to accept myself and everything the way it is. I'm somewhat of a perfectionist so I guess this song is a reminder for me to be forgiving," Blacker said.
Another off the upcoming E. P.: "'Pluggin' Away' is about stepping into the spotlight even when you don't feel up to it," she revealed.
An upcoming tune called "These Summer Nights" is "my epic tribute to an amazing summer evening when a good friend came to visit and challenged me to write a song about the fun we had."
The upcoming Precious Little Things will contain more personal revelations:  "'Revelry of Heart' is about challenging authority and being true to yourself. 'The Most Beautiful Thing' is about a lover of mine who died in a car crash, very suddenly. It's my way of eternalizing him in song," the singer-songwriter revealed.
Blacker's Perfectly Imperfect CD Release Party sold out at Passim some months back. She attributes that success to playing in Boston for three years straight and to constantly building up her fan base.
"I have actually, unbelievably, sold out Club Passim three times now. I have been performing full-time for about 3 years now, and performing at Club Passim was always a dream for me," Blacker said. "I work hard at making friends and developing relationships and taking advantage of opportunities that arise. It wasn't too hard, and I've been incredibly lucky to share the stage with some amazing musicians along the way, who've helped me to build my fan base." Blacker's long list of friends in the music scene include Entrain, Adam Ezra, Anais Mitchell, Meg Hutchinson, James Montgomery and many more.
Blacker's success also resulted in a recent nomination for a Boston Music Award for best singer-songwriter. "I was thrilled, flattered, and truly honored to be recognized," she said.
Blacker's plan for her next, upcoming E.P. is to use it as a stepping stone to reaching a much larger audience. "I plan to do a heavy campaign in press and radio, and also to tour behind it," she said. "I have some exciting support shows coming up this year, and I'm hoping to attain a team through some of these connections. I want to do this for the rest of my life."
Blacker revealed much about the songs on her upcoming E.P. "I've written one about my grandmother who recently passed away, one from the voice of my witch-like side calling out, "burn baby burn," and a love song or two," she said.
Blacker may be best known for her song "Knocked The Wind" from her last full length CD Come What May. It is a catchy engaging song, almost haunting with its interesting lyrics about unexpected surprises. To write the lyrics, Blacker took the experience of having the wind knocked out of her as a child during rough play and married it to the experience of being in a relationship with an unpredictable partner. The clever, interesting metaphor is unbelievably hooky.
"I spent a lot of time as a child on the swings and monkey bars on the playground," she said. "I was always taking risks and falling flat on my chest, literally knocking the wind out of me. This song is about a relationship I was in that did the same to me each time I took a risk. The video itself came from the idea that each character was practicing their craft and hosting epic fails. They notice a feather presented at first by a secretive feather sorceress and one by one they find their way to a parade wherein they are given a second chance, and seen for their beauty and talents. There they meet the feather lady, me."
Blacker has another unique attribute to her writing, recording, and performing. She is of that rare breed, a ukulele player. The instrument fits neatly into her soundscape, allowing her to express her musical concepts with a whole different texture.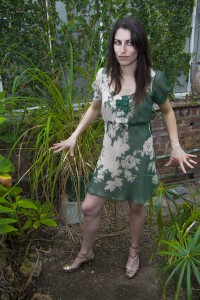 "It's changed the feel of some of my songwriting to a more upbeat mood," she said. "It's hard to play a sad song on the ukulele. It's allowed for me to explore different rhythms, keys, and textures on the nylon strings. My first guitar was nylon strings so it was a smooth transition for me."
Blacker's keen sense of marketing lead to her playing tons of House Concerts. These are essentially privately hosted parties at the homes, offices, and even barn's owned by Blacker's fans.
"House concerts are a really fantastic way to have face time with new fans," Blacker said." They're intimate and friendly,  a great way to be presented to a new audience. They really hearken back to parlor concerts, when Classical musicians were presented by a music lover to a group of people. The audiences are often built-in, and ready to buy CDs, as well as eager to hear new music. They are listening rooms, often include a potluck, and are quite lucrative as opposed to venues which can have very high overhead expenses just to operate."
Last winter, Blacker found herself performing her music in Germany, the instantaneous result of a German tourist hearing Blacker's music while staying at a Boston hotel.
"A woman heard my music playing on Radio 92.9 in a Boston hotel, and wrote to me, ordering over $500 worth of CDs and t-shirts for her friends and family," Blacker recounted. "She then put me in touch with a house concert festival promoter, who hired me to play in Cologne, Hamburg & Frankfurt. It was absolutely incredible to meet her face to face, as well as so many music fans and wonderful spirits."
The German people Blacker encountered were quite taken with her and her music. She got to share her music with many people there.
"Each show was sold out and I sold more CDs than I could believe," Blacker exclaimed. "I can't wait to go back. Unfortunately, (a) festival didn't have the money to hire an international performer this year, but hopefully things will be different in the future."
Blacker works with a licensing agency to land her songs on TV program soundtracks. She recently had the mind-blowing pleasure of hearing her song "Smell Of Caramel" on Jersey Shore.
"It was pretty cool," the singer-songwriter began. "I was out performing at a show in Connecticut  and started getting text messages that my song was on Jersey Shore. I couldn't believe it at first, but then, sure enough, a friend took a video on his cell phone and there it was. Now I'm just waiting to hopefully make a little bit of dough from the placement." She said that with a wink.
Another marketing trick up Blacker's sleeve is Pldegemusic, a fan to musician template in which musicians can involve their fans in the making of a musical project.
"It's run by musicians for musicians, so it's music only," she explained. "Unlike other fundraising sites, through pledging, fans can receive downloads or physical copies of the EP, house concerts, songwriting lessons and much more for pledging different amounts of money. For just 10 dollars, fans can get an inside look through photos, video and demos, at what it takes to make an album. They're literally a part of the process every step of the way."
Blacker's pledge music campaign is almost up and is located here: http://www.pledgemusic.com/projects/sbnewep
Blacker has her career path carefully charted. She is smart enough and realistic enough to accept that marketing is just as important as music if she wants her music to be heard by many more people.
"I am trying to attain a national booking agent, and hop on some more tours with artists who are more well-established than I am," she said. "I plan to work with different PR folks to reach more people with my music. I would like to put out more albums and connect to more people through the messages in my songs. I write to make sense of life, and hope that others can make sense of their lives through my songs as well."