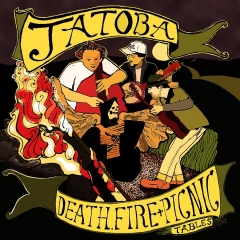 Jatoba is onto something fresh and exciting. This three piece acoustic outfit from Vermont actually make bluegrass rock, make rock mellow out eastern style, and keep a hefty beat even though they do not have a drummer. John Jamison plays acoustic guitar, mandolin, sitar, and sings. Jason Scaggs plays acoustic guitar, acoustic baritone guitar, banjo, and sings.  Jeff Richardson plays double bass, spoons, and sings. The trio create a thick, zesty sound that belies their sparse approach. This new CD Death, Fire + Picnic Tables offers ten tracks of blissful acoustic fun.
"Andy's Song" opens this rockin' rockabilly bluegrass CD with a rootsie twist that finds edge in its sharp mandolin finger picking style, knobby, pulpy bass runs, and athletic acoustic guitar runs. Together, these instruments and techniques combine into a personality filled number that delights with its presentation while it impresses with its skills.  A raw, unadorned vocal is full of folksy charm, drawing the listener in with its earnest application of the lyrics.
The players work together quite tightly on "Dave's Painting," every economized note wedged into its place beside the notes from the other instruments, forged into a dimension by talent and discipline. As much as it has going on with the three instruments, "Dave's Painting" never overwhelms with showy displays of skill. It's all hard work behind this trio's successful blend, and they come up with a sound and style you could listen to all day."
"The Dusty Road" is an assertive vibe song comprised of sweet gentle but unwavering melodic notes over a determined pilot of an acoustic bass line. It's amazing how that low end series of notes has enough muscle, even though its not busy. It creates a platform for the mandolin player to make his high, brittle, and pretty notes dance all over the beat. This travel song also gets a boost from the thick vocal harmonies that arise out of nowhere at the end of the choruses.
There is a strong sense of forward motion on "Closure," a two step shuffle that has a crystal clear note pattern forcing you to listen to each swiftly picked one. A series of racing banjo notes makes you picture an early 20th century person packing a lot of activity into a single day. This song was clearly inspired by an appreciation of early modes of travel that dazzled with their contemporary sense of speed. Riding around the mountain in a locomotive or racing to a fire in an early steam fire engine are the images conjured by this piece.
A bouncy acoustic guitar, palpable upright bass runs, and a sneaky mandolin playing peek-a-boo with the beat mark the steady grace of "Mind Climbed Dream." The trio, again, create a sense of speedy motion. The vocal harmonizes here, though, have a braking motion that force you to slow down and savor the sound. An adeptly played melodic line pulls the acoustic player into lead guitar territory, which couldn't have been easy to play on a non-electric. Believe it or not, they also get psychedelic here too. A sustained note that gets bent and naturally distorted makes a surreal sound that's eerie as heck.
"U&I" has a low end acoustic guitar run darting alongside a handsome upright run. It sounds like it was inspired by the themes from Mission Impossible and The Outer Limits. Eerie, spooky, otherworldly, and unique all at once. Sustained notes ring out their entire tone range and that gives it this Sci Fi flavor. It's not the notes but what comprises the notes that makes this one hum with artistic integrity while delving into something entirely different. Later on, the tune gets riffy over a hefty rhythm, thick dollops of assertive picking that make an almost separate vibe from the start of the tune.
"Midnight to Morning" has a ghostly presence on this disc. It's stirring, echoing sitar marries gypsy music, eastern melodies, and modern rock guitar note bending and sustaining. This instrumental piece is like a journey through the subconscious mind of a reformed bluegrass musician. All of those speedy runs of notes actually take shape, like a looming Rorschach, filling in a form inspired by what goes on where nobody else can go. The sonic landscape arising out of those sitar overtones take on a life of their own. You feel yourself moving through a sublime otherworld as you listen carefully to every ringing tone.
"World Goes By" conjures a larger studio feeling with its swaying, sustained notes that ring out over the sonic landscape. Whatever they're doing to achieve that sound, it's working well in this song. It creates a wide, fulsome feeling that makes you think there is more going on than three guys playing acoustic instruments. There is also a funky acoustic guitar melody dancing through this. That guitar has a snappy motion that could inspire dancing and reminds of many styles at once. Without being any bit Flamenco in color or tone, it seems to borrow from that genre in its fleet fingered technique, like the fingertips are tap dancing on the strings instead of merely pressing them.
"Time Between" returns the trio to their hefty, throbbing bass beat and quick assertive chops on the guitar and mandolin. These brief but fulsome notes make you feel like square dancing with the Bionic Woman, challenging your feet to keep up with a rhythm that you just can't play without a taskmaster's discipline. The earthy vocal comes across earnest and unpretentious, and that's how this music is meant to be played. No ego. All talent. All discipline.
There's a wholesome country hoedown feel to closing track, "You Freak Me Out." Mandolin note picking sounding sweet next to the grittier snaps of banjo melody. An upright bass solo pumps even more life into this lively feast for the ears with its knobby pulse. There is a college frat buddy sense of humor in the lyrics, wrapping the whole workout in a warm, amiable vibe. It ends the CD on a lighthearted note, something that can be important to serious musicians who put a lot into getting each note just right.
Jatoba are certainly onto something fresh. Their blend of styles and impressive techniques could land them an opening spot with many modern folk, folk-rock, bluegrass, country, and jazz acts. Let's hope they continue helping to open minds with their acoustic masterworks.