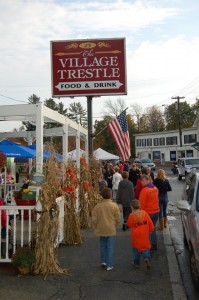 Brenda Cadieux and Amberly Gibbs have been very busy for the last several months. Both women, for years, had been bartenders at the Village Trestle, located in Goffstown, New Hampshire. Cadieux, in fact, has been the marketing person for the Wantu Blues Jams, which the Trestle has traditionally hosted every Sunday afternoon. When the couple who previously owned the Trestle decided to sell, Cadieux and Gibbs put their resources together to buy the food and music establishment. Gibbs was on hand to discuss the purchase and the ensuing changes in her new establishment, interior, menu, and music.
"(Steve and Lorraine) Pascucci made a decision to sell The Trestle and put one hundred percent of their time and energy into their new venture, The High Street Farmhouse," Gibbs said. "It was never a case of 'They couldn't own and run both locations'; more a case that one of the businesses would have suffered. They approached Brenda, and she in turn then came to me, and with the help of some very loyal investors, we decided to form a partnership and go for it."
Cadieux and Gibbs decided that changes, renovations, and a makeover were in order. "We closed for a week in September and went right through it from top to bottom," Gibbs said. "We kept the overall footprint, but we changed all the paint, rugs, furniture, glassware. You name it, we flipped it. Our biggest accomplishment is in the menu. We changed the menu around, added homemade soups, stews, entrees and basic comfort food options, all homemade. We even have our desserts made from scratch. The breading for the chicken tenders and wings was created by Brenda herself, and it really works great with the shrimp and seafood specials too."
Aside from Cadieux and Gibbs, kitchen man David stayed on from the previous regime.
"David stayed on in the kitchen and helped us revamp the menu. Todd and Renee moved on to the High Street Farm House with Steve and Lorraine," Gibbs mentioned.
The Village Trestle unveiled their new look last September after closing for renovations. Cadieux and Gibbs picked the perfect day for them and their usual following of patrons and musicians. "We opened on September 23rd for our Grand Opening Celebration with our Sunday Afternoon Blues Jam," she said.
Blessed to have the local community's support, business has been strong. The long term regulars may have accepted the changes because Cadieux and Gibbs were already part of their Village Trestle family. "The regular everyday customers have been very supportive, and we have been lucky enough to see many new faces," Gibbs exclaimed. "The foot traffic has definitely increased, and we seem to be holding a steady pace right now."
Restaurants and entertainment are two areas showing an improvement during these troubled times. The current economic recovery may have played into the Trestle's current business success. "We have definitely been busy," Gibbs said. "We have made some small but significant changes to the menu and the live entertainment, which seems to have drawn a whole new crowd."
Many Trestle patrons are local area folks from the greater-Manchester/Nashua area. But, of late, the Goffstown establishment has been seeing new faces who are coming from afar. "Our 'everyday' crowd definitely reflects from the local community," Gibbs said. "We do, however, seem to be drawing as far away as Boston for some of the live music we have been featuring."
The new ownership has certainly impacted the Village Trestle's music program. The two new owners have been using their combined connections in the music scene to hold music there more often and to bring in new bands. "We both have very similar backgrounds in restaurant management and entertainment, which has worked out quite nicely for us so far," Gibbs said. "We have a regular format every week, which includes acoustic, rock and roll, blues and a sprinkling of country. We have been able to book some great local and national acts, and so far the response has been overwhelming. While we host an acoustic Jam on Friday nights run by John Erlman, we also have our Sunday Afternoon Blues Jam with our amazing Wan-Tu Blues house band. Rock and roll is featured every Saturday night, and we have been lucky enough to book The Bruce Marshall Group, Tom Dixon Band, and now, Jimmy Lehoux and his band will be featured on February 16 for a special 'Fan Appreciation Night'. We never sell tickets or charge a cover to these events. That fact we are really proud of."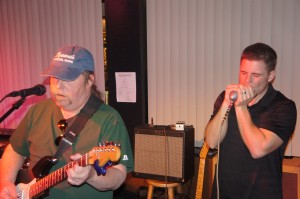 The Village Trestle has traditionally hosted the Wantu Blues Jams on Sunday afternoons. That jam has become defined, popular, and respected over the years. Cadieu, who has always done the Wantu marketing, can only makes things better now that she is one of the new owners. "We have a very loyal fan base when it come to the blues," Gibbs said. "We have been very fortunate to have some of the best musicians from all over New England in attendance on a regular basis."
Cadieu and Gibbs have been in the bar and music industries for several years. Gibbs has been in the business since 1988, starting as a cocktail waitress at Classics restaurant in Manchester  where she met future Mama Kicks members Gardner Berry and Lisa Guyer. This connection lead to Gibbs becoming a singer in an area band called Common Knowledge where she met her husband Scot Gibbs, a respected New England guitarist.
 "I eventually worked myself into a Corporate Training position for both Applebee's and Olive Garden," Gibbs said. "Most recently, I managed O'Donnell's Irish Tavern before it was sold to Slammer's. Brenda has similar experience, and she also handles all of our POS computer systems and advertising."
The Trestle is now a whole different experience from other places Gibbs and Cadieux have worked at as bookers and bartenders. "For one thing, we own this one," Gibbs exclaimed. "We have been very committed to the quality of both the food and entertainment that we offer. We have control. So it really is a direct reflection on our vision, and it's so great to see it come to life."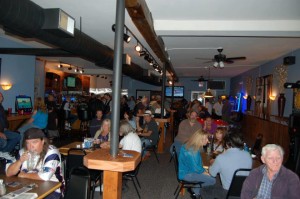 To a certain degree, the new owners will keep the tradition of hosting special functions and decorating the Trestle for each holiday that previous owner Steve Pascucci became known for. "We are now gearing up for the Valentine's Dinner February 16th and St. Patty's weekend, which will be a big one for us this year. Saturday March 16th we will feature The Ghost Dinner Band, and Sunday March 17th we kick off the day with a five piece Irish band and menu, and roll into our Sunday Afternoon Blues Jam."
The kitchen at the Trestle functions in response to current focus on health and quality. "Its good for people to know that we don't have deep fryers in the kitchen," Gibbs said. "We "oven-fry" all our fresh tender and wings and shrimp. Most people don't know that. We also make all of our soups here on premise from scratch." And Gibbs proudly added: "No Kettle Cuisine products in this kitchen."
Weekdays at the Village Trestle are just as much fun as weekends. They have in-house dart leagues and cribbage nights, as well as Wednesday Night Trivia with Dr. Trivia from 6:30p.m. to 9:30 p.m.
"Thursday Nights are our Acoustic Café Performances featuring on rotation Reid Treyvaskis, Gardner Berry, Bruce Marshall, and Kim Riley." All Thursday shows are 7:00 p.m. to11:00 p.m. Travis Colby, formerly of Roomful Of Blues, will be featured the last Sunday of each month at the Wantu Blues Jam.
Gibbs closed out by offering a familiar Trestle sales pitch: "We are happy to host your party or special occasion. We have a catering menu too," she added.