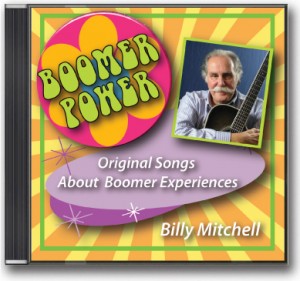 Billy Mitchell is up to his old tricks, turning meaning of life tales into fun, folksy sing-a-longs. This time around Mitchell has come up with 18 songs that celebrate and examine life for those nearing retirement age. His CD Boomer Power, cleverly adorned with bright hippie style coloring on the jacket, packs a punch with words that will surely hit close to home as his generation settles down to life in the 21st century.
"Assisted Livin'" opens the album with its witty take on what the experts think older residents need when they start slowing down. Mitchell has a mellow, traveling beat supporting his warm, amicable defiance.
"But Not Today" features guitarist Ken Sheehan playing some scratchy notes and chords behind Mitchell's ode to procrastination, which he seems to view as a privelige of people who have already worked hard for a whole lifetime. Mitchell's declaration of independence from a commitment to working out gives this tune its charm and personality.
"Star 2" finds humor in the older generations' frustration with the 21st century telephone answering systems. Mitchell pokes fun of how intrusive they are, collecting personal information before they do anything for you. A playful trumpet melody increases the humor value as Mitchell applies his dry wit to complaining about the inability to find a human being at the other end of the line nowadays.
As people get older, their memories tend to get weaker. Mitchell sings about this with self-deprecating humor on "I Wish I Could Remember." Acoustic roots instruments make this folksy tune sound quite earthy as Mitchell makes peace with his inability to remember what he was just thinking about.
"You Still Got It" is a tender love song to the wonderful person who is growing older with Mitchell. Background singers, a vibraphone melody, and an expressive horn melody load the musical backdrop with character and musical integrity. It's good to hear that as a songwriter, Mitchell still got it.
"Poli-Tic" is a doctor's reference to a medical condition brought on by too many TV commercials and other media bombardment during election time. Mitchell, by employing his wit and plain language, heightens the listener's awareness of how ridiculous campaigns can become. The singer-songwriter has a bouncy, quirky electric piano melody going on that entertains and puts further emphasis on his light-hearted approach.
"Honey Do List" is about his wife's list of things for him to do around the house and errands to run. Not only does the song become more amusing as the list becomes more merciless, fiddle player Joe Zajak gives it a bright, country hoedown feel. Mitchell must be the most easy going guy ever, as these time-consuming chores keep him from having more fun without ever spoiling his cheery mood. Zajak also plays his banjo on this track, giving more of that sense of country time easefulness.
Mitchell's synthesized jazzy horn and funky organ turn "Getting Old Ain't For Sissies" into a danceable treat. It is easy to picture all the senior citizens boogying down to this number at their recreation center. Mitchell has recruited some lovely background singers who develop the texture on his fun chorus: Coleen, Christine, and Kerri Scott with Laura Furlong help Mitchell get even funkier here.
"Re-tried" allows Mitchell to showcase his witty word power. He injects as many words possible that not only rhyme with retired but are also synonymous with being no longer in the workforce. Ceasefire, expired, not required, and many others fill the sing-a-long chorus with their punchy implications.
Mitchell takes a good-natured view of his adult age children on "My Legacy." Like any sensible parent, Mitchell accesses his success as a parent and a humanitarian by reviewing how his kids have grown into sensible adults who look out for others. Dropping his witticisms, Mitchell delivers a warm message about the true meaning of life. Pretty, brittle acoustic melodies from fiddle married to a country guitar create a soothing, reassuring backdrop that becomes as important as the message.
"Prescription Drugs" targets another concern for those trying to enjoy their retirement years. Again, Mitchell takes another hang up for the more seasoned citizens and turns it into folksy, charming tale of how there is a pill for any and all things that his age group complains of. Mitchell's breezy bluesy harmonica lines give this the intimacy of a front porch sing-a-long during simpler times.
A song that you don't have to be retirement age to appreciate is Mitchell's "Get Off Of That Cell Phone." The singer-songwriter is not only peeved that he gets distracted by other people's aloud chatter, he suspects that many of them are just showing off. Cell phone people who are talking about a business deal are usually just full of hot air. Mitchell calls them out, at one point saying one of them just isn't bright enough to be working on such a deal. It is certainly easy to relate to Mitchell when he tells these public loud mouths to leave him out of their lives.
"The Road" is about the long, interesting journey of life, with family, children, education, war and peace being major landmarks. Mitchell's steady vocal and persistent organ chords wrap his message in a warm, embraceable vibe. "Some Thing" is about the importance of having a "thing," a hobby, an interest, some thing to occupy one's time with merriment. Light touches of organ and acoustic guitar make you feel the affection Mitchell has for people who have a "thing." His best line here is when he says rock climbers have a thing about gravity.
"Act Your Age" is an anthem to be proud of the maturity, civility, and the good bearing that comes with age. A sweet, sparse flute melody highlights this high minded appreciation of the good life. Mitchell also admonishes his generation to skip the tummy tucks and the botox injections and enjoy the inner peace of maturity.
Mitchell takes a few funny potshots at the media in "Says Who?" The singer-songwriter asks the modern age questions: Who are we listening to and why? Mitchell has little faith in all the information we're being bombarded with and he lets us know it, albeit in an amicable tone. The sing-a-long chorus gets its catchy, bumpiness from an upright bass and a feisty acoustic guitar chord progression.
"What's So Bad About Feelin' Good?"  is an honest tender look at the stereotypes about grouchy old men. Mitchell systematically knocks down every single one of them. The songwriter extols the virtues of a positive outlook. The peppy beat underneath his song keeps it snappy and full of life. Meanwhile, a jubilant horn melody gives it an old time party feel, delivering a second cheerful message about the baby boomer generation.
Mitchell closes out with "Gettin'" Here he sings to his sweetheart, preparing to close out his life with the one special person he can relate to best in his golden years. He sings of it "getting" harder to remember and good times coming and going. It's a perfect summation of his Boomer Generation in their retirement age, and it becomes the perfect summation of his collection of messages throughout this album.
Mitchell has summed up his Boomer Generations' retirement age experience quite well in this 18 song collection. In a simpler Boomer time, this CD would be a double record set with large pictures on the front and back covers as well as the center fold. Yet, Mitchell has found a way to paint his own pictures. It is easy to picture many of the scenarios he sings of in this album because he describes them so vividly. It is also easy to feel the frustrations, losses, victories, and joys he sings of because he relates them with a keen narrator's eye, or ear. This album should be a treat to anybody from Mitchells' generation and to everybody who cares for and reveres his generation.