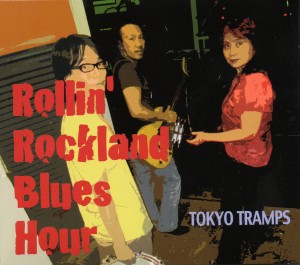 Always one of the finest blues bands around Boston, the Tokyo Tramps have outdone even themselves on their new album Rollin' Rockland Blue Hour. Named after the town Rockland, Massachusetts that hosts recording studio 37 ft Productions where they recorded it, the CD has a freer, looser, and more sophisticated sound structure than any of their previous efforts. Without losing their punch, the trio presents their blues music with a new finesse in their layering and performance.
Opening track "Good Morning, Marietta" finds guitarist-songwriter Satoru Nakagawa pressing out a breezy melodic phrases that flies as free as a kite in the wind. Nakagawa also grinds out some heavier, meaner phrases too here. His lead vocal is in fine form, sounding like an older, experienced blues man. His vocal exchanges with bassist-wife Yukiko Fujii shimmer with bright warm colors and tones. Her pretty, delicate voice is the perfect foil to Nakagawa's rougher, huskier belt.
Speaking of Fujii, she also graces the next song "Empty Pockets" with her winsome, likable vocal approach. There is a certain quaintness to her voice as well as how perfectly she uses it. Fujii and drummer Kosei Fukuyama keep an infectious groove going on, making the listener want to move his feet. The song will hit home with most people as it's about a lack of money after all the bills are paid. Nakagawa cuts loose with another edgy guitar line while saxophonist Junpei Fujita keeps a bluesy horn melody unfurling over all.
"Come On Baby, Dry Your Tears" is a slow dance number in which Nakagawa plays the most tasteful lead guitar lines in Bean town. You can hear honest emotion in his melodic phrases as it meanders at its own sweet pace around the rhythm section. His guitar speaks tenderly to ears and to the heart and offers something more than the usual tender guitar lines over down tempo grooves.
"Me And My Guitar" brings the Tokyo Tramps more into rough road house blues territory. Nakagawa grinds out old time electric guitar blues motifs while the rhythm section keeps him anchored in. The earliest electric blues pioneers can be heard in his work, along with oldies rock and roll and rockabilly. The song is about a guitarist comforting himself through sad times with his music. As songwriter and player, Nakagawa succeeds in creating a comforting and familiar blues sound that makes the song work on multiple levels. When the song gets going, it reaches the catharsis level with a climax of emotion that leads the songwriter and the listener to other side of blues, which is salvation.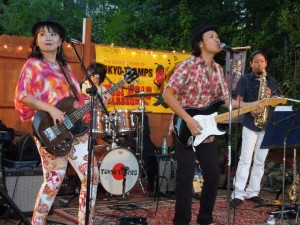 Fujii is a cool blues chanteuse on "Bound For Glory." With the hip confident swagger of a 1960s rock stat, she rides her vocal over the bopping groove and alongside Fujita's sax melody. Fujii also serves up a steady bass run as a foil to Nakagawa's personality-infused guitar line. The band eventually goes whole hog, getting into their groove with unflinching, empowered guitar leads thrusting and parrying with driving horn and rhythm section.
The trio slow things down again for "The Ghost Of My Old Love." This slow boil finds Nakagawa singing a haunting vocal line, like his voice is traveling down a long dark cavern over his blistering lead lines. His electric guitar gets another fine workout during the instrumental portion. He makes it cry, growl, and shout his haunted anguish over a startling memory of a past love. The thick notes he grinds out feel like a personal exorcism. He eventually, after a long spiritual fight to the death, drives the demon out.
"I'm Movin' On" returns the Tramps to a fun, danceable frame of mind as Nakagawa sings of a need for independence from his family and their small town life. While the theme, groove, and guitar picking are all universal, Nakagawa takes it up a notch beyond most dance ditties, mostly with a fresh enthusiasm in his notes and chords. A saxophone line is pretty cool too.
"Going Back To New Orleans" is Nakagawa's ode to the first American city he lived in. His rootsie, bluesy picking style is on the mark and the song has an appropriate roadhouse feel. Nakagawa peels off his greasy notes like he's got all the time in the world and takes care to bend and sustain them nice and sweetly.
The trio get into a funky feeling on "No Time Woman Blues." Nakagawa's lead phrase is drenched in Chicago blues stylings, and Fujii proves an effective vocalist, crooning coolly over the juke joint beat and traveling lead guitar line. Her expressions are clear, crisp, and full of emotion. In this song, she sings of needing more time to love her man, and she makes the listener feel it. Her busy schedule keeps her on the go, and the frustration mounts, and that leads to more hilly mounds and lifts in the song structure. Beautiful.
"I'm A Country Boy" finds Nakagawa continuing to play his electric blues guitar at a higher level of effectiveness. Like the whole of this album, he finds that level of art and beauty where his vocal, guitar expressions, and groove work together more smoothly than ever before. One reason why this Tramps album is their best yet is a feeling of freedom. The trio are not trying as hard to be good. Instead of being industrious, which they still are to some extent, they just let the feeling of the music take over and more good things come out of that. Here, Nakagawa showcases his guitar talents like a flying trapeze artist, playing notes way up high, making contact with groove and verses at just the right moments, so it doesn't all fall apart.
"Papa's My Number One Fan" provides Fujii with a perfect vehicle to strut her vocal stuff in a rapid, hard-hitting blues format. She nails the urgency of wanting to escape from a strict father to sing in a rock and roll band. Just as frenetic is the pace at which she wants to reconnect with her businessman papa when he changes his tune about her music career. The trio grind out some hard-driving, energetic blues here, making sparks as they hit the ground running with each change. Fujii's background in other genres left her well prepared to emote around all these volcanic eruptions of blues power.
The trio close out their album with the easeful slide guitar oriented "A Quiet Evening." Nakagawa likes doing some slide work in his live Tramps shows, and he moves that old time sound around like he invented it. Here, it's like the slide is waltzing with the groove and the vocal, shards of crisp guitar phrases soft-stepping in gracefully at the perfect moments.
Words alone cannot describe how far the Tokyo Tramps have come on this new album. They trio simply take their blues and Americana roots knowledge and talents to a higher level, resulting in their best CD ever. Drummer Kosei Fukuyama has since left the trio to return to Japan to help his country rebuild after it suffered the worst natural disasters on record. As drummer, he left behind a valuable contribution to the Tramps legacy. His work on this album is as stellar as the other two players and their guest saxophonist. Rollin' Rockland Blues Hour is sure to take Tokyo Tramps to a higher level of recognition.