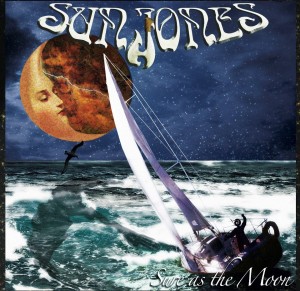 A gentle rhythmic pattern begins the new Sun Jones album Sure As The Moon. From there, the multi-layered textures of groove, guitars, keyboards, and horns continue on their adventurous paths, some bright, shiny, and gentle, others, louder, blaring, and frenetic. There's a lot going on with the multiple instruments in each song, and the arrangement make these numbers exciting and fun. This time around, the rhythm section, guitars, and vocal harmonies are rooted more in classic rock than funk, as it was on the previous Sun Jones CD.
Opening track "Hello, Let's Go" uses a gorgeously bumpy groove to build a structure for a piano that perfectly punctuates a mellifluously winding horn line. Vocalist Charlie Carrozo swaggers around that groove, pausing to let his vocal sustains ring out with clarity and purpose. A lively saxophone line unfurls like a gigantic flag over the piece, making the whole thing even funkier than it started as.
Title track "Sure As The Moon" builds up a momentum with a wide harmony line from the vocalists. Horns and organ too create a swell. A listener might feel like taking a magic carpet ride on the waves of sound. There is an assertive compressed electric guitar phrase riding through, keeping this tune rooted in rock, like a classic rock song that has a lot of layering around the beat, and that works well here. Think in terms of Bob Segar Silver Bullet band with its keyboards and a saxophone sounding soulful even thought it's rock and roll. But that is only a single flavoring in Sun Jones. Much is still similar to Parliament or Earth, Wind, And Fire.
"Big Shoes" jumps out of the gate in first gear, an 18 wheeler of music barreling down the highway with exuberant vocal harmonies, horn shots blaring, guitars riffing, and a mighty rhythm section. The hoofing drumbeat and fills keep the feet tapping while moving this lumbering number forward with solid rock underpinnings beneath the funk influenced horn section. The vocalists also follow a more traditional classic rock approach in their harmony lines. Fans of the previous Sun Jones album need not fear. This is the kind of rock song you can dance too.
"Long Fishing Line" has a shimmering organ swirl and a driving groove underlining lead vocalist Charlie Carrozo's throaty gripe about greed and manipulation. This song is a successful blend of angry young man proletariat and smoky classic rock idioms. The horns and organ are like a shield and the lead guitar phrase is like a battleaxe, the anger in the song cutting through all with an incisive tone. The singer is as soulful as you can get, too, in a classic rock format. He means business when he belts this one.
"Don't Leave Me Hangin'" glides in on a wafting harmony line that bespeaks of late 1960s and early 1970s groups like Crosby, Stills, and Nash and The Beatles. The song also packs a wallop in the horn shots that explode out of nowhere and carry on the melody, like a flying trapeze artist who knows when to pass the swing. Slowing things down here and there creates space for bountiful lifts in the peaks and valleys created when the entire band take things upward. It makes for a wider, more swinging sound that takes the listener on an interesting ride.
An extra layer of percussion turns "Music" into a catchy, ready for air play traditional R&B number. Think along the lines of Alicia Keys, Adele, and Duffy. There is a brilliant catchiness in the well-paced rhythmic approach to this song. Its hefty groove only needs to take its time to sweep listeners up in its chirpy upbeat soulfulness. The harmony vocals have a special shine and make you wish the song was longer so you can continue basking in its sunny personality.
"Before The Song Is Over" meshes mellow acoustic guitar with sensitive piano and light touches of cymbal. Romantic yearning in this song is beautifully expressed in acoustic rock guitar and a bittersweet saxophone melody. The instrumental ride out is a treasure of boogie music risen to a serious level.
"Messy Step" is a classy, up-tempo funk, complete with endless runs of knobby bass, disciplined multiple horn lines, shimmering lead guitar, and busy drumming. The vocals here are greasy smooth, gliding over a jumpy horn section. It doesn't hurt to have the Heavy Metal Horns brass section here playing in tandem with Sun Jone's own saxophone legend John Vanderpool. They create a hurricane of horn bliss that pleases as it overwhelms with its sense of largeness.
"Red Light" is a beautifully moody groove number that speculates about homelessness, kicked off by seeing someone begging with a change cup while stopped at a red light. This is an earnest heartfelt self-examination of how one might or should react to the reality that there are penniless people dotting the landscape of our cities. A burning saxophone line makes the listener feel the torn, conflicted nature of the singer, making this a fantastic funk-soul message song.
Tribal drumming, chanting, and a spiritually vibrant horn line make "Handa Wanda" a crowd pleasing dance party song. This is the song that makes everybody want to put down their drink and head out onto the dance floor. There's a down to earth vibe here that makes you picture a throng of old friends moving to it at one's beach house or roof top. It showcases the bands serious rhythmic abilities and fine ensemble playing. It's the perfect close out song to a perfectly blended album of soul, funk, and rock.
Sun Jones continue their flair for melding hefty funk rhythm sections, soulful horn sections, and classic rock idioms. Sure As The Moon is another step up for a band that keeps on stepping up.