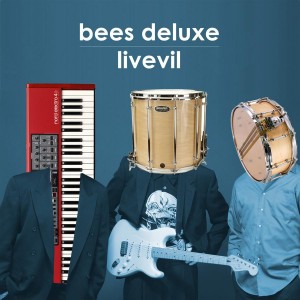 Bees Deluxe are following an important tradition as recording artists by releasing a live concert album. The album is called livevil, which could be pronounced live evil or live-ville. The point is that it is a live album that captures Bees Deluxe in their hard-hitting, jamming blues glory. The trio of guitarist Conrad Warre, keyboardist Brad Smith, and drummer Patrick Sanders are tight as can be, but within their solid structure they find numerous spaces for creative improvisation and artistic expression.
A boogie piano line opens this album and segues right into "Jealous Guy." Smith taps out a fanciful barroom melody while Warre unleashes a slippery phrase that moves around as loose and feisty as a fish just pulled out of the lake. His phrase is full of pluck, and he sings over it with a drawling easeful vocal. Warre eventually stretches out his phrase to finesse the hell out of John Lennon's original melody. Vocally, he captures and presents the fear and insecurity of those words perfectly with his down tempo blues feel.
"Cissy Strut" by The Meters give Bees Deluxe a chance to stretch out a groove. Sanders keeps those drum fills coming over his river of beats. His drumming makes you feel he's taking you somewhere, the endless flow as smooth as a fine ride over a freshly paved road. His drum solo consists of hard slaps on those skins, tightly woven with the beat. Then, Smith taps out some hard-hitting piano notes, aggressive and sudden, in steady succession. Eventually, there is so much going on in this number that it becomes an extravagant busyness, all of the notes conjuring great vibes while dazzling with each band member's individual talent.
Bees Deluxe play "Ain't Nobody's Business" by Freddie King with a steady authoritative groove and with Warre offering a sharp, penetrating guitar line. It's certainly a treat to hear the chugging original turned into this flavorful sprawl. Warre unleashes another of his untamed guitar phrases, his rangy melodic line has unlimited life as he spirals from one meter to the next.
The next number, "Look-ka Py Py," finds Warre twisting vibrant guitar phrases around a bopping groove. The trio are tight and together here as they move briskly forward with hard driving drum fills, organ swirls, and bite size guitar phrases. They fill in every space with a tasteful nuanced something or other, from one instrument to another. Warre pays out a lively solo phrase that combines gritty timbre with freestyle riffing. It sounds like it was hard to punch in those phrases in the brief open spaces, yet Warre manages to get the job done with style.
Warre plays with soulful, tasteful restraint on "Goodbye Pork Pie Hat/Brush With The Blues." His guitar emits brittle, tender high notes that he varies in length with an artist's touch. You can almost picture his fingers caressing the notes out of the strings, as there are so many nice touches you know they had to be carefully conjured, each fingertip doing something precise. For the most part, the song is a mellow, down tempo cruise. Warre's lead guitar phrase slowly grinds its way toward an emotive crescendo. Along its way the lead line takes many interesting twists and turns, providing satisfaction to even a very discriminating listener.
"Many Rivers To Cross" is a shiny glide, a blues timbre-jazz freedom ride down a smooth highway. The shimmer of Smith's organ and the bright spikiness of his piano line are yet another double scoop of tasty instrumentation. Warre's ever so gentle guitar line skates around the persistent beat with the wings of birds and the precision of lasers. He has a complex flight pattern, and it carries the listener along with his fanciful flight.
The trio get back into a groovy mid-tempo spellbinder on "Funky Miracle." Sanders is smacking the hell out of those skins while also leaving open plenty of space for the guitar, organ, and left-handed bass. While Sanders keeps things peppy, Smith comes in with a heavy bass keyboard sound. You only wish this little bit of a funk interlude was played longer.
Bees Deluxe close out with their own special arrangement of Herbie Hancock's "Watermelon Man," and it's a beauty. Smith plays a masterful interpretation of the original piano rolls. His keys have that appropriate balance between funkiness and discipline. It's a treat to just listen to how he makes those piano notes dance around the beat. And speaking of the beat, Sanders injects a pushy interval of drum smacks that could inspire dancing or algebraic equations. Before you have time to marvel over the rhythm section, Warre comes in with some serious riffage. The boys do justice to Hancock and to all of the other artists they have covered here.
Bees Deluxe have found an important niche for themselves in the greater-Boston blues scene. Although they are not strictly blues they can certainly do well in that market while spreading into jazz, fusion, and prog-rock. Livevil is a fine documentation of what these boys can do in concert.