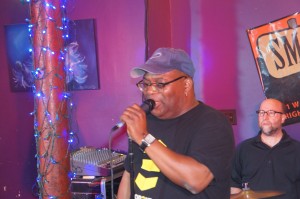 Barrence Whitfield and his Plus Four went wild at Smoken' Joe's BBQ & Blues in Brighton last night. Musically wild, that is. Whitfield has a rangy, high-octane voice that can do anything, and he used it to full advantage, fleshing out many familiar songs with everything from deep down baritone moans to screaming frenetic high notes. His popularity remains intact, playing to a packed house that kept drawing more people in.
The band, consisting of Chris Stovall Brown on guitar, Marty Ballou on bass, and Richard Malcolm on drums, opened with an R&B instrumental glide, plenty of flowing low end from Ballou and plenty of slinky, penetrating phrasing from Brown, and lots of swift rolls from Malcolm. Whitfield took over with his take on "Juicy Fruit," a soulful rasp and swagger announcing that it could only be him. During this self-restrained vocal approach you could hear the richness in Whitfield's voice. You'd of thought the man has been doing this for over a hundred years, if it wasn't for his youthful appearance. He certainly needed the caliber of musicians he had along to back a voice like his.
"Georgia Slop" got a bit more of Whitfield's seriously soulful rasp. It was a fun, romping number with plenty of oomph from the rhythm section and sassy guitar riffs from Brown. Whitfield did some of his trademark silver throated screaming, making the audience feel itself in the presence of something special.
Magic Sam's "I'm Gonna Make You Mine" had an understated guitar progression that let Whitfield croon over it with his rich timbre, filling in the spaces with his unique vocal approach. His voice is so rich it's like his timbre spread gold dust over the lyrics. "I Smell A Rat" began with a bang as Whitfield directed his players to intro the song with slamming chords, leading right into an almost shuffle beat.. And boy, did Whitfield's voice explode with powerful sound, augmented well by his grooving rhythm section and Brown's driving, bluesy guitar chords.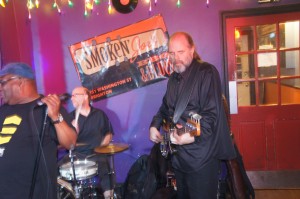 "Killing Floor" by Howlin' Wolf found Whitfield nailing the serious meaning of the words amidst a jumpy groove and greasy guitar notes. "Kansas City" by Wilbert Harrison was another blues infused number showing off Whitfield's vocal oomph. He just let the rolling, lilting rhythm flow out of him, in between joyful screams from Brown's sharp, crying melody. Whitfield regained control after Brown's guitar break, talking about how he wanted to meet the women on 12th and vine but eventually befriended a woman he met at a popular record store in Kansas City, only to go back there to find she ended up owning the place.
Whitfield showed what he could do in a chill vibe, mellowing out with Otis Redding's "Dock Of The Bay." Same magic. Different agenda. Whitfield pulled up all of the emotion in this song, and he shared it generously with his audience, with plenty of earnest, soulful feeling. It helped him to have one of the best rhythm sections in town to capture that deep, meaningful groove. Having Brown along for the ride was another plus. The guitar man served out the emotive, subdued melodic line with perky notes that felt as robust as a B3.
"Bip Bop Bip" made for a fun oldies rocker. The tight rhythms from that era coupled with Whitfield's screaming punctuation were a rave. Whitfield and his Savages closed out the first set with his original "Stop Twisting My Arm." The song was another barnstorming adventure, with Brown grinding out a rugged 1950s style phrase underneath Whitfield's eruptive vocal approach.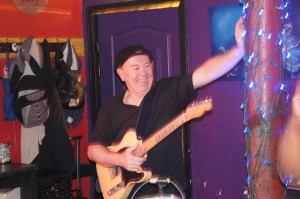 "Long Black Train" was a shuffle number with bulbous low end and skipping guitar progression, giving Whitfield something fibrous to challenge his vocal richness. The whole effect was a song chockfull of texture and heart. It rocked with fulsome, three-dimensional sound, even though it never went faster than mid-tempo "I'm In The Mad House" brought Whitfield and his boys squarely back into blues territory. The lead vocal was full of emotive, desperate soul while the players dug deep into the heavy roots they were laying down. Brown ground out a mean guitar phrase that bespoke of what the song is all about. Then, Whitfield went into his silver throated screamy notes, and that made you feel the madness.
Whitfield, through out the show, kept referencing Bobby Blue Bland who had passed away earlier in the week, and he eventually played Bland's arrangement of The Grateful Dead's "Turn On Your Love Light." Inspired, Whitfield jumped up on a chair and sang almost gospel style, his spiritual exuberance showing through in his admiration of this late singer and his clever arrangement.
Whitfield called his friend, harmonica player Mike Costello, to the microphone to blow some harp. Costello's greasy harmonica notes, full of feeling enhanced the call and response number "Big Babboo." Brown finessed the song by paying out some slippery, crazy guitar phrases that emerged from a field of grinding chords. "Wild Cherry" let the rhythm section develop a thick fibrous rocking horse beat as Costello served up melodic swells. Brown, briefly out of commission servicing his guitar, eventually chimed in as the second melody instrument, his rugged assertive chords working well with Costello's higher, chirpy notes.
Whitfield utilized his sweeter, softer timbre to put across the pretty Lucinda Williams song "I Just Want To See You So Bad." It was an amazing contrast to what he did with Screaming Jay Hawkins' old blues hit, "I Put A Spell On You." Here, the singer sang like a man possessed. A thumpy beat, a deep groove, and a hissing guitar phrase made the possession complete. Whitfield just torn into the number and growled, with echo, to a frenzied finish.
Whitfield invited Costello to the microphone once again for "My Big Fat Mama." Costello's whistling train notes brought us back to an earlier time in blues, as did Brown's tasteful slide work, practically making his guitar sing the song's lead phrase.
It was an evening of fine, soulful entertainment from singer Barrence Whitefield and his Plus Four. It is certain Whitfield and company will be back to Smoken' Joe's BBQ & Blues in the not too distant future. They bring in too much business not to.