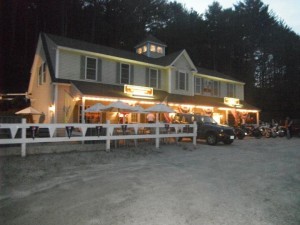 MaryEllen Robinson-Montplaisir decided to open her Boondocks Tavern & Country Grill as a Challenge. The person who owned the previous establishment in the building she leases told her she couldn't make it run.
"It was a challenge that people said couldn't be done," Robinson-Montplaisir said. "I've lived in Weare for 23 years. Before I owned it, it was Palmer's Tavern. It's right around the corner of my house. That's where me and my friends would go. But there was no music. I kept telling the owner what needed to be done, and he kept telling me, 'if you think you can do it, do it. But you can't do it in a town like this.' Long story short, I was given a challenge. I had no desire to buy a bar, but I did for that reason."
And she proved many people wrong. It will be two years on August 31 since she opened Boondocks for business. "It's becoming a happening place," she said. "More and more people are hearing about it and I'm getting some interesting names in there for music. It's getting there."
With music in her soul, Robinson-Montplaisir just had to run it as a music venue. It's a passion of hers, and she feels a need to fill in a void in music venues in her area. "We don't have anything around our area to go and listen to music and have something good to eat."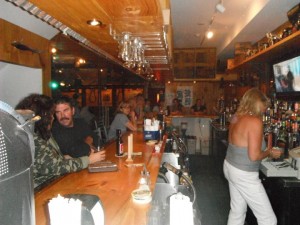 And that is part of a larger story in that area of New Hampshire. "I'm an old Rynborn girl, and I miss the old Rynborn. There's nothing like it around any more," she said. "I know we're a small venue here, but that's just what I am. I love the music, and I love to bring the music to people."
When she started Boondocks, Robinson-Montplaisir's only connection to the local music scene was as a big fan of blues bands and rock bands. "I wasn't a member of the Rynborn but I loved to go there. When I was able to get down there, I went down there. I've never been able to find anything that was similar to the Rynborn where you can just go and listen to good music and pop in any time."
The entrepreneur likes to bring to the Boondocks a mixture of bands. She has bands that are local to Weare, Henniker, Concord, and Goffstown. "I've found mainly that's is rock and blues," she said. "I love any kind of music myself, personally. I love country. I like it all. But it seems to be the happening thing here is the blues and the rock.
She had Arthur James in there last Thursday nights. Last night she had Tore Down House. Next week, she will feature Otis And The Elevators, on June 22nd. She will also feature a special Sunday afternoon event with Luther "Guitar Jr." Johnson on June 30th for her Blues Afternoon program at 2:00 to 4:00 p.m.
Arthur James Band will be back to host the Barnful Of Blues After Party on August 3rd and James hopes, she said, to bring in some of the players from the Barnful event.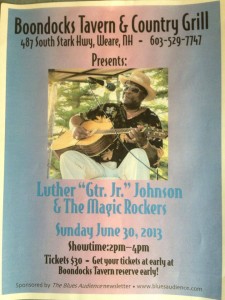 Robinson-Montplaistir's selection process has evolved over the two years she has owned the place. "That's where I've learned the most, in the two years I've been doing this, is bands," she said. "It's not who I like, it's who everybody else likes. Some of them drop their CD off. Mostly, with the world of technology, everybody e-mails us now. Everybody comes over to my Boondocks page and says 'check it out on ReverbNation.'' I did some checking around. I check out venues around me too. I go out to a lot of venues and hear different people. like Travis Colby. I've got him coming next month in July. I've never had him at my place, so it's the first time for him."
Jeff Dearborn And The Contoocook Blues Society will be there on August 24th.
Boondocks presents acoustic acts in their room every Thursday, which is called "Thirsty Acoustic Thursday." Every Saturday is a live band. Upcoming events can be found on the Boondocks Facebook like page or on the web page boondockstavernnh.com
Robinson-Montplaisir has invested her reputation in the community in this venture. She has lived in Weare, New Hampshire for 23 yea, and she has raised her four boys in that small town. Before that, she grew up in Nashua. Her brother, Steven Vanderlosk, is a behind the scenes co-owner.
Although the Boondocks began as essentially a local establishment, Robinson-Montplaisir has seen more of a development in her place as a destination venue/restaurant.
"We definitely get a lot of people saying 'We heard of you. We've been wanting to get out.' But, it's more of the riding season. We're out in the bike riding area. We are known for our chicken wings. So I have a lot of people who come up from the Nashua area. People in the summertime ride down from the White Mountains to have our wings. We have our Boondocks Triple Play Wings that have really put us on the market in the past two years."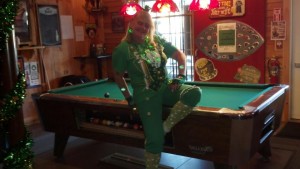 By day, Robinson-Montplaistir's manager runs the Boondocks Tavern and insures the food is high quality. "You got to have food to draw the people, and they'll come for everything else," the business owner said.
Robinson-Montplaisir leases the building, and she made major innovations to the structure when she initially took over. "We made it a little more roomy," she said. "We did some renovating in there. We upgraded all the equipment. We did a major food change too. Before, it was just munchies that you had to have at the bar. I turned it into a restaurant. So it's home cooking. It's just a good sit down place to have a meal. It's a local place where everybody's comfortable. You walk in for the first time and people will tell you it's really comfortable here. It's a really cool place. It's like the Cheers of Weare, New Hampshire."
Boondocks Tavern do their own meat smoking, smoking three to four times a week their ribs, pulled pork. It's open seven days a week, and they just started delivery a few months ago. "Delivery is taking off," she said. "Nobody delivers around here. It's a full menu for delivery."
Robinson-Montplaisir said her establishment has almost tripled its income since opening two years ago over the previous owner's. "We're actually a restaurant. We not just munchies. What the state loves to see is food coming in."
The New Hampshire State Liquor Commission doesn't like to see a huge disproportion in booze and food. "It brings your insurance down quite a bit," she said. "When you've got 80 percent liquor and 20 percent food, your insurance goes up. So, I've strived really hard to get my food sales up to bring that down. Keeping the state happy is always good."
Keeping her patrons happy is Robinson-Montplaisir's other specialty. So go and meet her at Boondocks Tavern, 487 South Stark Highway, Weare, New Hampshire 03281. Bands, fans, and just plain curious folks can find out more:
https://www.facebook.com/pages/Boondocks-Tavern-Country-Grill/103779173059056?ref=ts&fref=ts
Share on Facebook

Follow me on Social Media!