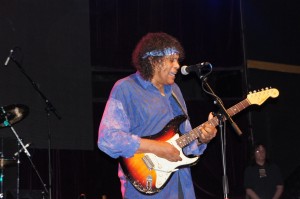 The Channel Reunion Concert at Club Royale last night was an energetic fun filled evening of entertainment. Seeing those former Channel bands from the 1970s and 1980s on stage doing their thing brought back fond memories. This writer owned a copy of New England's first album on vinyl back in the day. The event was held for a good cause, Right Turn Recovery, an organization that helps people struggling with addiction and mental illness. As Robin Lane sang, "When things go wrong/Don't walk away." The music fans of Boston didn't walk away. They came out to get behind this mission. Old Channel fans drove for miles to get to last night's show, including a couple from Florida.
The music began when Jon Butcher came out to play his new instrumental version of "Over The Rainbow," dedicated to his friend Michael Hill. Butcher's enormous guitar phrase was full of harmonics, beauty, and edge. His husky, sandpapery voice was as strong as ever, making "Rainbow" sound like it was always a rocker.
Up next was the incomparable Robin Lane And The Chartbusters. Lane's pop sensibilities were still intact. She infused hers songs with plenty of energy and she still has her belty edge in her hooky choruses. Lane always had a natural assertiveness as part of vocal expression, making her sound belty even in the mellower portions of a song. Her masterful control over her own throaty roar means she only allows as much gusto as a line needs, and that alone is plenty, so everything she sings is pronounced with a heavy duty authority. Lane's guitarist Asa Brebner was along for the ride, nailing his wild twangy melodic lines like it was still 1979.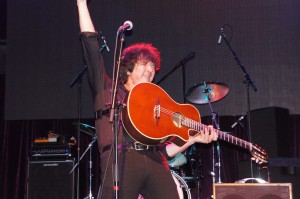 Up next was the solo acoustic Charlie Farren, playing some of his Farrenheit hits from back in the day. "Nobody's Somebody" had that fulsome sound and emotion that someone like Farren can get out of his one man arrangement. And his voice still has that admirable lift in every verse, as he keeps taking the song to a higher place. Farren unveiled a new song "Hold Me Down And Love Me" from his new album called Tuesday. It had a blues structure augmented with Farren's snappy guitar work, and again, he fleshed out the song beautifully, emotionally, with just his voice and guitar. It's still a treat to hear Farren sustain his high notes. The local legend also whipped out a nifty version of Farrenheit's MTV hit "Fool In Love," stirring the soul with his vocals while nailing the melody with his nimble guitar skills. He also tackled "Impossible World" from his Deja Blue album before jumping into "Talk Dirty" from Live At The Roxy album, his indelible groove captured with his gritty guitar work.
Lizzie Borden And The Axes dominated the Club Royale stage with their hard rocking girl power. A cover of "Steppin Stone" was one of many highlights this band easily cranked out. "Would You" was marked by perky vocals and guitars, and it was a treat to see their drummer Cyndie Barone handling lead vocals on a number. Laurie Geltman had flown out from California to make a guest appearance with Borden and the Axes, and she still has the fiery passion on stage. The old Axes hit "Never Found Guilty" had a frenetic phrase that probably made a lot of people feel like playing air guitar to it. The hooky chorus came alive on "Out Of Touch" with its fetching vocals and gripping rhythm guitar parts.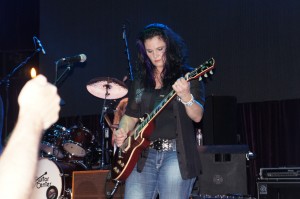 New England came to the stage to remind everyone of the immense power they contained in their four piece sophistication. They opened their set with "Alone Tonight" with a magical guitar phrase running through with rapid force, sweet, rangy notes that felt empowered and controlled by the band's force of personality. New England's mighty sound was powerfully augment by the explosive, maniacal drumming of Hirsh Gardner. He beats on those drum pieces to come up with torrents of beats, smacks, fills, and rolls. "Hello Hello Hello" had a great pop hook in place last night enforced by a driving guitar. A wild synth melody played out like it had a galactic life force of its own. Aside from sweet vocals, endearing lyrics, hooky choruses, New England reminded everyone of their great rocking instrumentation. These boys simply play as good as any of the prog rock guys but in the context of great pop rock songs. "Don't Ever Wanna Lose Ya" jumped out of the amps with a big 1980s rock sound that probably caused everybody in the room to have flashbacks on their youth. New England simply filled the large room with their overwhelming, driving pop-rock songs, making you feel their looming musical presence like a time machine had just dropped them off from a previous decade.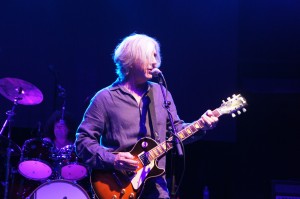 Apologies to acts that followed but this writer suddenly had a family emergency to attend to.
It was an evening, however too brief, of great music, great memories, and a great cause. To see all of those local rising stars from yesteryear was a treat on many levels. Hopefully, there will be other opportunities to bring many of these same bands back together under one roof.
http://www.facebook.com/groups/THECHANNELREUNIONCONCERT/?freg=ts