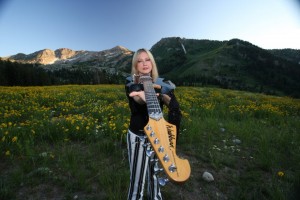 Jodee Frawlee has been performing with top of the line equipment throughout her lengthy career in the greater-Boston music scene. The ace guitarist has represented major guitar and gear manufacturers at the annual NAMM Conferences around the country. Like most musicians, she plays in more than one outfit, and so she requires different gear for each.
Currently, Frawlee is the lead guitarist for the Prince tribute band LoveSexy, an acoustic duo partner to Brian Eggleston, and she just joined a funk outfit called The Midnight Crew with former Bobby Brown drummer Funky D.
Frawlee needs to rely on state of the art equipment to make these shows happen. She plays a Fender HRR Strat that has a sonic blue look resembling the guitar that Prince uses in concerts and videos. Frawlee plugs her axe into a Line 6 M13 pedal board that models or accesses all of the sounds she needs to perform the Prince guitar parts. She also uses a Dunlop wah pedal which goes into the M13 which goes into her amp, a Naylor Dual 60.
Frawlee recently purchased one of the Prince guitars called a Cloud guitar by ESP, and she's looking forward to working it into the act. "You'd recognize it if you saw it in his videos, " Frawlee said. "A lot of them, he plays it in."
All of her equipment combined allows Frawlee to whip up all of the needed guitar sounds to play Prince guitar parts with integrity. "The M13 allows me to get all of the different sounds," she said. "He uses an Octavia, chorus, flange. The pedal board enables me to get those type of sounds and conveniently. I have to have them right at the ready."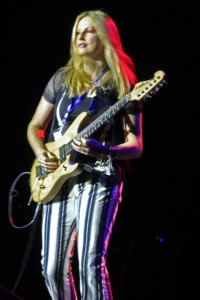 She can play any Prince song on her guitar, which is one reason why Line 6 has been a personal favorite for a while. "It has all those sounds so they're easy to access," she said. The Naylor amp has a great clean tone that also plays a part in Frawlee's presentation of funk material. "That's what I need for a lot of the funk stuff. It allows me to get really clean sounds it also has a good dirty sound as well. For the majority, the Naylor is really good for the clean sound."
Frawlee described the high-pitched guitar sound as "a kind of shiny guitar that you hear on a lot of the Prince stuff or James Brown."
For her duo gigs with keyboardist Brian Eggleston, Frawlee relies on a Yamaha acoustic Country Jumbo Guitar with Matrix Infinity pickups. From there, she uses an aura spectrum pedal by Fishman that does acoustic imaging. It  makes her guitar sound like its being miked. The guitarist also uses a pair of SA220 solo amps by Fishman as well for her duo.
For her Midnight Crew gig, which is opening for Rose Royce next month, Frawlee uses essentially the same equipment as her Prince gigs with a Fender Blues Junior Amp and she steps on that Dunlop wah pedal more often.
Aside from playing in bands, Frawlee has received many endorsement over the years from major line manufacturers, including Seymour Duncan Pickups and GHS strings.