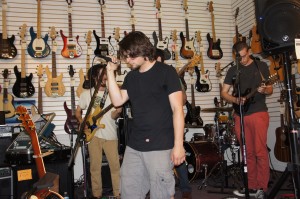 Run Gazelle Run appeared at the Guitar Gallery in Amherst, New Hampshire a little earlier today. The Manchester and Boston-based band played during the gear shop's drum and PA liquidation sale. Owner Dave Stearns thought the band would be a good way to draw attention to his shop, and he was right, judging by the intent listening from everyone who had come out to the sale.
Run Gazelle Run have got to be heard to be understood. Occupying their place in the large camp made up by The Grateful Dead, Dave Matthews Band, Adam Ezra Group, and maybe Bela Fleck And The Flecktones, Run Gazelle Run were playing "Soul Needs Body" when this reviewer arrived to check them out.
The tune featured vocalist Tim Ahern employing his smooth vocal technique with a neo-hippie vibe. The rhythm section of bassist Walker Landis and drummer Owen Landis gave it a nice pulpy feeling, a groove that you could feel in its persistent knobbiness. Guitarist Ezra Landis played a stealthy reggae riff over it while simultaneously hiding it a little lower in the dynamics than usual bands. Fifth player, an interesting instrumentalist named Ben Ruddick, played a melodica to great effect, with its fetching exotic sound adding flavorful color and texture. Put all of these elements and personalities together and you have one impressive number, full of building momentum and passion.
Ruddick switched from melodica to mandolin for their original number "Mad Men," and gave it one hell of a picking. He's the coolest mandolin player this side of R.E.M. because he knows how to riff and rock out on it like it's always been a rock instrument. Most rock bands do not use the brittle sounding notes for much more than window dressing.
On this "Madmen" number, Ahern put across his rapid fire staccato deliver with a frantic, plaintive mournfulness that benefited greatly by his well-place falsetto. Lead guitarist Erza Landis got all frenzied in his high-pitched phrasing, playing it like his notes were on fire.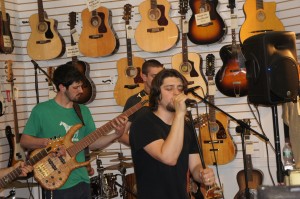 "Nightfall," another of Run Gazelle Run's originals from their debut album, was walked right up to the listeners with its mellow trotting pace pulling listeners into its lolling melody. Then, guitarist Ezra Landis coaxed the prettiest melodic line out of his axe while the Ahern cooed the subtle touches of someone who is confident that his words can speak for themselves. He sustained his sweet vocal notes with a cool all his own.
Their original song "Circles" found Ruddick impacting his band's sound and style greatly with the way he went to town with his mandolin, making Run Gazelle Run sound different from any other on the scene. "Monsoon" had the sweetest guitar notes falling like rain and the mandolin filled out the spaces between with warm aplomb. Using an electric mandolin, Ruddick wasn't playing music as much as he was sculpting his own unique sonic texture.
Run Gazelle Run's closing set number, "Return To Pandagea," was inspired by their admiration for singer-songwriter-master storyteller Odds Bodkin. A bracing number, the boys rocked out with nimble guitar sols and throaty vocal belts.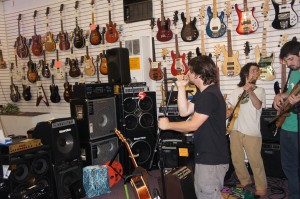 Nuanced and complex but without pretension, RGR played it the way they felt it, and the way they played it just happened to be full of clever technique. Just check out their CD at rungazellerun.com and hear for yourself.
The Guitar Gallery of Amherst, New Hampshire customers responded enthusiastically to Run Gazelle Run, and owner Dave Stearns would be wise to continue this as a series of top notch features at his guitar shop.
www.guitargallery.com