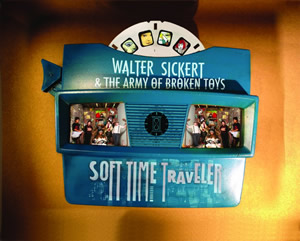 Walter Sickert & The Army Of Broken Toys have created a masterpiece in their latest release Soft Time Traveler. Sickert and his Broken Toys have taken their roots rock influences and whipped them into a huge confection of energetic, explosive bursts of great songs that hit you in the face with their huge sound.
Soft Time Traveler isn't just an album of music. It's an exciting artistic vision fleshed out with sharply defined details like Edrie's accordion and melodica and JoJo Lazar's ukulele and flute against glorious big picture broad strokes. It's the kind of experience you have at a big event like a circus or festival or blockbuster movie in 3D Surround Sound.
Opening track "Devil's In The Details" comes out of the speakers like a huge aural blanket that envelops its snappy, tasteful notes and circus barker like vocals in a fervent energy. Edgy guitars keep kicking the excitement level higher as this song knocks down doors on its way to its close.
"Survive Songbird" is a mad dash of percussive smacks, greasy viola melodies, and Sickert's over the top expressions at the microphone. Listeners will feel this one taking them somewhere whether or not they fear the danger of arrival.
"Baba Yaga" finds Sickert delivering a moody, self-restrained vocal over a song with uneasily recognized musical influences. There is a gypsy style viola melody while the rhythm section highlights the mood here as it simultaneously nudges the action forward. Sickert sings like a man possessed. Something grand and out of the ordinary is going on with this band. There is a frenetic energy percolating just below the drawling instrumentation that intrigues as it gives the ear another way into this song.
"Pornival" begins with an energetic oomph in Sickert's vocal assertions that contrast well with the brittle mandolin and acoustic guitar by Meff beneath him. This one has almost a marching beat rhythm within its lilting, rocking groove. That leaves open a beautiful space above for Sickert to vocally traipse over as he lets loose his large sense of message and projection.
The dark low end from upright bassist Mike Leggio and forlorn viola on "Soldiers Came" effectively give a sense of foreboding and doom. Sickert, over the melancholy gloom, belts one out about society taken over by large authority.
"Radioactive Brush" reminds slightly of early 1970s Pink Floyd in its dreamy soundscape wrapped around a lonesome forlorn voice. Sickert's mellow approach spreads his rich timbre smoothly over this drifting cloud of melody. You feel yourself moving along with the sneakily involving tune. "Timeworn Animal" continues this lulling sway with special sound effects creating oddly familiar dinner car echoes. It is madness, in a grand creative kind of way.
Moving swiftly into "Walls" Sickert and his Army Of Broken Toys march us into a beat driven aural soundscape created by simple touches on an electric keyboard. It rocks with its motivational groove and expands the mind with its haunting vocal hanging eerily over a spooky backdrop of hypnotic keyboard notes.
A sprawling accordion line and a striking viola phrase pull the listener into the sweeping "Dead Cowboys." Sickert and his Broken Toys offer a menacing guitar line and a lilting vocal phrase. This one inspires images of the bloody aftermath of a traumatic violent event. It's at once mournful and easeful, and Sickert knows how to milk his vocal notes for all their worth.
Next tune "Atom Bomb" too has that wide swinging arc that takes its sweet time unfolding all that the song has to offer. The choir behind Sickert's hugely expression lead vocal raise this number into arty levels with their lofty lifts of high-pitched vocal flights of fancy.
"Droog And Devotchka" has a hint of eastern European folk music, not only in the title but in the mandolin's and viola's swinging gypsy flavorings. Sickert's vocal looms large and exotic over this old world ode to places far away and long ago.
"Cruel Sister" brings us more squarely into the rock and roll layer of this band. Sickert is belty and swaggering while drummer Tee Jay lays out some rolls that leave you no choice but to notice his forceful way around his kit. Never clichéd, Sickert and his Broken Toys do rock and roll their own way. Rachel Johnson's haunting bombastic viola and Mike Leggio's upright bass add in every flavor from carnival themes to gypsy jazz to something as looming as a film score during its most dramatic scene. The song gives a feeling of neurotic instability while celebrating the artist's prerogative to be out there in the zone where creative beings need to be.
"Glory Box" is drummer Tee Jay's baby, each of his smacks and beats get an edgy echo and fuzz effect, making it something more than just the drums but most of the song. Everything he hits on his drum kit becomes significant, making it comparable to Phil Collin's 1981 classic rock hit "In The Air Tonight." Rachel Jayson's whistle solo is another tasty nugget of sound in this perfect inclusion in Soft Time Traveler. Sickert, too, is at his plaintive, emotive best.
"Hypno-Jump Initiation" is a mildly dramatic sounds effects interlude that seems to takes place in a futuristic prison. "Little Paper Song" begins as an acoustic guitar strummed, marching beat drummed ditty that becomes a steady progression into another piece of Broken Toys madness. Sickert lists his character's grievances with his life in a desperate plea for help and for hope that drenches this tune in excitement and urgency.
"28 Seeds" follows a similar path from sublime to madness as "Little Paper Song" but has its own righteous and brilliant insanity. Rachel Jayson's viola comes back into more dramatic play here and the result is fantastic. She makes you feel the descent into chaos, disorder, and madness with the tremendous inner tension she expresses with her instrument, making her viola rock and roll, traditional, and insane, all in her assertive bowing technique.
"Ourselves" is a another plaintive plea from Sickert, this time over the sweetest, most brittle mandolin notes and a softly smacked series of drum rolls. The result is something that could be used in a film score as a main character approaches a key moment of truth. The song swaggers its way forward while Sickert works his vocal magic over it all.
The album closes out with title track "Soft Time Traveler." Sickert's haunting ballad styled vocal over a layer of accordion and viola creates the forlorn sense that time has passed and all has been lost, leaving a brave, lonely wanderer to face a future he wasn't expecting. The feeling and vibe this band conjures here is stunning. There's a sense that this band could have been big in a previous musical era. They have got to have a huge international following on the internet.
There is nothing ordinary about this album, this band, or its huge, arcing title track. Lonesome piano notes punctuate the accordion mesh and vocals to create ever deeper emotion as Sickert carries the day with his world-weary character wrapping things up in the final note. Credit must also be given to producer/engineer Joel Simches and his assistant engineer Randall Billian for capturing every note of this unique masterpiece. A huge bravo to all involved.