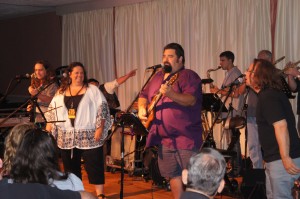 The Last Waltz in concert at the Bull Run in Shirley, Massachusetts went off without a hitch last night. It was a good, solid performance of all of the music from The Band's farewell concert and the Martin Scorsese film made of that Thanksgiving Day event in 1975. There were fine dramatic details added to the music to recreate the original concert and film experience. These included an opening solo performance on a 12 string Touch guitar by Brian O'Connell, a recitation of Chaucer, and a delivery of the "Lord's Prayer." The music, likewise, functioned on a level of technical proficiency. The music also functioned on a higher level, answering an unspoken call for the kind of emotional deliverance found in the albums by The Band.
"Up On Cripple Creek" benefited from a bumpy bass line and a crunchy organ melody. But more importantly, the musicians nailed the spirit of the song. Harmony vocals from Rev Tor and Dan Broad were another lush layer of authenticity that made you feel it. "The Shape I'm In" was sung by keyboardist Benny Kohn, and the rollicking roots rock organ line had the proper restless vibe as a three piece horn section filled the spaces with vibrant, fulsome shots.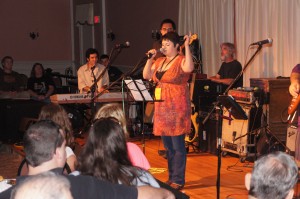 Local singer Amanda Cote and bass player Scott Sheehan came up to perform the Ronnie Hawkins number "Who Do You Love?" Cote had the right feeling, raucous and raw, for the Americana rock classic and Sheehan played smooth fulsome bass runs.
Brian O'Connell impressed with his command of middle English when he recited Geoffrey Chaucer's "Introduction To The Canterbury Tales.
Dan Broad resumed his bass duties shortly afterwards while singing "It Makes No Difference," his high soft timbre fitting right in with the song's colors and tones. His voice, carefully applied, reached the listener's tender spot, again, making you feel it. Rev Tor's lead guitar melody carried the song well too, his eloquent phrasing reaching the proper emotional level.
Keyboardist Mark Munzer from the band Playing Dead delivered "Such A Night," performed by Dr. John in the concert film, with a slight New Orleans flavor. His keyboards added that color to the mix and the horns followed the jaunty pace of those old time piano runs. Kohn milked every one of those notes for the bright, jazzy Americana they were worth.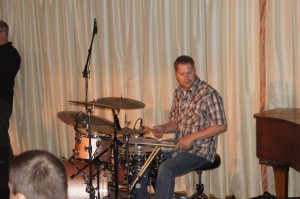 By this point in the show it was clear that Rev Tor's drummer Andy Crawford was a key asset. His steady, thumpy, muscular patterns and rhythms held up all of these classic songs with the power they deserved and needed. "Helpless," written, and performed by Neil Young in the movie, was played in its sleepy but emotional range by two guys from the tribute band Rust Never Sleeps. Ken Gibson on guitar, harp, and vocals and Chuck Nemitz on electric guitar pulled the listener's heartstrings with the weary description of a listless life in small town Ontario. "Helpless" here wafted along on a tuft of wavy dynamics, which really brought the song home.
"Stage Fright," a beautiful anthem of a man in over his head, spoke to the underdog in us all. The spiraling organ made the song feel like a festive event in its own right. "The Weight," featuring vocalists Todd Mack, Nikki Howard, Ned Lucas, bassist Brian O' Connell and keyboardist Dave Osoff, benefited greatly from three and four part vocal harmonies. Those vocalist brought the timeless song to beautiful, three dimensional life, in living color. A thong of audience members dancing the middle of the Bull Run function room were swaying to the breezy, nonchalant vibe. The house band put in all the rhythms with swinging punctuality.
"The Night They Drove Old Dixie Down" was dynamically delivered at the microphone by Rev Tor. His big strong voice and big strong personality captured the unwieldy song with lofty aplomb. Tor was well suited to the largeness of the song and the horn section too injected their wide, rangy, powerful lines to uphold the staggering lift of that number. Charlie Carrozo sang the Neil Diamond contribution "Dry Your Eyes" with a serious steady tone as well as managing the vibe from the film version. His vocal timbre rode that chirpy Neil Diamond vibrato.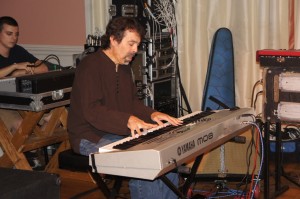 "Coyote," sung last night by Nikki Howard with a confident verve, hit the groove and landed right on top just right, perfectly. Howard kept her folksy croon in a mid-tempo glide that went well with Tor's subtle lead guitar phrase. Vinny Serino knocked "Mystery Train" right out of the ball park with his years of experience. Serino played his harmonica and sang with raw, emotive power because he is heavily influenced by the early primitive drama of rock and roll.
In a new twist, Vykki Vox sang a version of Muddy Water's "Mannish Boy" called "I'm A Woman" that was popularized by Koko Taylor. The Rev Tor Band uses the feminine version whenever they have a woman sing it. Vox arrived in solid blues territory with her raspy, well known belt. The Rev Tor boys went to town riding the 12 bar blues progression, taking it far and wide. Tor took his guitar phrase for a walk around the block, letting it ride alongside on it own momentum.
Ned Lucas sang and played electric guitar on "Further On Up The Road," unleashing some tasty guitar licks, keeping things in a blues frame, carrying the band along. The horn section here played jump style, keeping up with Lucas while the rhythm section pounded out a groove to support the guitarist's aggressive style.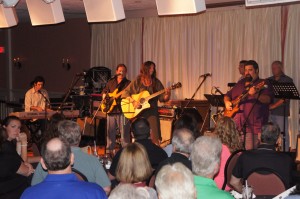 Iza Jane sang "Evangeline" with her pristine vocal quality. Iza Jane has voice born to hit those high snappy notes and she made the most out of each. Dave Brunyak played guitar on the rocking "Ophelia," his edgy phrasing filled with bite. Keri Anderson jumped right into Van Morrison's "Caravan" with a powerful vocal launch. She carried the whole band along with her, like a powerhouse vocalist does.
After an effective rendering of "Loud Prayer" by Nicholas Earl, special guest star Dean Adrien of Orphans performed on Bob Dylan's "Forever Young," "Baby Let Me Follow You Down," before joining the full ensemble for "I Shall Be Released."
Adrien's thoughtful presentation found him riding the chorus like a charm, adding lots of feeling which he expressed with his rangy dynamics. Tor's lead guitar beneath him was particularly eloquent and sweet. Adrien began the emotional highlight of closing number, which was likely felt as well as heard by everybody in the room. It was the ending of a night of good music that reached people on a personal level. Farewell is an experience of mixed feelings and last night's ensemble talent found it and brought it forth.
Last night's version of The Last Waltz in concert was one of the better because it went for the feeling of the concert film and the music and it found it. The concert was a benefit to raise funds for Music In Common, a western Massachusetts organization that promotes the use of music to end conflict, educate, and improve lives.