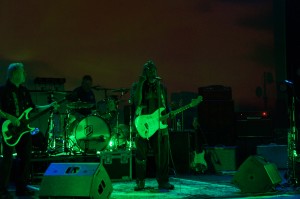 The Rock Royalty Tour show at the Stadium Theatre in Woonsocket Rhode Island last night was a blast of classic rock from tribute bands that knew what they were doing. There isn't a bad seat at the Stadium. The sound system was totally professional and John "Johnny Light Boy" Normington presented great visuals that made it a show as well as a concert.
The immensely charismatic Katie Kleyla opened the show with "White Rabbit" and "Somebody To Love" by the Jefferson Airplane. Even standing still, Kleyla radiated a strong stage presence. Her voice hauntingly echoed the psychedelic timbre Grace Slick sang in.
Next up was the phenomenally talented Erick Preston performing his rendition of Jimi Hendrix classics. Hailing from Lawrence, Massachusetts, Erick Preston clearly made plenty of new friends in Rhode Island last night, judging by the audience's reaction to his over the top performance. Erick Preston doesn't just nail the fiery intensity of the Hendrix guitar style. He also delivered the lyrical goods with his booming vocal power. Erick Preston unleashed his manic energy on his opening number, "Fire," and he kept it burning all of the way through his incendiary set. Mr. Preston played as if his soul was on fire and it passed through his guitar, amps, and microphone in the form of powerful, fluid, free- flowing music. During "Manic Depression" you could hear the sonic drones that Erick Preston got out of his guitar while he was playing the crazy melodic phrase over it. He made you feel the swinging moodiness in his blaring guitar lines, his guitar emulating the squealing tortured psychic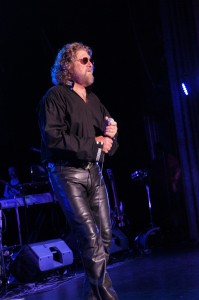 screams. Mr. Preston's "Purple Haze" was fueled by crunchy rhythmic chords and pyrotechnical melodic phrasing. And that's pretty good for a fellow who has been missing in action on the music scene lately due to illness.
The hostess and producer of last night's show, Robin Soares, came on next to sing the Janis Joplin numbers "Try(Just A Little Bit Harder)" and "Piece Of My Heart." It was no surprise to those who have already heard Soares sing to hear her belty roar tempered with deeply felt expression. The only problem with the two songs from Joplin and the two from Airplane left classic rock's women artists under represented. Maybe next time.
Custard Pie jumped right in with their driving passionate delivery of several Led Zeppelin classics. "The Immigrant Song" had the bombastic support from Custard Pie's rhythm section. Guitarist Jon Hathaway pounded out the chords and vocalist Mark Moretti unleashed his caterwauling howl in this Viking influenced rocker. Bass player Pat Lynch and drummer Peter Dayotas gave new meaning to the phrase "hammer of the gods" with their palpable delivery of the stop-start rhythms of "Black Dog." Hathaway's pristine guitar notes during the mellow portions of "Ramble On" were full of incredible tone. At various tempos, Hathaway continued offering tasteful licks to the Rock Royalty Tour audience. Guitarists in the room were probably taking notes on how he does his do. "Since I've Been Loving You" got an assist from Gilmour's Breakfast keyboard player Harry Lawton, and, together with Custard's Pie, offered a blues-rock masterpiece. Hathaway played and sustained one stunning note after another and Moretti held a vocal note forever while infusing it with raw, untamed emotion. Speaking of emotion, Moretti delivered the struggling blues working man drag in his delivery of "How Many More Times," from Led Zeppelin's debut album. Dayotas drove this one home with a constant but fluid heaviness with Lynch co-piloting the gigantic life force groove.
Next on the Rock Royalty bill was Through The Doors, Rhode Island's premiere tribute to The Doors. Fronted by the enigmatic Ernie Potter, Through The Doors wasted no time capturing that late 1960s/early 1970s vibe with the sprawling hit "LA Woman." Potter's guttural belt channeled the hypnotic Jim Morrison timbre. The busy four piece behind Potter kept that opening number bathed in bluesy, psychedelic hues. Lead guitarist Lou Tourtellot exercised his phrasing in true Robbie Krieger fashion, loose, jazzy, and fluid. Tourtellot didn't just play the melodic line. He unfurled it far and wide and bannered it across the soundscape. Through The Doors also had fun with the thumping, rhythmic "Wild Child," playing it in heavy Doors-esque cadences that recreated the original band's aura. Through The Door ushered in "Peace Frog" at a breakneck pace that featured the band's extremely tight, nimble ensemble ability. Potter nailed its chanting, anthem lyrics as well as the haunted spoken poetry in the middle. Segue into "Blue Sunday" and Potter's hefty low tenor/high baritone delivered the handsome vocal lines beautifully. "Back Door Man," Willie Dixon's old blues number covered on The Door's debut album, got an extra layer of gravy from organist Steve Pratt. Smoky, bluesy, the organ line sprawled over the song and blended perfectly with the other players and the suggestive vibe. "Light My Fire" got the respect it deserved. The vocal and organ were emotively delivered while the rest of the band went to town. The rhythm section of drummer Tim Paul and bassist Tommy Toze carried the behemoth through all of its changes with unforced certainty while Tourtellot picked out all of his notes with just the right feeling. Tim Paul also brought "Touch Me" to a fine close with his intricate pattern of hefty drumming.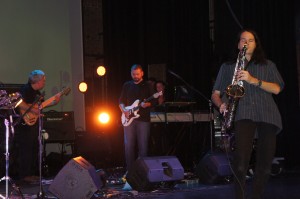 Closing act Gilmour's Breakfast did their usual fine job conjuring all of the Pink Floyd expressive instrumentation and disturbing vocals and sound effects. Martin Stewart milked his lap steel for all of its worth in the beginning songs from Dark Side OF The Moon, which they played it its entirety. Singer Rob Taylor created a mad drive toward "Time" with his percussion pieces making a second layer of drumming. Taylor also conjured a lot of the disturbed with mankind and modern society attitude with his peculiar vocal timbre, part rock and roll, part forlorn isolated observer. That helped Gilmour's Breakfast to not only get the songs right technically but to create the feelings Pink Floyd sought to evoke in their fans. "Time" felt like the desperate theme it was intended to be by building up the song structure instrument by instrument. The guitars soared. The keyboards chimed. The rhythm section carried all of the mad rush of melodies going on overhead. That is how Gilmour's Breakfast fleshed out these songs with personality. Robin Soares handled the driving gospel vocal of "Great Gig In The Sky" and got a lot of love from the audience when she completed all of her tasteful voice gymnastics. The "Money" bass line, courtesy of Bob Cooper, glowed with its R&B flavored rock exuberance and allowed the rest of the crew to get busy over it. Matt Swanton played a fulsome muscular tenor saxophone solo here to make this song the signature masterwork it is. Swanton also served up another glorious sax solo during "Us And Them," a tune poignantly built upon Britain's post-war slow dance numbers. Gilmour's Breakfast continued with a startlingly good rendition of "Brain Damage," with each player contributing something special to the easeful pace serenity and to the immense build up of emotion and sound. Gilmour's Breakfast encored with "Young Lust" from Pink Floyd The Wall, making a racy rocker out of every FM radio stations favorite 1980s Floyd hit.
The Rock Royalty Tour certainly lived up to its billing as "a sight and sound spectacular." Hopefully, Soares will eventually create another evening of classic rock performances and maybe even take it to other New England theaters. With maybe a little more representation of Janis Joplin and Grace Slick next time around.
www.facebook.com/r.l.hathaway.3

Follow me on Social Media!