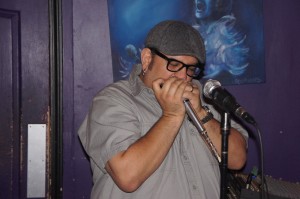 Bad Mother was low key as they kicked off the dinner hour entertainment at Smoken' Joe's BBQ & Blues in Brighton last night. Once it got closer to the hour of nine, though, the adept, turbocharged blues musicians went to town, serving up frothy mounds of exciting music.
The foursome began with a jazzy, quasi-swinging dinner hour instrumental. Guitarist Matt Stubbs picked off some brittle guitar licks as Hammond B3 player Rusty Scott spread swirls of chords all around the beat, sliding them around like they were greased, continuously, until they grew into sweeping swells. Suddenly, Stubbs pressed out a more pronounced phrase that mirrored the growing organ sound.
And then he came up to sing and play his harmonica, blowing some sweet mellow notes that hovered loftily over the driving electric melodies beneath him. This opening song found Nick David, affectionately known as Mr. Nick, breezily traipsing through lyrics and harp lines with gentlemanly aplomb. The soundscape around him was swathed in bracing guitar phrases and big thick organ chords. The crowd could feel the beast inside the cage, ready to bust out, but not quite yet. Singing about love and doing the best he can, Mr. Nick turned Howlin' Wolf's "Who's Been Talkin'" into a hearty expression of pain and woe, but in a way all can relate to, and that is why Bad Mother's interpretation worked so well last night.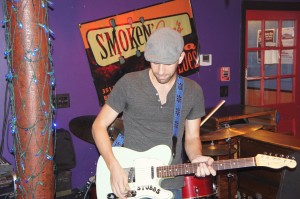 Mr. Nick's croon is a sharp seasoned timbre that he can adjust via inflection to convey color and tone, meaning and emotion, without ever having to belt or sing louder, unless he wants to. Stubbs picked off some moving phrases that stabbed into one particular song like a prominent announcement.
"Coffee Blues" required Scott to play a bopping groove on his organ, using his low end notes to forge a rhythm section with drummer Chris Rivelli. The two made you appreciate the bass pocket they created, as it was full of energetic oomph. Mr. Nick's vocal assertions were full of soulful, emotive power, making the crowd feel his song.
Boy, when Bad Mother found their stride after dinner hour, they totally went to town, tossing everything from screaming, whistling harmonica highs, huge organ melodies, and some of the deepest, steadiest grooves this side of the Mississippi. Stubbs often put on a show within the show, phrasing so high and sharp he could have carved his initials in Smoken' Joe's ceiling.
"Got Love If You Want It" played out with a chunky groove and simmering guitar lines. Stubbs's father in law came by to play some harmonica with Bad Mother, and by the time he was done, everybody was likely glad he showed. Mr. Martin Tilley blew his own personal take on some vintage material, and he fit right in with the top notch players around him. Mr. Nick announced that they'd all be playing some "low down dirty blues" and he wasn't whistling Dixie. Mr. Nick's sturdy harmonica lines lingered in the air between phrases like an unanswered barroom challenge. A walk the dog, take their sweet time pace from the guitar and rhythm section allowed the two harmonica guys to take turns blowing out alternate styles, which, in fact, became a sophisticated exchange of musical ideas. One would blow high, jittery notes, the other would take it down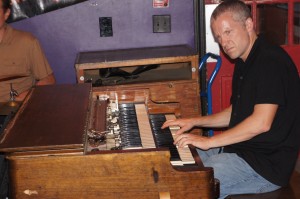 low and go wide.
The Junior Wells number "Snatch It Back And Hold It" found Stubbs picking off rapid fire licks interlaced with tasteful, sustained notes. Eventually, Stubbs went wild and spanked out some sharp, immediate licks out of his axe. The guitar man finished up with a split second, slam dunk ending. A second Junior Wells number let the boys play extended instrumental portions, rocking with mounds of B3 chords and snappy guitar lines.
Drummer Chris Rivelli was and has been the unsung hero, hip daddy-o of Bad Mother. Rivelli can hold things up in a subtle manner so he's unobtrusive during the emotive lyrical sequences. The drummer boy can also hold his own during the intense instrumental portions, or whenever a sophisticated, empowered backbeat is need to hold up a lot of heavy duty guitar and organ exchanges. The instrumental piece that opened their second set last night saw Rivelli supporting one of Stubbs's penetrating, screamy phrases and more of Scott's momentous chord dynamic, simultaneously laying down a backbeat that could start a twitching, danceable sensation in the feet.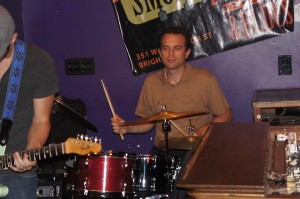 Mr. Nick was at his soulful best singing "Worried Blues." He put a lot of angst and energy into that number, bringing it to three-dimensional life, putting much of himself into it, and not just his driving vocal performance. Here, Scott tapped out some fancy organ notes while holding down the fort with some extra heavy duty heft in his left hand low end. Mr. Nick held a vocal note and spun it this way and that, milking it for all the sorrowful angst it was worth.
Mr. Nick also treated the audience to his electric monochrome harmonica and vocal, blowing and then singing into an old fashioned microphone, to great effect, conjuring something that sounded like Satan singing up from the fiery pits. Mr. Nick's low husky drawl alone was worth the price of admission. He most definitely needs to start recording more in this style, as his fans would likely dig it.
More guest musicians were up next. The undaunted Professor Harp, and he truly can be called "undaunted" after these recent weeks, got up there to sing and play harmonica with the instrumentalists. The good professor showed no signs of weakness from his recent surgery and recuperation. His was the same booming voice and fiery harp he's known for. He went toe to toe with the three younger musicians playing alongside him, and the three did an outstanding job keeping up with the professor. Professor Harp will be back at Smoken' Joe's with his own band on Saturday, October 5th. Early reservations are highly recommended for his much anticipated return.
That was all I could report on before I headed back up to my hometown in New Hampshire. Needless to day, Mr. Nick, Matt Stubbs, Rusty Scott, and Chris Rivelli are onto to some fine sounding, hard charging blues. Each of them is one bad mother. Shut your mouth. I'm talking about Bad Mother. We can dig it.

Follow me on Social Media!