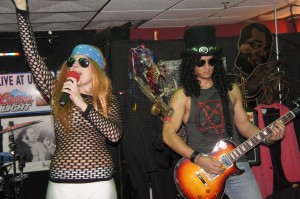 Rocket Queen kept their Salisbury Beach following at Uncle Eddies wildly entertained last night. While there were some issues due to the house sound system, this Guns N Roses tribute band served up several precise hard rocking renditions of those classic songs from the most popular band from the late 1980s and early 1990s.
Rocket Queen opened with a solid version of "Night Train," a slamming energy piece that showed off how much momentum their rhythm section can manufacture out of thin air. Lead vocalist Ashley Yarnell has the chops to pull off the aggressive voicing and rough timbre. She sings it like a tough bar mama, never trying to make it sound pretty. Theatrically inclined, Yarnell rocks out like Axel Rose whenever he came out on stage with an attitude.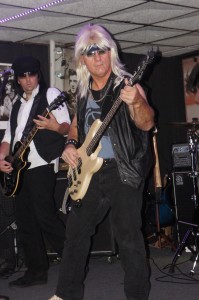 "It's So Easy" continued the rocking fun with even more attitude in the vocal department and even more propulsion from the rhythm section. "Mr. Brownstone" turned up the slamming vibe even further. Audience members could feel the pounding of the drums and the hammering of the bass guitar. When the sound man finally brought in more of the lead guitarist, Stash, a nasty but exciting phrase emanated from the six string.
"Out Ta Get Me" moved with a brisk groove, wild, forceful vocal projection, and a racing, edgy lead guitar. Their rendition of GNR's version of "Live And Let Die" came on like a foreboding vocal melody of doom. Yarnell was working voodoo magic here, appropriately hinting at menace and danger as she oozed those famous lyrics into her microphone. Great changes between each section and the cool, flowing precision of the lead guitar gave me flashbacks to when I first heard this song. It was back in the summer of 1973 and James Bond was fleeing from gangsters in a speedboat down the Bayou.
"Anything Goes" showcased how long Yarnell could hold a hollering, roaring vocal note before "My Michelle" showed even more of her feisty, frenetic vocal nastiness. "Don't Cry" was handled beautifully. The players found the right groove here. The melodic lead guitar phrase cruised over the smart, bulbous bass line.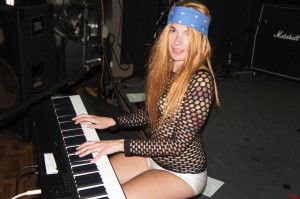 "Welcome To The Jungle" went wild with fulsome bass runs and slamming drums and bracing rhythm guitar. Yarnell nailed the raging, rapid vocal line and the guitar managed tricky transitions between the verses. Rhythm guitarist, Whiskey Stradlin, shared the lead vocal duties with Yarnell on "Dust N Bones," which played out as down and dirty as an unpaved road, the band putting a lot of earth in the groove.
Rocket Queen played "Back Off Bitch" with pure GNR energy, unfolding that number with force and racing car fearlessness, playing it like there's no tomorrow, craziness, grungy, bumpy, dollops of bass, drums, and rhythm guitar landing in just the right places while the singer belted her bursts of lyrical energy. Her rock and roll vocal roar flowed like an endless river, powerful, unstoppable, taking no prisoners. Here, Stash played some mean slide guitar, pressing out some electrifying notes over a dangerous current from the fearsome rhythm section.
Rocket Queen began their second set by exploring the power ballad side of GNR. "November Rain" found Yarnell playing her electric piano as she and the rest found the right feeling in this song. Yarnell sang over the tremendous melody with rocker chick finesse. She drew every head in the room in her direction with her emotive performance as Stash came in smooth as silk with his frisky but self-restrained phrasing. "14 Years" had a great barroom rock vibe but the sound man didn't do justice to Whiskey Stradlin's microphone. Stash more than made up for the glitch, though, by offering a multi-dimensional guitar phrase.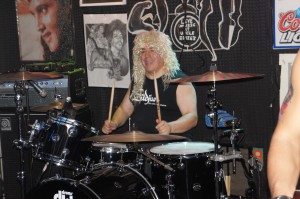 A real treat for the crowd came when the band played their own special version of The Godfather movie theme. The lead guitar made for a great edgy substitute for the violin with Yarnell's piano providing the tender bottom of the theme. This rocked up version of the best known film score in motion picture history certainly added interest to their presentation. It was also the perfect warm up for what followed.
"Sweet Child Of Mine" carried well on the individual strengths of the five players. Voice, lead guitar, rhythm guitar, bass, and drums got the party going. People were dancing, swaying, or at least nodding, and a throng gathered near the stage to watch close up. Rocket Queen's strongest showing of the night came during "Civil War." That number moved along a determined musical path, Yarnell singing it with particular passion as her band mates captured its moody momentum. Each band member got to strut his or her own stuff on this unwieldy, behemoth protest song.
"You're Crazy" was the perfect vehicle for this tribute band to show how precise and on time they can all be at full steam, especially as the muscular beauty of the two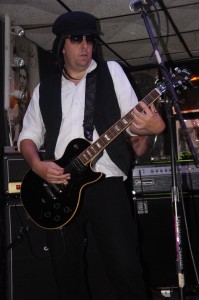 guitars locked into a solid groove. "Used To Love Her" offered more heavy duty rhythmic thrust as Yarnell nailed the mental state of the lyrics "I used to love her/But I had to kill her."
Yarnell's voice was practically purring on "Knockin' On Heaven's Door" while Stash tastefully pressed out his emotive melody lines. The singer also made this one audience interactive, inviting people up to the front of the stage to exchange choruses with her. After the tight propulsion of "You Could Be Mine" Rocket Queen delivered the hard rocking joy of GNR's most famous radio hit, "Paradise City." And boy, did Yarnell close out strong, hollering her belty notes, bending them, like her throat was a well honed instrument.
Aside from inexplicable technical glitches in a room with carpeting, tiled ceilings at the perfect height, and a space that would let sound flow, Rocket Queen proved they're a veritable force in the market place of tribute bands. They played with the appropriate level of hard rocking action. They get their details right. They don't settle for imitation as much as they try to channel the spirit of the original band. It will be interesting to see how big they'll be on the scene a year from now.