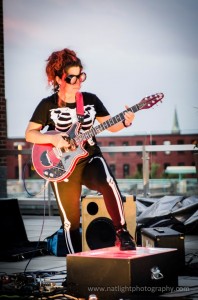 Dear Readers,
This Boston event sounds like it's going to be an extravaganza of live rock music, dance, art, theater, and video. Composer Catherine Capozzi is widely recognized as one of Boston's finest guitarist. She was received much notice for her instrumental progressive rock band Axemunkee, and she has toured Europe with 1990's Boston band All The Queen's Men as well as with an Edith Piaf tribute band. Bring Us Your Women will take place in just over two weeks, on Thursday, November 14th.
"Bring Us Your Women" is an homage to the untold and re-imagined stories of historical women and female figures through visual art, music, and dance, including figures such as Joan of Arc, Queen of Sheba, the Virgin Mary, Mary Magdalene, Kālī, Greek mythology's sirens, Delilah, and Eve, among others.
"I'm taking back the phrase 'Bring us your women,'" Capozzi says. "I'm bringing forward the stories of strong historical, mythical, and iconic religious female figures not owned by anyone. This is a show about women, but appealing to all audiences, regardless of gender, with the central tenant to showcase these females' strength, sensuality, and wisdom."
Composer Catherine Capozzi introduces "Bring Us Your Women" to the Oberon's stage on Thursday, November 14, as part of Triptych, a three-part evening that uniquely integrates theater, video, dance, art, and rock music. Triptych features "Bring Us Your Women" along with musician John Langton's surrealist composition piece "Wake No More" as well as Garvy J's meta-narrative "Adventures in Post-Irony."
The event features Capozzi's own compositions with Axemunkestra which includes Charles Pukmel (bass), Yuri Zbitnoff (drums), Tamora Gooding (drums), Susannah Plaster (viola), Rachel Barringer (cello) along with performances and contributions from musicians Sophia Cacciola (of Do Not Forsake Me Oh My Darling), Johnny Blazes (of Johnny Blazes and the Pretty Boys), Christine Zufferey (aka MaryZoo), and Michael J. Epstein (of the Michael J. Epstein Memorial Library); dancers Leah Principe/Honey Pie, UnAmerikas Sweetheart Karin Webb, Janelle Gilchrist, Porcelain Dalya, Chienhwe Hong, and Penny Candy with choreography by Jane Allard; and artists including Meghan Chiampa, Eowyn Evans, Nina Alberg, Norah Solorzano, Kristilyn Stevenson, and Kelly Davidson, among others. Cambridge-based writer and performer Jade Sylvan will narrate the event.
Catherine Capozzi is most widely known as a Boston based guitarist and composer who tours throughout Europe and locally in New England. Catherine currently plays in multiple groups (including Darling Pet Munkee, Michael J. Epstein Memorial Library) and founded Axemunkee , her psychedelic instrumental rock outfit. She was also a founding member of rocktronica band All the Queen's Men and the Edith Piaf tribute band, Ziaf. She was recently commissioned to compose music for the indie film, TEN
americanrepertorytheater.org/events/show/triptych.