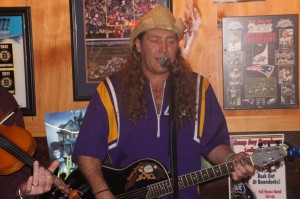 Jeff Mrozek And The Yeah Guys rocked the Halloween Costume Party at Boondocks Tavern & Country Grill last Saturday night. Mrozek and his Yeah Guys never lost steam throughout their three sets of choice cover selections at the Weare, New Hampshire venue. The four played to a very festive crowd at Boondocks. The audience cheered every song played as well as every deft move the Red Sox made in Game Three of the World Series.
Opening with John Cougar Mellancamp's "Ain't That America," Mrozek's tender rasp carried the tune well. Mrozek's and lead guitarist Chris Smith's acoustic guitars had, at once, natural sounds and rocking sounds. The four piece band also featured fiddle player Rod Babka who made songs like "Ain't That America" feel homey and authentic. Mrozek, seeming, at first, mellow at the microphone, belted out with vocal authority during the song's more emotional moments.
The Who's "Squeeze Box" was a great vehicle for these guys. The bracing fiddle and Mrozek's sandpapery voice rocked the tune. The Grateful Dead song "Friend Of The Devil" found Babka playing some of the evening's most beautiful fiddle melodies. This band was particularly suited to nail the gritty acoustic flavor, making listeners singing along.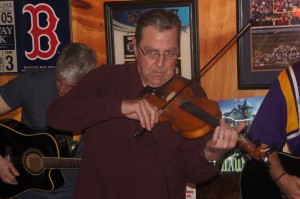 Led Zeppelin's "Thank You" was well handled vocally by Mrozek's higher pitched rasp. Snappy acoustic guitar leads from Smith landed on the just right places on the melody line. Bob Marley's "Could You Be Loved" was a snappy, up-tempo number in these players' hands, with plenty of fiddle spikes, and it rolled forward with a persistent rocking momentum. "Last Dance With Mary Jane," possibly Tom Petty's best song ever, felt like the original in its musical pacing and vocal clip. Babka's fiddle line kicked even more life into it.
Babka's fiddle line came alive, once again, in Cream's "Strange Brew," his quirky melodic zig and zag making people feel it. Babka also brought out the loss and longing in The Beatles' "Ticket To Ride." Mrozek's harmony vocal with drummer Kevin Whitten wafted warmly above the main melody line to complete the song's fulsome texture.
Johnny Cash's "Ring Of Fire" got turned into a hearty country ballad, with tempo slowed to a contemplative pace, Mrozek's brittle, soulful chirp, and Babka's fiddle line prettier than ever. Drummer Whitten put the snap, crackle, and pop in Neil Young's "Rocking In The Free World." His peppy percussion action on brush, high-hat, and cymbal carried the weight of all the melody going on over it and pushed it forward with persistent personality. Mrozek rocked it vocally in his higher register, and Babka's edgy fiddle served up a lot of melodic tension. Guitarist Chris Smith, hidden behind the fiddler, nailed the hearty guitar melody.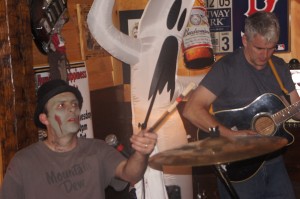 Mrozek and his boys began their second set with Aerosmith's "Sweet Emotion," which eventually segued into "Walk This Way." Mrozek cruised through on the strength of his sweet vocal work as the other players employed their quirky finesse on the instrumental portion, Babka's tense bowing accounting for much of the songs' muscle.
The extent of what these four musicians can do with their acoustics shined brightest on Bon Jovi's "Wanted: Dead Or Alive." The boys hit upon all of the subtle nuances, including the prolonged eerie, haunting instrumental build up. The foursome made a touching medley of Van Morrison's "Into The Mystic," Ben E. King's "Stand By Me," and "Some Kind Of Wonderful."
The band turned "I Shot The Sherriff" on its usual changes with the acoustic guitars and fiddle conjuring the island rhythms, drummer Whitten putting a lot of smacking charisma into the instrumental work out. The boys played a frenetic version of Robert Johnson's "Crossroads" before mellowing out their set and the room with John Denver's "Country Road."
Mrozek and company performed Bobby Blue Bland's "Ain't No Love In The Heart Of The City" with beautiful, soulful vocals and an arcing melody line. Lead guitarist Chris Smith picked a hearty, emotive, gritty line. Amazingly, after playing all of those great songs, the boys mustered the massive energy to play The Who's unwieldy classic "Baba O'Reilly."
Mrozek's original "Watering Hole" opened their third set and showed promise as a country rock crossover hit. Mrozek's chirpy delivery of his drinking story lyrics, and the band's unique twists and turns on drums, fiddle, and lead guitar added up to a number loaded with fun. Babka's fiddle coolly slid around the groove with its greasy, jumpy motions.
Guest singer Nikki Guidoboni, from the band Facedown sang lead vocals on Led Zeppelin's "Rock And Roll." Guidoboni may have invented a new image for herself with her deck of cards Halloween costume. She certainly handled the aggressive lead vocal job. Guidoboni and Facedown will be at Molly's Tavern in New Boston, New Hampshire this Saturday night, November 2nd. The band soon went into requests for Black Sabbath and Pink Floyd. Babka's quirky fiddle work covered the drone in "War Pigs." Whitten's drumming style added plenty of rolls underneath the evil voice and violin. Segue into "Another Brick In The Wall" where Smith's played a feisty rendition of the lead guitar line.
Mrozek played the vintage blues styled version of Sonny Boy Williamson's "Bring It On Home," showcasing his bluesy vocal phrasing as Babka substituted his fiddle for the original's harmonica. Moreover, Smith's guitar picking style released an energetic run of notes. The boys closed out with an appropriate song, The Rolling Stone's "Sympathy For The Devil."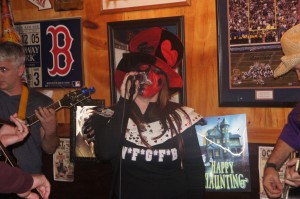 The food was great last Saturday night, with desert offered by Boondocks' newest bartender Lindsey, owner of Cupcake Bandit in Manchester, New Hampshire. Lindsey brought over two cupcakes that resembled shots, which is the theme of her cupcakes.
Thankfully, Mrozek didn't play any of the usual Halloween clichés like "Monster Mash," "Werewolves Of London," or "Bad Moon Rising," Instead, he served up classic songs in his band's own acoustic style. The evening's Halloween costume party was filled by macabre outfits inspired by creative madness. Combined with the frenzied melodies, it all seemed like a psychedelic Mad Hatter's tea party.
www.facebook.com/pages/Boondocks-Tavern-Country-Grill/103779173059056?fref=ts