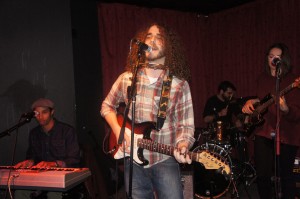 Dave Austin And The Sound played O'Brien's in Allston last night and proved they have the right stuff to make their mark on the greater-Boston music scene. The five piece band, lead by Dave Austin, played mostly original material layered with plenty of textures from keyboards, guitars, and bass. Their solid rhythm section drove the music forward with plenty of pluck with multi-dimensional grooves. Folks, this is a band with rangy potential. Despite a somewhat muddied house sound system, DAATS kept their set rock solid, pumping out gorgeous riffs, incisive icy cool guitar leads, and swirls of keyboards.
Their complex driving sound featured a fine keyboard flight of fancy on "Love It Like You Like Your Pills." Austin sang in a muscular rasp that fit like a glove the hefty rhythm section, of which he was a part on rhythm guitar. Lead guitarist Sage Griffin played a tightly compressed melodic phrase that sounded like it was always on the verge of combustion. Other numbers flew by in a rocking tempo with nice two and three part harmonies and keyboard magic from Corporal Cream. Yes, the keyboardist goes by the moniker Corporal Cream.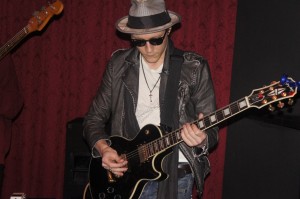 Griffin kicked ass on lead guitar during the band's cover of "Hard To Handle, milking each note for all the sonic power they were worth." Austin had front man swagger as he belted out the words over a rollicking piano line. A thumpy groove, courtesy of bass player Lily Burns, carried the number well and turned a few serious listeners into serious dancers. Burns laid down a lot of seriously good bass lines through the evening, and it would be hard to imagine a band this rangy without her.
At other points in the Austin set, snappy guitar lines danced across that lustrous lump of bass runs. The band covered "The Weight" by The Band in which Corporal Cream added a lot of high pitched shine to the sprawling number. Three part harmony between Austin, Burns, and Cream just glided sweetly over the swampy groove coming from drummer Kieran Bittles.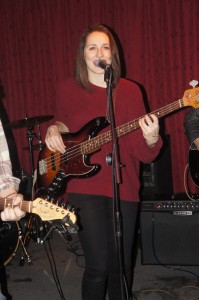 "The Sun Never Sets On A Badass" featured more of the band's new age hippie sound. Each instrument played a wafting melody and or support line that eased by like a flying carpet on a summer breeze. Austin has a special and unique way of phrasing his mid-tempo material. "Sun" compelled audience members to sing along to their swaying groove.
"Sugar Mama" closed out the set with peppy electric piano notes bubbling all over the place. The song also had wide, charging rhythm guitar chords that could sweep any listener into their sound. You could also dance and sway to the Bittles beat that bumped it along with a pushy momentum. Needless to say, Griffin finessed his way over the top of the sound with his skater smooth guitar phrase.
The chemistry of the Austin band is another element that just jumps right out at the serious listener. It's uncanny how these young musicians find each other in their songs and raise their soundscape like one huge banner each is lifting up high. Energy filled the air throughout their set, as if some huge aircraft was revving its jet engines before taxing down the runway.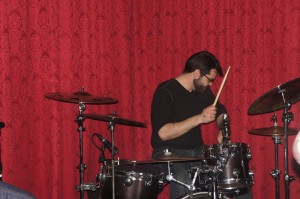 It was a good set for Dave Austin And The Sound. The band is definitely poised to grab a lot of venues, press attention, and air play. It's the kind of band that could attract a lot of the neo-hippie types who were raised on their parents classic rock albums from the 1960s to the 1970s. They could also pull in fans of good singer-songwriter material. And while doing all of that, DAATS could play blues-roots venues and functioning as a classic rock cover band in 30 plus townie bars. If anybody wants to see a band that has the word "potential" stamped on the foreheads of every member, look no further than DAATS.
Lizzy Pitch opened the show with her one woman electronic pop extravaganza. Pitch, working with only a keyboard and a computer, utilized her wide, expansive, and ethereal vocals to deliver accessible, pop-rock radio ready material. Pitch had her keyboard notes darting in and out of the spaces she created with her programmed percussion. "Take Me Now" found her keeping a good keyboard melody going in a solid mid-tempo groove. Pitch conjured bulbous tones as well as dark eerie ones, her command of the keyboard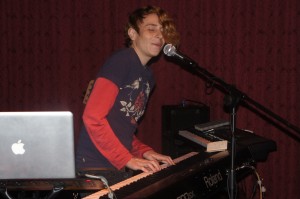 giving her a wide palette of sounds to choose from.
Polysonic Joy came on right after as the second opening act. This trio was short a drummer last night so listeners got to hear their material in a different way, with only a bass guitar and electric or acoustic guitar. Wild effects pedals, sudden changes in chord progressions, and edgy guitar were the order of the evening. "Heroine Girl" was a tune that impressed with its unique sounds cape, a nice rolling, lilting melody line.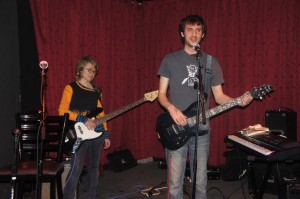 Originally intended as a showcase for Flux Forteana and his own band, it became a headliner gig for Dave Austin And The Sound when Forteana cancelled. Austin will likely be headlining more shows in the not too distant future. O'Brien's in Allston, Massachusetts had much to be proud of last night. The venue helped launch Austin to a higher level of recognition.
www.facebook.com/daveaustinsound?fref=ts