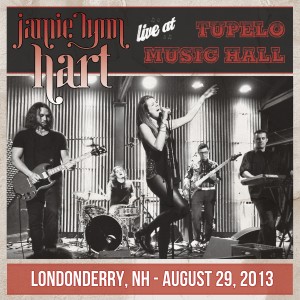 Jamie Lynn Hart has been on the greater-Boston music scene for a few brief years. Her debut CD and video productions have brought her plenty of acclaim for tremendous vocal and songwriting ability. Hart's latest release, Live At Tupelo Music Hall, is certain to cement her reputation as a solid local artist who puts on a solid live show.
Hart opens her disc with "Down," a self-empowerment anthem that plays out like a crawling, soulful ballad until this singer hits her stride with magnificent belty choruses. Her voice soars over James Auburn Tootle's piping hot organ swirl before letting guitarist Kevin Eldridge take over with a passionate phrase that holds its own against the fire coming from the vocal microphone.
"Good Tonight" is Hart's freewheeling R&B song that lets her showcase her belty range. The song finds her expressing her longings and yearnings with sultry exclamations. Her vocal gymnastics allow her to hold a note forever while filling it with a lot of colors and tones. That she can squeeze out tremendous richness in her sustained exclamations is merely one of many feathers in her cap.
A song titled "Asshole" is about a guy Hart no longer cares for. Her assertive rocking edge makes you feel a young lady's anger and frustration with the kind of man who gets called that particular word. She also makes the audience feel the strength of someone who survived a relationship with someone like that. Dating a problem person left her feeling stronger and wiser and now she's ready to knock down the next one. It's a treat to hear Hart's vocal excursions, especially as she winds her way around the hooky chorus.
"Illuminate" shows another strength of this vocalist. Here, Hart slows down the tempo while remaining fiery and passionate. Her coolly delivered lines are full of energy as her voice glides through verses and choruses. Likewise, "Not Enough" keeps the pace mellow as Hart finesses her way through her words, letting out as much energy as ever delivering hip lyrics with a rhythmic groove all her own. Hart has a top notch band with her on this live recording. Bassist Louis Ochoa and drummer Doug Standley keep the groove underneath this singer crackling with beats and knobby runs.
Hart includes the Patty Griffin song "Up To The Mountain" that she was once asked to sing at an event honoring the Reverend Dr. Martin Luther King Jr. It's a pleasure to hear Hart climbing the vocal and emotional ranges required by this seemingly simple pared down ballad. Emotional honesty is the key and Hart unlocks the door with her heart-felt delivery.
"Bad" lets Hart get her groove on again. Big time. This ode to doing a wrong thing that feels right is a disco-beat driven piece loaded with plenty of fun vocal excursions from Hart. Her finely honed vocal glides and belts over organ swirls and guitar riffs is one of the coolest things on this album. Needless to say, her rhythm section does most of the heavy lifting here, and they do it in style. They will have Hart's fans moving their feet to this song.
Hart premiered her newer song "Fadeaway" at this Tupelo Music Hall event, revealing a huskier vocal than usual here, her voice running the gamut from sultry coo to all out force of nature crooning. The dramatic vocal delivery makes you feel a person struggling against some kind of state of irrelevancy. Hart is on fire in this song, and she makes her listener feel the storm of emotions she likely felt when she wrote it. She pays out her enormous vocal notes with an undeniable stamina that would compel any music fan or smart label executive to pay close, serious attention to what is going on.
Hart and her boys cover The Allman Brothers classic Whipping Post, and it proves an ideal vehicle for them to show their passion and their individual skills. Hart's soaring belts are over the top vocal lines filled with soul, fiercely delivered and executed, and impressive in their range, colors and tones. Her backing musicians have no problem putting across clean, zinging guitar lines, smoky, effusive organ swirls, and the mountainous groove of an unlimited rhythm section.
Hart's most likely to succeed song "Bound To Burn" from her full length debut, Anticipate, finds her high functioning pop-rock sensibilities in full bloom. She knows just when to swing her lines around the groove and just when to pause, like at the most dramatic points. Knowing when to sing it strong and when to let up is another trademark indicator of a great singer. Knowing how to write a song that can get radio play in different markets, pop, rock, blues, and maybe even country is another positive indicator. This song could be recorded by anybody from Bonnie Raitt to Allison Krauss. It rocks right out in a fulsomeness and craftiness that we just don't hear too much of any more on today's modern radio.
A cover of Chris Smither's "Love Me Like A Man" as the close out track shows how comfortable Hart is switching gears from pop-rock to blues rock. Her sultry belt can work in a classic rock song, a blues song, a pop song, or a country tinged number. That sultry vocal can usually be found in blues or soul but Hart's sense of restraint lets it empower other genres by not laying it on too heavy. She sustains her vocal notes on the final verse with unpretentious power and unlimited skill. It's also another good work out for her band, especially Kevin Eldridge's incendiary guitar break.
This new Hart album, while sounding a bit over edited between tracks, is a useful document of Hart's dynamic live performance. This is a singer who will be well respected for a long time to come simply because she towers over others in skill, power, and verve. It will be interesting to see if Hart can nail the right sound at the right time and move onto greener pastures, green from huge volume record sales.
www.jamielynnhart.com