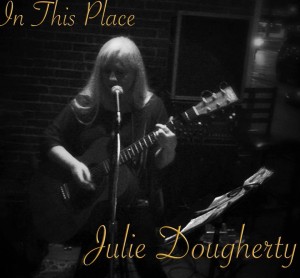 Julie Dougherty's In This Place CD finds the artist exploring her rootsie side more deeply than ever. Lap steel guitar along with some mandola and a touch of dobro augment Dougherty's insightful, life experience based singer-songwriter fair with hearty, gritty naturalness. The fit is perfect. Dougherty has always honed the natural beauty of her voice and years of experience into an unpretentious, down to earth listening experience. Here, she sings amidst her highly regarded backing musicians with a purity of tone and timbre that bring her songs to life with an enjoyable freshness. Producer and guitarist Bobby Keyes is also key in making the magic happen.
Dougherty opens her new album on a semi-title track "I'm Standing In This Place." With an assertive, steady vocal loaded with the grit and delivery of experience, her voice sounds fully at home with Duke Levine's mandola alongside her, a voice as pretty as the notes Levine is picking.
"Salvation And Second Chances" grooves forward with charismatic roots cool from bassist Jesse Williams and drummer Marty Richards and guitarist Bobby Keys. Above this, Dougherty's swaggering assured vocal finds the right spaces in the groove to emote and grow wide with spiritual resonance. She sounds like a hip honky tonk belter with the soul of a gospel singer. She keeps it self-restrained, and that simmering tension gives it power.
"Real Deal," co-written by Kelly Fitzgerald, has a haunting touch of country tone in the gentle melodies coming from three guitars, electric, lap steel, and nylon string. Yet, Dougherty, in a pleasant twist, croons it more like an early 20th century jazz chanteuse. Like Billie Holiday, her voice is as breezy and gentle as a summer wind and tasteful enough for an upscale piano bar. Dougherty also welds two great musical traditions into something that feels at once fresh and familiar.
Guitarist Bobby Keyes suggests a Caribbean melody as Dougherty croons "Private Island" in an easeful vocal glide. This vocalist conjures the island mood with her gentle vocalizing as much as with her painterly lyrics. Like the rest of the album, there are many trinkets to enjoy. Voice and instrumental flow sweetly here.
"Tender" is beautifully caressed with lovely coos and the gentlest touches from Bobby Keyes on guitar, Jesse Williams on bass, and Marty Richards on drums. Amidst the subtle musical brushes, Dougherty's unique timbre is employed in full emotive mode while remaining as gentle as a whisper. It's uncanny how well she rides along the melody line while seeming to make it sound easy. Dougherty certainly conjures up much in the way of the word "tender."
Slipping back into a swaggering groove with "Come To Me," Dougherty and company work a hip rhythm like nobody's business. The vocalist here is projecting a confident allure, and she holds her vocal notes with a determined purpose and power.
A fan favorite from Dougherty's live shows, "The Wall," commemorates her long marriage to her husband Woody Woodward. Playing out the song numerous times before recording it has paid off. Dougherty reaches levels of vocal purity, expression, and emotional honesty that lodge inside the listener's awareness like few songs can. Dougherty's lovely lilt continuously climbs emotional and tonal peaks, and, she creates a sense of upward momentum, arriving at a true and tender place.
"He's That One" is a warning song to all the ladies out there who are still going to fall for the kind of guy it's about. Dougherty lures the listener in with a sultry appeal then impresses as she nails her threatening chorus with ladylike aplomb. Shards of lead guitar, rhythm guitar, and Kevin Barry's lap steel sweeten the mirage of attraction that belie the true meaning here.
An especially sweet song, "Tiny Reconciliations," tenderly touches the heart with the promise of renewed beginnings while caressing the ear with a fine mesh of gentle instrumentation. Dougherty reaches deep inside to get to the feeling of this song and she brings it forward with her own personal warmth.
"Home" is much above average singer-songwriter fair. Dougherty's soothing vocal wraps around the emotional atmosphere conjured by the lap steel. She explores the concept of home in great depth, and she applies her broad understanding of it in a warm emotional embrace. Dougherty makes her song feel like home by way of lyrical association and with a wide expansive sound that encompasses everything around it.
Dougherty closes out with "Old Gravel Road," a tasteful gritty piece of acoustic magic, meshing her guitar with Dave Brown's dobro. It's uncanny how she makes the old timey feeling of the music fits so tightly to the nostalgic yearning in her lyrics. And that yearning makes the listener sense that though an album has just come to its end, it's only a beginning for the artist.
As singer-songwriter, Dougherty, as usual, shines brightly on her In This Place album. Her music gets an extra lift this time around. Her remarkable guests also include bassist Marty Ballou, drummer Dave Mattacks, and drummer Jim Gwin. Finding people who have high functioning ability, Dougherty has put out a CD that can purr like a cat while ascending to the spiritual highs of a great choir.
www.juliedougherty.net