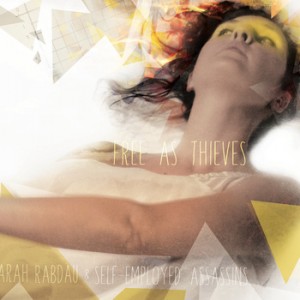 Sarah Rabdau & Self-Employed Assassins recently dropped their sophomore effort Free As Thieves to much critical acclaim. And rightly so. Free As Thieves is chockfull of fantastic piano and keyboard driven pop-rock gems that tug on the ear while motivating the feet. It's uncanny how well Rabdau and second keyboardist Peter Moore work together. The two often conjure a double whammy of tremendous melodies and washy, perky, fulsome synthesizer backdrops.
Listeners won't be able to resist the keyboard notes on opening track "67 Mustang." There's an oddly appealing electronic hook in the beginning that makes a listener wonder what is going on and what is coming next. The Assassins keep the groove wide and open with a lots of space. Rabdau's silky smooth vocal glides around that crafty groove with easeful momentum. Her whispery sweet voice flows across the music like honey pouring over pancakes, making something already good even better. After this song, there is no way anybody could ever resist listening for more.
"Bring The Flood" finds Rabdau singing in a self-restrained, almost cooing approach. That's all she needs to lull readers into her world of sprightly melody. A light touch of keyboards creates a serene and very pleasant soundscape. From there, a rush of pleasant melody over a driving, infectious beat sweeps the listener along for this magic carpet ride of fun and joy.
A low end keyboard line pulls the listener right into "Summer Of Love." A run of firm keyboard notes gives this piece an assertive edge. Listeners might feel that Rabdau is announcing this song as much as she's singing it. That buoyant energy and a bulbous groove are contagious and fun.
"Pavement Prophet" is a sweet, crawling song ushered in with the prettiest whistling keyboard effects. Rabdau squeezes a lot of feeling out of her sussurant tone, restrained but expressing so much beneath that gentle veneer. Listen closely to this song and the listener gets an insight into this band's architecture of sound. Rabdau plays her piano at a slower tempo than the rhythm section and Moore's synth. That piano creates tones that ring out over the faster paced instrumentation to widen the sonic texture, add depth and dimension to the song, leaving the listener in a world of colors and tones.
Likewise, "Luxuries Of Poverty" has much going on at once. Rabdau sings in a more assertive pop-rock style here. Underneath her voice is the ringing piano tones she slaps out while her band mates pump things up. Jittery electronic keyboards do an odd dance around the more traditional pop rock beats. In a stroke of massive inspiration, a fuzzy low end keyboard line glues the upper and lower instruments together while making the song feel solid and bouncy.
"25 To Life" makes the most of Rabdau's elegant piano pop touches. She belts it like a crazed cabaret pop singer while tapping out a manic melody line. A couple of electronic keyboard lines augment with other worldly phrases, erupting in exuberant exclamations. Edgy guitar spikes, rollicking drum work, and a poppy bass line wrap it all up in a tight clever frame while those over the top melody lines make magic.
"Say Hello" features Mathew Graber's most involved drumming on this album. Graber keeps a multi-dimensional beat going strong, layering much sound over sound with his fills and rolls. He keeps the song bold while Rabdau's ethereal vocal line haunts with its eerie, sensual tone. This one eventually rocks right out with rippling keyboards and a spooky coupling of male-female background vocals, a primal chant that cannot be resisted. Eric Donohue's persistent bass line places a lot of bumpy groove beneath it all. Just when you think this number cannot get any more involved, Rabdau and her assassins tweak and or emphasize another musical detail, segueing into the brief special effects track "Doubt Never Sleeps."
Without a pause in their creativity, Rabdau and her assassins jump right into "Tooth And Hair," a Peter Gabriel influenced rush of bulbous bass lines and contrasting keyboards. Briskly rubbing together the main melody from electric piano and a sprightly synth line, the band rocks out to something both traditional rock and roll and uniquely festive. The sounds they come up with makes a listener wish he could be a fly on the wall during their recording process to see how they came up with so much good stuff. As usual, Rabdau sings beautifully, passionately, and with an emphasis on her own curious timbre. Her voice stands out due to its distinct colors and tones, and she makes one feel he's listening to something that cries out to break big.
The band grooves mellow into "Arcadia," a number that becomes driving and raucous after they lull the listener into a false sense of security with easeful electronic sweetness. The opening chirpiness, easeful, ringing keyboard notes, and gliding vocal purr, eventually gives way to a frenetic piano line that kills with its relentless force.
Closing track "Oh! (Let Me Down) explodes into an expression of mad impulses, desperation, and desire. It captures the turbulence of the human soul much like the way classical composers intended, with many instruments cascading at once.
There are multiple reasons for fans of inventive, keyboard driven pop rock to purchase a copy of this album, immediately. Influences including Peter Gabriel, Kate Bush, Bjork, David Bowie, Cocteau Twins, classical composers, and TV On The Radio help inform the colors while the band paints its own pictures from those colors that came before them. Sarah Rabdau & Self-Employed Assassins are onto something big in their own right. And despite their experimentation, this band never really takes itself too seriously. Aside from being smart pop-rock composers, they've also come up with an album that lots of fun to listen to.
www.sarahrabdau.com