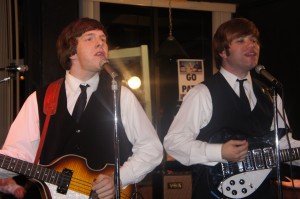 Studio Two is on to something smart. While there are plenty of Beatles tribute bands out there, Studio Two focuses on material the fab four recorded in the early days of their career, from 1962 to 1965. The four young musicians from Milford, New Hampshire don the blacks suits, ties, and shoes from that time period and wear their hair in that familiar pudding basin cut. Not only do they look the parts though, they get the music right too.
While the band should have had a better sound man at last night's Village Trestle gig, the four delighted many in the Goffstown, New Hampshire room with pleasant memories of when they first heard this new rock and roll sound. Opening with "Slow Down," lead guitarist Robert Murray (George) whipped out a killer lead guitar line. Murray nailed the driving, innovative style the lads from Liverpool were developing at the time.
"I Wanna Hold Your Hand" featured nice harmony vocals that contributed to the pleasant memories of the time we heard this music for the first time. For me, it was my father's 8-track player in the early 1970's. For many others last night, it likely came in February 1964 when families gathered around their television sets to watch the Ed Sullivan Show. The boys in Studio Two also recreated the easy going banter that The Beatles often reflected, and it reminded how funny they could be.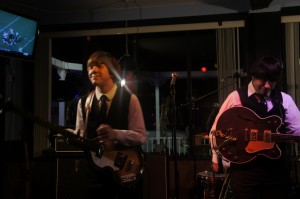 "Please Me" and "Love Me Do" were, needless to say, just two of the gems from last night's gig. Al Francis (Paul) had a sweet tender rasp punctuated by Stephen Murray's (John) lilting harmonica. I felt like I was really catching The Beatles in one of their pre-America gigs at the Cavern Club. That harmonica brought it home again on "From Me To You." The band's tight ensemble playing, too, made me feel in the presence of a live club.
Drummer Justin Fyfe (Ringo) kept it real in each song, especially when he laid down some chunky grooves on his tom drum. A lot of speedy rolls and tricky changes kept a needed backbone to these seemingly simple pop-rock nuggets. Fyfe, like Ringo, can also sing lead vocals, and he got to strut his stuff at his vocal microphone several times. He displayed his winsome, charming vocal on "Honey Don't." Another nearly forgotten gem, George Harrison's "Don't Bother Me," found Robert Murray playing a snappy, crackling line loaded with early American rock and roll and country stylings.
"All My Loving" played with a sweeping chorus and harmonies before the lead guitarist nailed the main melody line. "Baby, It's You" captured the quiet spaces between the words and the notes. "Eight Days A Week" felt magical in the hands of these young musicians. Because of their age, these players had an enthusiasm and an energy. As Beatles fans, they had an ear for details for that early Beatles music.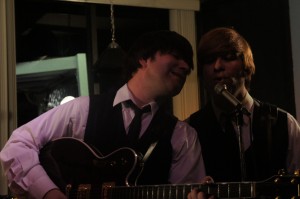 Al Francis's bluesy rasp filled in well for Paul on "I'm Down," and it fit in perfectly with that early rock and roll number. Fyfe's belted out a lead vocal on "Boys" and he found the Ringo svelte attitude while "Paul" and "John" served up the oldies style rock and roll harmonies. Next up was "Kansas City," with "George" playing the fine, twangy lead line beneath "Paul's' handsome croon.
Nearly forgotten Beatles classic "Some Other Guy" was performed with jumpy drum enthusiasm and a springiness in the guitars. "One After 909" was a song The Beatles wrote when they were playing in The Cavern Club days of the early 1960s, but they didn't record it until their Let It Be album in 1970. Last night, Studio Two played it with a plucky resolve and made it crackle with authenticity.
Getting back to more familiar territory, Studio Two played "A Hard Days Night" with perky enthusiasm, nice touches on lead guitar and drums, and with sweet vocal aplomb "Can't Buy Me Love" was feisty fun, with plenty of punchy bass underneath the "George" lead guitar twang. "George" also sang lead vocal on "Secret" with a sweet soft croon that filled in nicely for the "George" sound.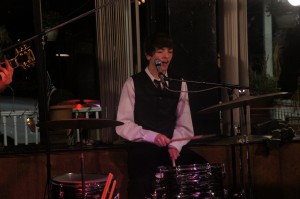 "I Saw Her Standing There" was pure Beatles pop-rock fun, sprightly musicianship and chirpy vocals making it come to life in a tight ensemble that showed how the early Beatles were starting to stretch their basic rock and roll format from the late 1950s into something fresh, new, and magical. "She Loves You" continued the spirit of the early 1960s before the boys launched into "Birthday" to celebrate audience member Sue's birthday. Sue also had the best damn cake in the county last night, the right moistness, the right frosting, perfection.
Studio Two revealed even more rocking potential with The Beatles version of Chuck Berry's "Roll Over Beethoven. "George" whipped out a rocking twang fest on his big Gretch guitar. Furthermore, The "Paul" boyish rasp blended perfectly with the huskier "John" timbre on "She's A Woman." "I Feel Fine" had a lot of nice changes and instrumental interplay. Rarity "Baby's In Black" featured a fantastic "John" and "Paul" vocal recreation, lush, chirpy, upbeat, the two carried the words well.
"Ringo" got to sing "I Wanna Be Your Man" for some early rock and roll style fun. "I Saw Her Standing There" also benefited from solid drumming and melody and harmonies. Studio Two pulled a lot of people onto the dance floor with "I Wanna Hold Your Hand" and it was the same people who raised their hands when asked if they first saw The Beatles on The Ed Sullivan Show on February 9, 1964.
Studio Two are a young bunch of guys onto something wise. They've found a clever niche with this early Beatles trove and everybody can be sure of hearing them live or at least reading about them soon.
www.facebook.com/pages/The-Village-Trestle/274427413863?fref=ts