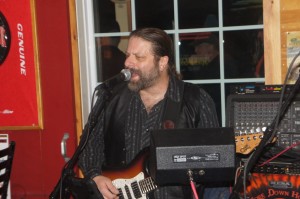 Tore Down House proved to be a powerhouse rock trio at Boondocks Tavern & Country Grill in Weare, New Hampshire last night. Solid is the best word to describe these three players. The rhythm section of bassist Dave Guilmette and drummer Ryan Barrett is tight as hell and lead vocalist-lead guitarist Mark Huzar sings it with a raw, raspy, soulful style and he wields his axe with a forceful fury.
Playing a blend of classis rock, hard rock, and roots rock, Tore Down House kept their thumping groove going all evening. Even their down tempo numbers were driving, with plenty of knobby bass, snappy, twangy, fierce guitar, and a persistent pound from the drum set. The trio conjured a fine late 1960s vibe on Traffic's "Dear Mr. Fantasy." Huzar let the words burst out of him like a ray of early morning sunlight. His booming voice phrased the lyrics like a force to be reckoned with. His guitar work here was another bright spot., playing a lead phrase sharp enough to cut ice.
Huzar sang with soulful authority on "Further On Up The Road" while playing a tastefully self-restrained guitar phrase, a smoldering burn over the hefty, in the pocket groove. The trio brought forth their blistering instrumental portion like they were on fire. Listeners in the Boondocks Tavern could feel the feisty dollops of low end underneath the incendiary guitar.
Tore Down House injected a lot of personality into these songs. The trio played The Grateful Dead radio staple "Casey Jones" with the appropriate hippie vibe but with a lot of chunk added into their accented playing, making the listener feel and envision that train chugging down its tracks toward an inevitable fate. Tore Down House also found a nice thick groove under the voice and blue country influenced guitar line.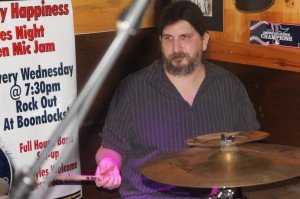 New drummer Ryan Barrett was only on his third gig with Tore Down House last night, and he showed how he got the job. He laid down a steady pound, with a wide fulsome sound that fits right in with what this trio is all about. Tore Down House has a sound that just wouldn't work with a wimpy drummer. Huzar wouldn't be able to make his guitar cry and sing without a thunderous presence below his melodic lines. Likewise, the bluesy moan that emanated from Guilmette's four string is another part of the crucial support. Upon such a foundation Huzar built his skyscrapers of melodic frenzy and fury.
The trio played "Breathe" by Pink Floyd as a fully orchestrated hard rock number, offering a three dimensional quality played with a strong sense of dynamics and harmonics so listeners could feel a similar impact as the album experience. Tore Down House took the number through its eerie sweep with momentum before seamlessly segueing into the familiar bombast of "Time." Screamy guitar phrases and pulpy bass runs were carefully layered over the steady pulse from the skins.
Huzar belted out the timeless refrain of "The Midnight Special" as his guitar percolated with elements of blues, Americana roots, and country. It's just one of those songs that demands to be played with respect for the source material. Tore Down House put feeling into the spaces in between the notes, and that's what made the difference. Listeners could feel that Huzar lead guitar singing to you when he hit his high notes. The groove here cruised forward with a swaying rhythm and bass notes pushed it along it's familiar traveling direction.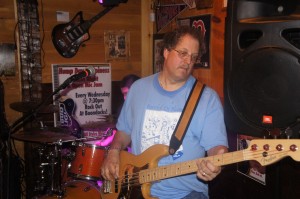 Guilmette was a capable lead vocalist during the trio's aggressive take on "Move It On Over," a jumpy rock and roll classic that kicked with every motion. The three players found the proper groove in "Up On Cripple Creek," the Band classic that required a chunky groove that was flexible enough to climb stairs. Tore Down House took their listeners through the edgy rootsie pace with a sweet confidence that made you feel you were invited along for the ride.
They played Pink Floyd's "Have A Cigar" with a formal rasp in the vocals that kept the conversation flow of the song fully intact over its driving mesh of instrumentation. The precision of the details was as immense as the power they played it with. Not too many bands cover "Have A Cigar." Even fewer get it this right.
The trio played Huzar's badass original "The Weathermen" with enough muscle to make you fear for the safety of the meteorologists he was protesting. It rocked hard and hit with force. The trio paid out the Allman Brothers' number "Soulshine" with measured muscular phrases, effusive choruses, and brisk guitar work. Boondocks Tavern owner MaryEllen Robinson-Montplaisir was heard saying "Close your eyes and you'll hear Dickie Betts." She had a point. The southern rock number was marked by a lot of tasteful playing, beautifully sustained notes, and prolonged phrases you thought would ring out forever.
Tore Down House rocked up "Folsom Prison Blues." It moved along familiar grooves, yet amplified harmonics made you feel the song had grown a few inches taller and developed muscle in its expanded guitar line and thumpy rhythm. Lynyrd Skynyrd's "Call Me The Breeze" was another perfect vehicle for Tore Down House to showcase their southern rock chops. Their speedy take offered more of their trademark musicianship, and the easy familiarity of the song pulled the Boondocks patrons into the tune. Huza put his own personal stamp on the guitar phrase while leading his rhythm section along his newly beaten path.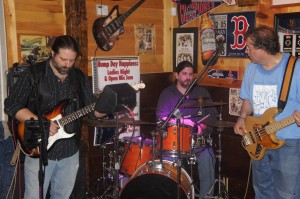 Switching gears to elegant fare like Blind Faith's "Can't Find My Way Home," the trio nailed the late 1960s vibe. Huzar hit each individual note with a tasteful accent. His guitar phrase sailed by like it was powered by some kind of heavily felt but unseen presence while Guilmette tenderly plucked the low end, coaxing those knobby notes out of his axe. The three also found their own special way into "Whipping Post," a little bit R&B in the funk guitar riffs and lot of flexible pumping action in the rhythm section. Their climactic finale was even grander, like they were rocking toward the top of a rock and roll mountain, scaling the heights of cliffs until their pulse pounding and invigorating sound got to the top where they took a running dive off.
Another Band classic, "The Weight," challenged the boys, once again, to push around the curves of its flexible groove while remaining plucky and meaningful. Guilmette sang lead vocals on ZZ Top's greasy honky tonk tune "La Grange." The trio had the rangy talent to play it with a lot of freedom. Guitar phrases, mighty bass runs, and hefty drumming galore. Next up, The Grateful Dead number "Fire On The Mountain" was the perfect long song for Tore Down House to bring out plenty of sparks, and they did. Each individual was wildly good while their ensemble work was a rich, thick texture of rock extravaganza.
Just when it seemed the excitement level reached its peak, the trio closed out with a medley that welded Fleetwood Mac's "Oh Well" to an instrumental version of Led Zeppelin's "Dazed And Confused." The Peter Green inspired guitar riffs were loaded with crunchy cool and the Led Zep material was thunderous and precise.
Tore Down House made quite an impression last night. Anyone who likes the kind of music they play will certainly become a fan after seeing them for the first time.
www.facebook.com/tdhband?fref=ts
www.facebook.com/pages/Boondocks-Tavern-Country-Grill/103779173059056?fref=ts