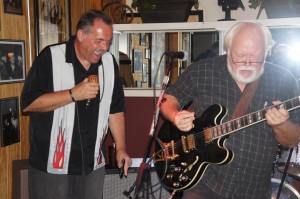 Craig Farrington was in great spirits during yesterday's interview. Farrington's musical combo Blues Tonight Band is on a roll. They released a critically acclaimed album last year, Zombie Blues, and they are now playing four to eight gigs a month. Blues Tonight Band will also represent New Hampshire's blues scene in Memphis this coming winter. In an odd twist of fate, Farrington's Blues Tonight Band won the blues challenge hosted by Granite State Blues Society. They sort of won it by default, but they also sort of won it on points.
Blues Tonight Band was the only act to enter the band competition at the blues music contest. "They had four solo entries," Farrington explained. "They didn't get another band entry. So, the deal was, they called the head people in Memphis to see how they should proceed. The Memphis people said, have them perform. If they score high enough, send them. If they don't, don't. We scored well, and we're there."
Even though there wasn't another band competing in the band category, Blues Tonight Band did have to score well with the judges. Most of the judges liked them. "We had to have passed muster with that," Farrington said. Blues Tonight Band came in third place at last year's New Hampshire competition.
"It's something we've always had hopes of doing, and this year we're doing it," Farrington said. "As our guitar player said, he felt giddy about it."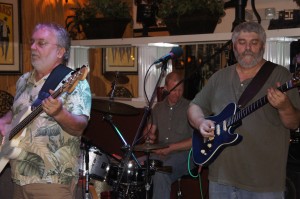 Most of the band members in Blues Tonight have history together. Farrington, who plays lead and rhythm guitar and sings lead vocals, used to play out with fellow lead and rhythm player Dave Bottoms and bass guitar player Steve Brooks. It was back in the early 1980s, in a Laconia-based outfit called LA East Rhythm & Blues Band. The drummer from that band invited everybody back to play a reunion show.
"We did the show, and four of us wanted to continue, but we didn't want to continue with that drummer," Farrington said. "We formed a band. The harp player eventually moved on to something else he'd been doing. So, we replaced him with Alan Doyle, about three years ago."
Three years ago, Farrington and his Blues Tonight Band comrades thought they'd only be playing one gig every quarter of the year. "But it turned out to be a heck of a lot better than that," he said. "Music's like a drug. Once you get the bite, you're not going to say no to it. We're doing four to eight gigs a month now. This last year's been really good for us."
When Farrington and the boys formed Blues Tonight Band, they had no grand design leading up to where they are today. "I think when you lose some of your testosterone, you appreciate people a little more," Farrington explained. "It sounded good. We liked playing with each other now. We were a road band. After three or four years, you end up hating each other. There was a lot of acrimony. When we got back together, that wasn't there, so."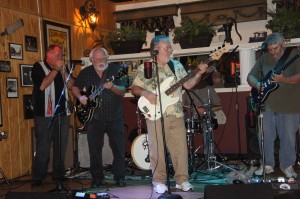 Currently, most of Blues Tonight Band's rooms are in New Hampshire. Pitman's Freight Room in Laconia, Tower Hill Tavern in Laconia, J's Tavern in Milford, The Hungry Buffalo in Loudon are but a few. They also hit Iron Tails Saloon in Acton, Maine during the biker season. "We have to start playing new rooms for the ones that closed up, unfortunately."
Massachusetts rooms have also welcomed Blues Tonight Band. They've played Celley's Pub in Lynn, Massachusetts, and they're looking for more venues in the Bay State. "It's a little tough on Dave because he lives up in Maine."
Farrington resides in Methuen, Massachusetts. Alan Doyle is from Hudson, New Hampshire. Erik Anderson hails from Antrim, New Hampshire. Steve Brooks lives in Henniker, New Hampshire. Dave Bottom resides in Mechanic Falls, Maine.
Farrington and Brooks do most of the booking. Though several rejections a day and people who say they're going to call never calling can be depressing, they keep pushing on. "We don't let up," Farrington said. "Somebody's going to fill the void. Hopefully, the good news is we'll get repeats. If we get into a room once, we're gonna go back, we're gonna go back."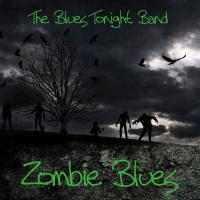 This Sunday afternoon, December 8, at Wicked Twisted, on Hollis Street in Nashua, New Hampshire, Blues Tonight Band will hold a fundraiser to bring in some money to cover travel costs for their mission to Memphis. The event officially runs from 1 p.m. to 5 p.m. There is a suggested donation of $10 to $15, so blues fans can support the cause while regulars at Wicked Twisted don't have to pay a cover. Aside from Blues Tonight Band, acts will included Ryan Brooks Kelly, Amada Cote & Scott Sheehan, Roxanne And The Voodoo Rockers, and Mama Love & The Wicked Sons. Mama Love is Kendal Bush from Francistown, New Hampshire.
Eric Gufsterson, who won the solo act blues challenge, will also be performing at the Wicked Twisted fundraiser. "He's not your typical singer-guitar player," Farrington said. "He's got a kick drum. He's just a multi-instrumentalist. He's very, very talented. He just moved here from Montana. His show, when I saw him, was just incredible." Gufsterson bested three local talents, Arthur James, Justin James, and Dave Keller.
Riddle In Blues Band, who won the youth music contest, were originally scheduled to play but had to withdraw due to another commitment. Granite State Blues Society will hold another fundraiser to cover Memphis expenses on January 5th at Pitman's Freight Room In Laconia. Presumably, GSBS will manage to have all three winners from their blues challenge. There are also plans in the works for a second GSBS fundraiser in Portsmouth, but there is no official word so far.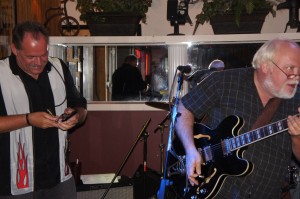 Another proud accomplishment for Blues Tonight Band was last year's album, Zombie Blues. "Some of the songs are from when we originally played together 30 years ago. Some of them were current," Farrington said. "The writing wasn't really hard. We had the material. We'd been playing the material out for a year and a half. The recording wasn't hard to do. We found a gentleman who could engineer and produce it for us. We pretty much did two takes a song. It's basic music, and if you do it often enough, hopefully you'll know what you're doing. It was a piece of cake. I'm looking forward to getting another one recorded."
Farrington wrote nine of the songs on the Zombie Blues material. "It's like children. You can't pick favorites," he said. "I think it's catchy music. I think lyrically we're maybe a little more sophisticated than a lot of blues acts. The CD is now available on CD Baby.Com." Zombie Blues has sold out its first package of CDs, and Blues Tonight Band has had to order more, which just came in. "We're not selling thousands, but we're selling hundreds," he quipped.
Farrington is 62 years old, and he started out at the tender age of 13. Some might think that playing out in bars and nightclubs is for younger people, but the guitarist remains undaunted. "One of the things I love about blues is you don't get aged out," he quipped. "I don't have to put myself in tight suits and tight pants. B.B. King is still pretty dynamic at 83. Buddy Guy is venerable at 73. Usually, you can age with it and not feeling foolish."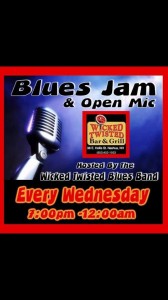 Farrington said blues and jazz are simply more accepting of age, as opposed to rock and roll. "Whenever the Stones go out on tour, they take a lot of grief. Aerosmith takes a lot of grief. Everybody says 'When you gonna hang it up?' But, when Buddy Guy goes out on tour, nobody says 'When are you gonna hang it up?' They want to know the next time he's gonna be in town."
Blues Tonight Band began its career four years ago at The Village Trestle in Goffstown, New Hampshire. They performed a five song set at the Sunday afternoon Wantu Blues Jam. Then, the owner at the time, Steve Pascucci booked them for a couple of gigs. "It was good of him. We didn't have a track record," Farrington conceded.
Blues Tonight Band occasionally play a blues jam here and there, if there's some potential to get a gig out of it. Farrington and Doyle host their own Wednesday night jam at Wicked Twisted, at 8'clock. Before their Trestle gig, nobody from around southern New Hampshire would have known then, save for Laconia residents who used to see them 30 years ago.
"I'm glad when they remember," he said. Ironically, the LA East Band worked a lot in Maine and Vermont but not a lot in New Hampshire. Farrington had to give up his music profession for quite a few years to help his wife raise five children. "It's a pretty expensive endeavor," he quipped. "After the LA East band, I took a weekend off for 25 years. The kids are adults now, but I have a huge house. I don't think they're ever moving, which is good. My wife has some health issues, and she has some people there during the day to help, and it kind of gives me the freedom to go back out and do this again."
Farrington began playing in school bands in his early teens. He enrolled at the University of Massachusetts to study journalism, at the time of the Vietnam war, but he ended up dropping out to go on the road with Ed Vadas Band. Vadas was also a record collector who had purchased the Chess Records catalogue.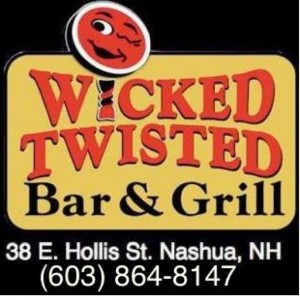 After the Vadas band, Farrington had to make a living, and he found it easy to get into restaurants. He was a cook and a bartender. He eventually became a director of operations for a medium size hotel/restaurant company. For the last six years, Farrington has owned the Wrap Shak sub shop at the Crossroads shopping mall in Londonderry, New Hampshire.
Farrington got into blues music while playing with Vadas. Owning the entire Chess catalogue meant that Vadas pounded it into Farrington. "I was lucky enough one night. We got to see Howlin' Wolf, about a year before he died, at Joe's Place in Cambridge. From that, I was just amazed at just how powerful the guy made music. I was already getting exposed, but seeing that guy live was just amazing."
Farrington's other favorites include Hubert Sumlin, Buddy Guy, the three kings. "There's no shortage. So many great musicians out there, but those are the ones that I think probably kind of influenced me the most."
Today, Farrington works with other family people. "We made our run at it in the 80s," he said. "If we were ever gonna make a living at it, that was when we were going to do it. Now, it's a whole different mind set. We just want to go out and play music that we like. Dave, the other guitar player-singer, is, in my mind, a tremendous guitar player, great slide player. He's a little more rock and roll than I am, which makes him a good fit. Steve Brooks, the bass player, he's a national sound tech for Atlas Sound out of Phoenix. He's not only a tremendous bass player, but he also brings his technical skills with him, keeping the gear working. Erick Anderson, the drummer; he's the youngest and thinnest member of the band. We'll probably keep him around because he skews the average weight and age down. He's a real talented player. He's been with us since pretty much the inception. And Alan Doyle, the harmonica player, was with Ryan Brooks Kelly and Smokestack Lightning. He's the best harmonica player I've ever worked with."
Blues Tonight Band has a basic plan for this Sunday's fundraiser. "I think we're just going to play the best 12 or 13 blues songs we can," he said. "For the competition, we're kind of locked into it's got to be original. I think for this(fundraiser) we'll probably do some covers people haven't heard before.