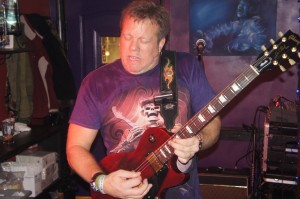 Chris Fitz Band played some seriously hot blues at Smoken' Joe's BBQ & Blues last night. Fitz was the monster guitar as he and his rhythm boys kept the energy level high for over three hours. These players were clearly influenced by hard rock bands. Their aggression surfaced noticeably even though their techniques were clearly influenced by what came out of the Mississippi Delta and Chicago in previous decades.
The trio grooved and twanged their way into opening number "Blues For Ronnie," an instrumental comprised of heavy duty guitar chords and sharp, piercing notes that made it feel like Fitz was punching his melodic lines right into the song's flowing rhythm.
Fitz played an even tastier, more driving lead on his second instrumental, "Jammin' For Jimi." His melodic phrase was a high pitched cry, like a rocket climbing into stratosphere. Fitz's backing players, drummer Steve Wolpe and bassist Jeffrey Majeau, are among the hardiest yet in his local music scene career. The two locked into a groove that was insanely bracing for the guitar and wildly infectious for the crowd.
"Viagra Blues" found the rhythm boys adapting well to the straight forward blues structure and feeling. Fitz's raspy croon could definitely qualify as true blues. He sang it in a relaxed, take-your-time tempo. He also unleashed his blues-drenched guitar licks, the kind that jumped around the beat with a determined melodic phrase that moved the number steadily forward.
Fitz's shimmering guitar notes lead us right into his "Let's All Meet On The Back Porch." It had a wide beat and a cozy, endless bass run. The song certainly created a relaxed, chat on the back porch vibe that the song is about. "Somebody Saved Me" played like a punchy, mid-tempo take on the redemption theme. Fitz whipped out a grinding rhythmic phrase that rocked the crowd. His boys on bass and drums kept a feisty groove at once fulsome and easeful, milking each knobby note for what it was worth. "Mississippi Miles McHenry" featured the rhythm boys keeping their easeful groove full of life, even though it traveled at a downtown crossing tempo. Fitz, here, put out a gentle, pleasant melody line, like his axe was whistling the melody through his amp.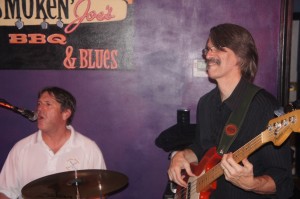 Fitz recorded his own take of Robert Johnson's "In My Time Of Dying" from his 2002 Journey Of Hope album. Last night, it got the usual Chris Fitz steady oomph treatment. This rendition, like much of Fitz's catalogue, feels quite bluesy even as it comes at you with the hard rocking force of an 18 wheeler. Fitz's ringing, tuneful guitar grind spoke volumes about his blues knowledge. He whipped up a crunchy chord progression with stinging, biting slide bits thrown in for good measure.
Cover tune "Just Getting Started" was also the title of Fitz's 1998 debut album. Fitz leapt right into a meaty, spiritual rendition, conjuring the energy of the newly converted. The groove got deep on this one, like something anchored in the soul of man. Fitz, playing over it, dispensed greasy lead lines like nobody's business. Fitz and company also jumped into the Jimi Hendrix version of "Blues Suede Shoes," complete with guitar pyro-techniques that made the song feel larger than just an oldies hit.
Back into his originals territory, Fitz played "Last Train Out" with an authentic country blues shuffle beat under his lines. His folksie vocal approach and tasteful country blues licks showed a true appreciation for this side genre. "Dead Or Alive" was a belty vocal affair, with Fitz projecting his masculine voice across the room with the greatest of ease. But, it was the spruced up lead lines he delicately pressed out that made the tune come alive. His tune "Dead Or Alive" was a riff fest, lots of low, crunchy guitar notes woven into a catchy rhythmic melodic phrase. With a chorus hooky as hell, you could hear this song in your head as something Diana Shonk, Holly Harris, or Jim Carty might play on their popular local blues radio programs. Ahem.
Fitz original "This Is My Church," a title track from his second album, has been one of his live staples for years. It began with a mighty, high pitched cry that descended into a thumpy, grooveful work of magic, tight, compact in its framework song structure. A burning lead guitar crusaded over that backdrop like a missionary, zealous and energized, driving the devil out of the room.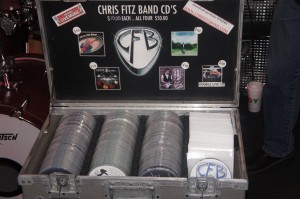 Fitz's "Recession Blues" would've been depressing if the music and vocals weren't so good. Fitz can make a gloomy topic serve as good fodder for the redeeming power of a blues song. His guitar notes traveled so fast that each was soon replaced by another equally impressive. "East West Love Affair" found Fitz playing some spiraling riffs through the rhythm section's swampy groove.
Wolpe's drum solo was marked by explosive rolls before Majeau played a bass solo made up of mellow touch runs followed by Fitz's sweetly slow melody lines. The trio reached the smooth, flowing spirit of jazz, just pure expression, like only skillful players can do.
Guest vocalist Thomas Casey proved his salt with a soulful delivery of the goods on "Merry Christmas, Baby." Casey showed a master's control over his vocal power, true prowess, while making you feel it. Fitz soon regained control of the microphone to sing and play a brief tribute to Jimi Hendrix, offering up precise renditions of "Foxy Lady" and "Purple Haze" that showed respect for the source material.
Fitz rocked up John Lee Hooker's "I'm Bad Like Jesse James," paying out sizzling guitar lines that spiked, sparked, zig zagged around a knobby bass groove like a force of nature. Fitz eventually chilled it out to deliver the take your sweet time brittle guitar notes, making it sound like his guitar was singing to you. Fitz's "Sin City," from Fitz's first album, was a gripping, action packed number that he intended to close out with.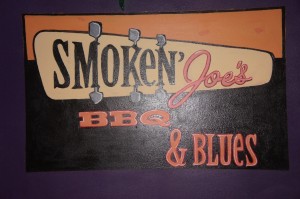 The crowd, however, wouldn't let Fitz leave without playing another number, so he treated them to an energetic interpretation of The Rolling Stones' classic "Brown Sugar." Fitz, Wolpe, and Majeau put on a thunderous show that kept the audience's attention all the way through the night. There wasn't much chatter in the room as the trio continuously put heart and soul into their own particular brand of hard-charged, turbo-propelled blues.
Owners Joe and Wendy Dodd were in the room, and it was good to see them, since there has been some harrowing drama with the landlord of the building, a brief closing, and an ensuing legal struggle. Hopefully, they will prevail and continue to offer some of the best blues acts in New England. Also, vocalist Cheryl Aruda, a treasure in her own right, has been hired as their new cook. She was rocking the kitchen last night as well she rocks a microphone. Long live Smoken' Joe's.