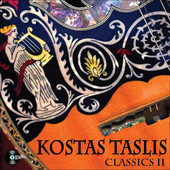 Kostas Taslis has released a fantastic album of traditional Greek music, Classics II. Strumming his bouzouki and singing in his native Greek language with a handsome low tenor, Taslis proves himself a master performer. Not only does he offer fine nuanced musical and vocal performances, he fills his songs with a lively personality and dramatic warmth.
Opening track "To Karavi" combines Taslis's warm tenor with sweet female backing vocalists over a brittle bouzouki melody. The drums provide an exotic allure. The beat is steady but there is also a second beat that draws the listener into the inviting rhythm. The vocal melody turns beautifully around the musical melody, and it makes the listener picture a far away place the singer is longing to be.
"To Algeri" opens with brittle melodic lines running rapidly along until a bracing percussion instrument takes over the rhythm. Seductive accordion lines add another layer of allure. Taslis sings this one with a thick pleasant timbre. He voice has the strength of someone who has been singing complex lines for many years. Taslis lets his voice move in an endless flow of notes in each verse, laying it over the irresistible Mediterranean instrumentation.
"I Katerina" dances into the listener's consciousness as the gypsy flavored melodies inspire movement with their easeful sway. The bouzouki plays at a brisk pace, and the song would be great for traditional dance steps in Greece. Taslis applies his voice in an enthusiastic wave that makes the listener feel he is happy, celebratory, and totally enjoying his life.
"O Penitaris" begins with gentle, subtle, one-at-a-time bouzouki notes. Each note has overtones that continue ringing with Mediterranean richness. Listeners can really feel the old country in Taslis's affectionate voice. He doesn't just have an artist's way with the notes. He also injects his vocal melody line with warmth and longing. All of the older people at a Greek wedding will have smiles on their faces as this number compels them to take a trip down memory lane. The Greek Islands are only a short swim away when these instruments—at once part melody and part rhythmic—draw the listener into their foreign charm.
"O Kazanovas" has an upbeat vocal melody riding over the fun, danceable rhythms. Taslis makes the listener want to take his dance partner by the hand and spin her around to his clever, layered grooves. Dancers will have to move their feet faster as a joyful, sprite of a bouzouki line sings out its pretty, exuberance. Vocally, Taslis presents a swaying, rhythmic lilt. His voice is filled with warmth, and he sings with richness, a voice that could tell a life story with its experienced timbre.
It's a thing of sublime beauty when a rich alto saxophone opens "Patera-Poulaki Xeno." The sax melody dances like a snake out of a basket. Then, the sax rises to a slightly higher register and it sounds like it's singing. Vocalist Taslis, likewise, makes his voice rise upward, in a spiral vocal melody. The uplifting music has a life of its own, rising and flying along a breeze of melody, like a flying carpet taking one to a magical place. A female singer takes over for a while, and she handles it with a dramatic flair, her voice sounding emotional, forlorn. She wisely keeps her voice in the backdrop of the music, and this makes the song feel that she's reaching out for something she cannot have. The dramatic feeling in this number cannot be overstated. Something of profound emotional depth is going on. These singers and players don't just make you hear it. They make you feel it too.
"Orea Peloponisos/I Glari" jumps right in with an assertive bouzouki laying the ground work for Taslis's honey-smooth timbre. He finesses this one with an easeful flow of vocal notes. He sings in a mellower pace than the racing melodies underneath his voice. This contrast creates a delicate line between textures that makes it more complex and Taslis leads it all along like a man with a mission. He and his players make us feel the urgency toward action. It's a beautiful song that keeps listeners glued to everything going on, each note, each instrument, each assertion of voice. The song has been architected to let everyone shine individually even as they sing and play ensemble. An up-tempo percussionist will have everybody on their feet and moving to his swift rhythms because they are too irresistible not to dance to.
"To Fegari" begins with a hint of mystery. There is something sneaking around the main melody that hints at fun mischief. The rhythms are perfected, percussion hitting the same time as the chords on the upper register instruments. This motivates this listener to tap his toes as he follows the jaunty rhythms. There is something extra zesty to these instruments when they play Greek melodies. There is so much snap to the notes, the players hit each note as if their lives depended on them being on time.
"Siko Horepse Koukli Mou" features a bright, shiny saxophone line penetrating the quiet like the morning sun coming through the night time clouds. It's an alluring introduction to an effusion of playful melodies that follow. Taslis and his female guest singer pay out more of the old world charm, their vocals flowing like honey with warmth, longing, and nostalgia. They have solid male-female chemistry as they sing out their emotive, lyrical joy. A special keyboard melody eventually takes over, and its sprightly personality will win over any listener.
"Ta Lemonadika" moves at a clipped pace, and its full of tender, brittle melodies. The Mediterranean melody lines are full of snappy rhythms that compel attention and make listeners want to try traditional Greek dance steps. "O Voudas" moves faster, a bracing, rapid weave of melodies uplifting the vocals, vocals that twist mellifluously around an old world rhythm. It all comes together like a carnival of fun activity.
Closing piece "To Meraki Tis Elenis" feels like a fond farewell from Taslis. It is uncanny how well he creates a mood with his music. The instrumental begins with a bittersweet melody, taking its time, like close family and friends who must part but don't really want to. The instruments sound like they're talking to each other, and it's a warm but sad conversation. When the tempo picks up, we feel like we're finally driving away while sneaking glances in the rear view mirror. The instruments play friendly, perky melodies and peppy percussion. It's a fun way to part with this record, yet we get the feeling we will hear more good music from Taslis because he's clearly enjoying himself too much to ever stop playing and singing.
This CD is a must have for anybody who likes Greek music, world music, and good melodies. It comes with a second disc that has instrumental versions of the disc one tracks. Listeners can hear all of those delicate, rhythmic melodies and lively percussion nuances come to life on their own.