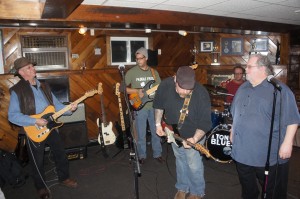 A Ton Of Blues have settled comfortably back into their previous jam venue, RG Scooters in Lunenberg, Massachusetts, over the past year. Yesterday's jam found them mixing it up with many players from their local area without being distracted by featured artists that became such a fad at their temporary jam venue in Sterling. Arriving in time to see Blind Jelly Stu at the microphone, I immediately couldn't help but notice the warm inviting vibe in the room. It was packed with local people rooted in their community with a strong interest in blues. Also, RG Scooter's low tiled ceiling and carpeted floor did wonders for the sound quality.
A Ton Of Blues guitarist Scott Boo-Moe Bell LeBlanc was picking some brittle, speedy notes with great tone. Leading into a wiry spiral of notes that reflected his passion for phrases that speak from the soul, he also dazzled with tempo and skill. ShakeySteve Prunier, a more recent addition to the band, held his own with his brisk harmonica playing. Prunier was quite the wit, engaging people with clever banter as they arrived in the door by the band's playing area. It wasn't clear at first if he was hired as a musician or a comedian, but he soon proved he earns his paycheck by blasting some of the scene's best harmonica blues.
Bobby Roy came up next to unleash his jungle wild guitar phrasing around his improvised lyrics about blues down on the lake. His kind of phrasing can only come from years of learning and experimentation. ShakeSteve added some thick, greasy harmonica lines. His husky melody made a perfect blend with the musical muscle behind him. Meanwhile, A Ton Of Blues bassist Jeff Lorenzen pumped solid low end for the two monster melody guys to ride on.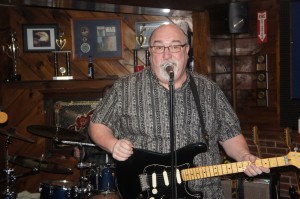 Bobby Roy said he wanted to play something funky but that there were no asses on the dance floor and way too many white people in the audience. Mr. Roy swiftly picked off feisty, energized lead lines that sounded like they had the urgency of a man escaping from a burning building. With Lorenzen pumping out pure funk low end, Roy sang another of his songs about women with junk in their trunk and other prurient interests.
Taking over the lead vocal duties, ShakeySteve sang with a commanding presence at the microphone, singing with a flowing, whiskey soaked rasp and blowing more mean ass harp. Roy took over briefly on his axe, turning up the heat with each bristling note he peeled off playing "Rock This House."
A Ton Of Blues front man Spud Kelly came back up to resume his lead vocal duties, singing with the passionate exuberance he's known for. Kelly never gets loud and bombastic. He just lets the deep down inside feeling of the blues come forward and it suddenly seemed like he's trumpeting the wisdom of the music he loves so much. Kelly let his expressive croon ooze out of speakers, making it look and sound easy to come up with the right feel and sound. With ShakeSteve blowing zesty harp behind him and Boo-Moe Bell LeBlanc accompanying with sharp, incisive notes, the combo made for a new, improved A Ton Of Blues. Drummer James Thomas has been with A Ton Of Blues for several months now, and he smacked those skins yesterday with persistent might. Guest drummer Danny Richards also sat in for quite a few too.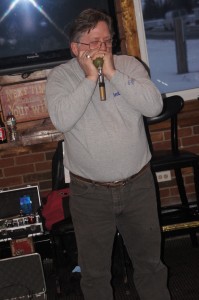 "Hootchie Cootchie Man" received a new gust of life from Kelly's suggestive timbre. ShakeySteve put a bracing, electrifying melodic line behind him, milking every single one of those soulful, bluesy notes before shifting dynamics once again, bringing his passionate style to the forefront of the song.
The next tune allowed ShakeySteve to lead the players on an instrumental, up-tempo, his racing notes made you think about things that move in the fast lane. That hurricane of notes seemed to inspire LeBlanc to let loose an ecstatic phrase in the eye of that storm.
The charismatic, energetic Tony Soul grabbed the spotlight with his deeply soulful belt. He performed "Crossroads" with a screamy vocal that swiftly drew the attention of all in attendance. "Highway 49" found Tony Soul, A.K.A. Tony Parente, delivering his vocal in long gone style that you don't easily find any more.. His sings like he comes from an earlier time in blues. His age probably has something to do with that.
The authentic A Ton Of Blues lineup regained control of the jam, and they kicked it. There's nothing like five sharp players playing in a familiar sync. Much substance and many nuance rose to the surface when those talents combined. Kelly belted "I Got A Rocket In My Pocket" while a mountain of deep bass notes, edgy guitar and harp, and kicking drums came at you with the driving force of an 18 wheeler.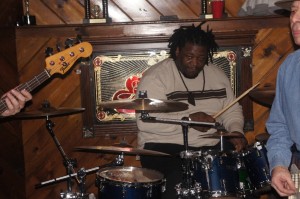 "Midnight Train" got that Spud Kelly vocal treatment. He belted it with even more soul than is previous numbers. Getting his groove on, Kelly finessed things at the microphone wit his raspy croon gliding over a tightly wound rhythm section.
Up next was drummer Mike Dixon(Willie Dixon's grandson) and guitarist Jeff Beck(no, not that Jeff Beck). Joining forces with half of A Ton Of Blues to perform, at first, an instrumental jam number, which was a good warm up for what was to come. With a second guitarist, Billy Rags, the makeshift combo played Stevie Ray Vaughn's "Pride And Joy", complete with bristling guitars, and an Elmore James number complete with ShakeySteve's huge harp line.
Near the end, the house band plus Jeff Beck played Elmore James' "Every Day I Have The Blues" with plenty of springy phrases and a galloping groove. Amidst the sprightly number Kelly found a good home for his smooth rasp, which contrasted coolly with the balls to the wall wedge of rhythmic drive behind him. For an encore, A Ton Of Blues called Tony Soul back up to close out the evening with a hearty version of "Got My Mojo Working."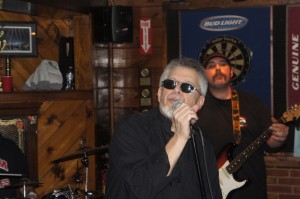 A Ton Of Blues continue their tradition of bringing real live down and dirty blues to their central Massachusetts fans. With a cozy room like RG Scooter's to host them, they should find more years of success.
www.facebook.com/pages/RG-Scooters/211225168902092?fref=ts
Share on Facebook

Follow me on Social Media!