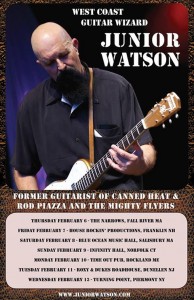 West Coast Blues Guitarist JUNIOR WATSON will be coming to New England this Febuary on his first East Coast tour in three Years.
Junior Watson's resume is as large as it is impressive. A founding member of The Mighty Flyers he stayed with the band for ten years. He then left to join Canned Heat for ten years. He then toured for a while with LA-based harmonica player/vocalist Lynwood Slim.
All along the way he has backed up and recorded with the who's-who of the blues. His list of musical endeavors include backing up and recording with Big Mama Thorton, George Smith, Jimmy Rogers, Shakey Jake, Luther Tucker, Charlie Musselwhite, Kim Wilson, William Clark and there's more. Suffice to say the list is very extensive.
In the past Junior has always been the sideman or featured artist. For the first time in his career he has a band that is taking the back seat and having Junior do all the driving. For the first time you can hear this amazing, original artist wail all night long. This fact alone is exciting and when unleashed, Junior will prove to the rest of the blues community what his cult status is all about.
Advance tickets are onsale now at all Venue websites
New England Tour Dates
Thur Feb 6 – The Narrows Center For The Arts- Fall River MA
http://www.narrowscenter.org/
Fri Feb 7- House Rockin' Productions- Franklin NH
http://www.houserockinproductions.com/
Sat Feb 8-Blue Ocean Music Hall *New England Winter Blues Fest* – Salisbury MA
http://www.blueoceanhall.com/
Sunday Feb 9 -Infinity Hall – Norfolk CT
www.infinityhall.com
Mon Feb 10- Time Out Pub- Rockland ME
http://www.northatlanticbluesfestival.com/timeoutpub.html
Tue Feb 11- Roxy & Dukes Roadhouse – Dunellen NJ
http://www.roxyanddukes.com/
Wed Feb 12- Turning Point- Piermont NY
http://turningpointcafe.com/
Band Lineup for this tour
Junior Watson-Guitar/Vocals
Ken Clark-B3
Matt Stubbs-Bass
Chris Rivelli-Drums
For more info on Junior Watson
www.juniorwatson.com
Share on Facebook

Follow me on Social Media!