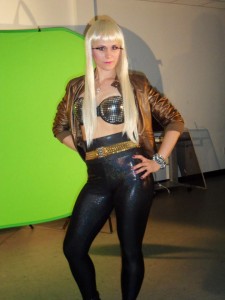 Although this zine does not, by matter of policy, review singles, samplers E.P.s and any other short form recording, an exception can be made for a music video. A music video stands alone as a collaboration of multiple artists to achieve numerous visual effects forged into one message. The amount of effort that went into LoveWhip's latest video "Let Go!" is overwhelming. "Let Go!" is a colorful motion of sight and sound. In just the first few notes from a sassy saxophone, you'll see colorful visuals, including bright red lips that recall Andy Warhol, the LoveWhip logo, and artsy backdrops, all by Jehanne Junguenet. All the while curvaceous front woman Erin Harpe shakes it like a disco mama on fire.
Saxophonist Kelly Roberge has an important co-starring role here. Musically, he keeps the music earthy and soulful while the electronic pulses keep it danceable. Roberge also serves as a comic foil to Harpe's more serious front woman presence, swaggering around in the same kind of pink zebra spandex pants that this singer wears with a perfect roundness that will threaten young girls everywhere. Harpe has an actress like charisma and her expressions and movements could land her a spot in a local indie film, if a filmmaker is smart enough to notice. She maintains a sexy, authoritative presence, gazing steadily into the camera and pointing at you with a command equal to the Uncle Sam Wants You posters of days gone by.
The costuming here is a beautifully strange and interesting mix of 1970s silver satin short shorts, 1990s hair-metal black spandex, and the aforementioned, appropriately tacky spandex zebra pants,. A close up of the silver satin short shorts dude's booty shaking is hilarious, though I hope he never does that in public. Bass player Jim Countryman has a comedic take on rock star charisma, holding his bass like it's a gateway to all things cool, strutting his stuff in white zebra spandex pants that match Harpe's pink zebra look.
Costuming, backdrops, and physical action by the singer and musicians come together in one work of modern art that makes you wonder if the director first saw this in a 1970's acid hallucination at a vibrant city disco.
The song "Let Go!" from the Love Electric album is an electronic groovefest that bolsters its springy rhythms with a synthesized whirr behind and beneath the bass guitar. The saxophone makes its soulful presence felt as it blares with attitude. It's even trippier near the end, when those sassy, brassy notes get thinner, sharper, bordering on psychedelic. Harpe keeps the vocal work steady, determined, like a woman who wears down all obstacle with persistence. She also sings into an echo effect device that makes her last word in each verse repeat itself with a futuristic chill vibe.
"Let Go!" the video is a fine contribution from the local scene for its spot on, self-satirical nuances.