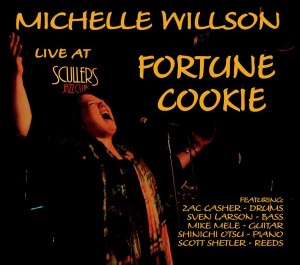 Michelle Willson's new live album Fortune Cookie Live At Scullers shows the artist in her most natural setting, a stage in an upscale Boston music venue. Rangy and powerful by nature, classy in her delivery, Willson reaches true musical heights in her interpretation of 1950s soul. Her Evil Gal Festival Orchestra consists of drummer Zac Casher, upright bassist Sven Larson, guitarist Mike Mele, pianist Shinichi Otsu, and reed player Scott Shetler. That force of nature voice combined with such A-list players can only make a fine showing of their talents.
After an introduction from Boston's incomparable blues disc jockey Holly Harris, "Evil Gal" Willson glides into the clever word play of "Relax Max," a jazzy excursion that showcases the vocalist's knack for managing a brief, tight chorus without losing feeling and oomph. She keeps her vocal range and ebullience self-restrained, maintaining the power just below the surface of the song. Shetler's saxophone melody dances lively but unobtrusively beside the vocal, creating a vibrant musical partnership as he compliments the other through contrasting accents.
Willson's title track "Fortune Cookie" features some svelte vocalizing, caressing her mid-tempo verses with warmth and vibrancy. The cool shadings of Shetler's saxophone and the emotive pleas from Mele's crunchy chords support her case about fate. It's a treat to hear that voice sound as clean and smooth as the instruments around it.
"I Would If I Could," popularized by Ruth Brown, is a swinging joy, with burbling, suggestive sax supporting this queen of the microphone. Assertive vocal lines match the swagger of the sax as Willson fills in her own melody line with her sophisticated breathy enthusiasm. She takes you back to a time when nightclubs were classy places and the singers who graced them could dazzle with every verse.
A cool sensuous groove supports Willson's effusive vocal on "The Music Is The Magic." Alto sax lines dress up a song that's already full of svelte assertions. The lady phrases her close out line with incredible control over colors and tones, adjusting the mood with just one enriched sustain.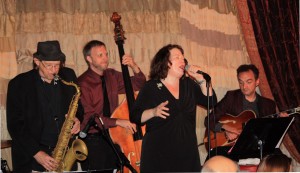 Willson and her orchestra bop things up a bit on "Fat Daddy," a more swinging number with a light sax jumping around behind the vocal. Willson nails the hip, old timey swagger that this song demands. Intrepid guitar phrases color the swagger before Willson jumps right back in with her hearty belt.
The Ray Charles number "Hallelujah, I Love Him So" is a fine offering of Willson' huskier croon. She infuses her vocal melody with a tough mama attitude in her ever so rich timbre and the feisty way she puts it across. Her Evil Gal Festival Orchestra gives off a lot of wattage here too, bracing electric guitar supports the hefty vocal with an edgy line.
"Nobody Loves You Like Me" is another tough mama vocal assertions. Willson states her case for this character with understated strength in her verses. Her vocal lines are humming with power, and she gets even huskier during the chorus, making good on her implied threat to get even more serious. Mele's feisty guitar and Shetler's carefree low notes make this a band you wouldn't want to meet in a dark alley.
Leonard and Jane Feather's song "New New Blowtop Blues" written for Dinah Washington finds Willson wrapping her vocal warmly around the playful lyrics about a woman who's lost her mind. She gets away with the contrast between her spirited delivery and the dire lyrical self-description because her forceful musical personality is strong enough to weld a lot of diverse elements together. It's also cool how she makes the woman the song is about sound so unashamed of her careless one woman wrecking crew antics.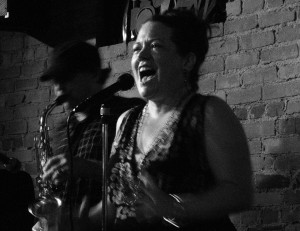 Willson takes it slow on "Stranger On The Earth." She milks each vocal note for all the emotional and musical range they're worth. She makes the listener feel it as she sustains and caresses those timeless words. Mele's tender, expressive guitar melody colors this piece beautifully, and it's gracious of the Evil Gal to let her orchestra have their own moments in the spotlight.
Willson's interpretation of Joe McCoy's "Weed Smoker's Dream" finds the sexy chanteuse delivering her nasally inflected vocal with suggestive richness in her timbre. She puts out an easy going coolness next to Shetler's snake charmer sax melody. Piano rolls are rollicking fun in the hands of Shinichi Otsu who brings his elegance to all of these numbers.
Willson and her Evil Gal Festival Orchestra close out their live album with the Tiny Davis classic "Racehorse." As the title implies, the tempos are speedy and the lyrics racy. The lady has no problems riding that pulsating musical force and pushy groove. Sven Larson, as he has throughout most of this album, injects just the right of low end throb from his upright bass. Drummer Zac Casher cuts loose a little more here, though his serious, tasteful work on the previous cuts were equally good. It's the right amount of these right touches from sophisticated players that are so necessary to support a singer like Willson.
Fortune Cookie is a fine musical offering. It showcases an old school vocalist in songs that let her belt like a force of nature as well as croon tenderly at a gentler pace. The Evil Gal Festival Orchestra are in fine form, offering the kind of support that only the best musicians can. Willson has come up with a fine calling card for her reentry back into the music scene.