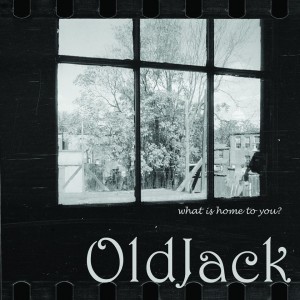 Oldjack has been chugging along in the Boston indie rock scene for a few years now. They've competed in The Rumble and have shared bills with numerous respected bands in the city. Their new full length album What Is Home To You should cement their reputation as purveyors of fine Americana roots rock. Dan Nicklin's rangy, emotive vocal and songwriting skill make their mark on each song, casting them all in a large looming manner, like each is a song that should've become famous a long time ago.
"Miles Away" opens the album with a jumpy guitar chord that pulls the listener right into a casually unfolding cruise. Guitars reach exciting highs and the female backing vocalists layer it with gospel soul. Nicklin's steady expressive vocal line controls all of the elements going on around him, as he sails on an even course with his mellow rasp. Involving, wide, welcoming, "Miles Away" keeps the ears glued to its glorious soundscape.
"Oh Daddy" struts forth with an irresistible backbeat, emotive lead guitar arcing over all, and the appealing plaintive Nicklin vocal. Soulfulness from yesteryear haunts this song as the girl chorus shadows the lead vocal. It's uncanny how Nicklin creates a fresh song while at the same time making you feel the comfortable familiarity of a great hit you've been listening to all your life.
"Don't Say" takes things slow, at first, allowing the listener to savor details like Nicklin's gravelly tenor, the sassy chorus singers, and a nudge of tasteful bass that kicks it down the lane. Boy, does this song build into an all encompassing crusade.
Title track "What Is Home To You" finds Nicklin letting his rasp flow mellifluously onward, coloring the song with a coat of his earthy timbre. A listener can get lost in the loose architecture and floating vibe. This is certainly a band that needs to breakaway from the four band showcase at local venues and find itself more festivals where they can play longer sets to let their expansive music breathe and waft in the warm breeze of a summer's day.
"Easy To Love" blends acoustic guitar with bluesy organ and a country backbeat to come up with something soothing to support an honest plea for acceptance theme. An atmospheric lead guitar brings in an entire classic rock backdrop that makes you feel the song even more. Combined with that Nicklin vocal sweep, you have yet another grandly appealing song.
"Lonely Alone" gets a bracing Nicklin lead vocal that pulls all of the guitar phrases, sultry backing vocals, and rootsie rhythms along with him. His strong musical personality fires up this seemingly simple ditty with raw emotion, compassion, and insight. You don't need to wait for a guitar break or vocal sustain or drum solo when you're listening to a voice honed by experience and passion.
"Whistle Blowin'" is a country shuffle beat with tasteful applications of electric and acoustic guitars whispering sweet notes above it. Nicklin's haunting vocal approach makes you feel he the song's traveling sensation, like you're train has traveled far and still has long to go and you know you're going to feel lonesome until you get to that place where you can feel settled. This tune just ushers you along with gentlemanly aplomb.
Oldjack close out their album with "Letters From The Frontline," a down tempo, contemplative piece that still, within its self-restrained energy, makes you want to tap your toes to a rootsie, country beat. A restless, stirring electric guitar melody arcs over this quiet gem and infuses it with soul, grit, and purpose.
Even on their way to a finish, Oldjack cannot help but provide another wide, rangy soundscape. Every band member is an essential cornerstone to keeping this swath of Americana sound alive and real. Oldjack will get a lot of mileage out of this full length album. It's chockfull of the authentic, wholesome American music they have become locally famous for, and their sound and style reaches a new artistic high.
Share on Facebook

Follow me on Social Media!